Congressional Hispanic Caucus Chairman Joaquin Castro called for the resignation of Department of Homeland Security Acting Secretary Chad Wolf and U.S. Citizenship and Immigration Services Acting Director Ken Cuccinelli on Friday.
A report by the Government Accountability Office (GAO) released Friday found that Wolf and Cuccinelli had been improperly appointed to their positions. When DHS Secretary Kirstjen Neilsen resigned in 2019, those who were promoted afterward followed what the GAO referred to as "an invalid order of succession." Under the Federal Vacancies Reform Act, Neilsen's successor, Kevin McAleenan, should not have been given the title of acting secretary and did not have the authority to pass the title to Wolf when he assumed the office.
After news of the potential illegality of Wolf and Cuccinelli's appointments became public some Democratic lawmakers, including Castro, said they should be removed from office.
"The Trump administration went around Congress to make invalid appointments of anti-immigrant white nationalists in violation of the law," said Castro in a Friday statement. "From dismantling the immigration system to tear-gassing peaceful protestors, their authority is illegitimate. In light of this GAO decision, both Wolf and Cuccinelli must resign in disgrace or be removed from their positions immediately."
House Minority Leader Chuck Schumer also called for Wolf and Cuccinelli to "immediately step down from their illegal roles."
"President Trump's efforts to install political sycophants to implement his extreme policies in an end run around the law and Senate have finally caught up with him," Schumer said in a Friday statement.
The findings by the GAO are not legally binding but are expected to be handed to the DHS Office of Inspector General (DHSOIG) for review. Newsweek reached out to the DHSOIG for comment.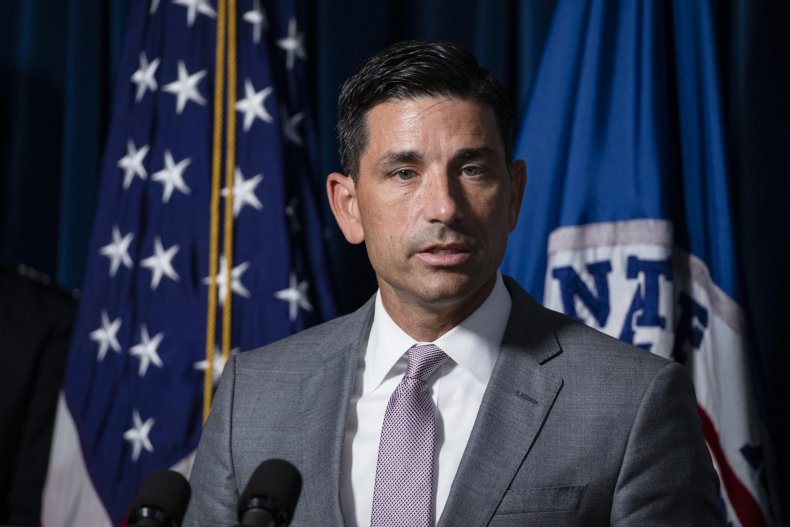 Wolf received criticism for his role in sending federal agents into U.S. cities where protests against racism and police brutality had episodes of violent activity. Cuccinelli was a supporter of the public charge rule, which stated that immigrants would only be considered for legal admission to the U.S. if it could be determined that they were unlikely to apply for social assistance programs.
While President Trump has said repeatedly that local leaders of cities where protests have grown violent need to ask him to supply federal agents to support law enforcement officers, Acting Secretary Wolf said in July that wasn't necessary.
"I don't need invitations by state mayors or state governors to do our job," Wolf said during an interview on Fox & Friends. "We're going to do that whether they like us there or not. At the end of the day, we're going to do our job. We're not going to apologize for it. We're going to do it professionally and we're going to do it correctly."
Oregon Governor Kate Brown said that Wolf's attitude proved he was "on a mission to provoke confrontation for political purposes."
Cuccinelli publicly praised a January Supreme Court decision in favor of the public charge, saying the Trump administration was "happy to see the Supreme Court step in the way they did here."
Some saw the Supreme Court's ruling as a means to make immigration more difficult. New York Representative Alexandria Ocasio-Cortez called the decision a "wealth test for admission."
"The American Dream isn't a private club with a cover charge," Ocasio-Cortez tweeted in January, "it's the possibility of remaking your future."
In 2019, Trump told reporters that he preferred not appointing permanent members to his cabinet. "I like acting," Trump said. "It gives me more flexibility. Do you understand that? I like acting. So we have a few that are acting. We have a great, great Cabinet."