Hispanic Heritage Month Sparks Pro-Immigration Movement in the Trump Era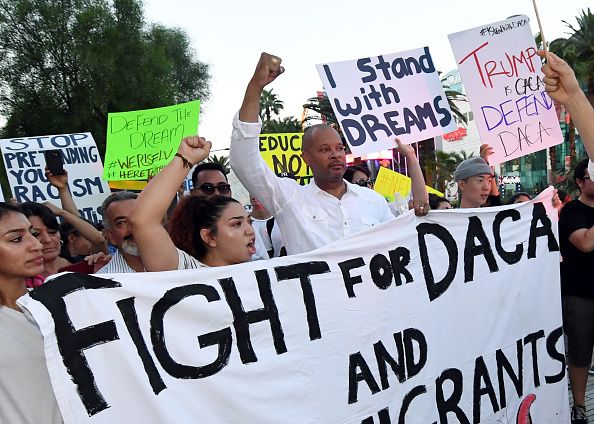 America is saluting the Latino community and its contributions as part of Hispanic Heritage Month, which started last Friday. This time, however, the celebration comes with a large partnership to defend Latinos who are vulnerable to President Donald Trump's draconian policies.
The National Hispanic Leadership Agenda (NHLA), a coalition of 45 Latino advocacy organizations across the country, launched the "Latino Heritage Month of Action" in hopes of pushing pro-Latino initiatives such as "a clean DREAM Act" that would offer a road map to citizenship to hundreds of thousands of youth known as Dreamers. The coalition also seeks to dismantle the administration's "voter integrity" commission that was formed in response to Trump's claim that millions of people voted illegally on November 8.
The Latino Heritage Month of Action kicked off September 14 with a rally in front of the White House. According to NHLA, leaders from other communities—including LGBTQ, labor and environmental movements—joined the rally in solidarity. "In unity, we mobilize, organize and activate in this Latino Heritage Month of Action and in months to come," Hector Sanchez Barba, chair of NHLA, said in a statement.
The coalition underscored Trump's exclusion of Latinos from pivotal appointments to posts in the judiciary and the administration itself, lack of attention to the community's interests and the pardoning of former Maricopa County, Arizona Sheriff Joe Arpaio. "NHLA commits this month to call upon leaders in Congress and nationwide to fill the vacuum and to incorporate the Latino community and its policy concerns—including most immediately the passage of the Dream Act—in the nation's governance and policy agenda," Vice President of NHLA Thomas Saenz added.
Congressman Joaquin Castro of Texas, who has joined the coalition, said that Hispanic Heritage Month should serve as an opportunity to oppose Trump's decision to rescind the Deferred Action for Childhood Arrivals initiative. "Dreamers are seamlessly woven into the fabric of American society," Castro said in a statement. "They are our neighbors, colleagues, service members and classmates. They're pursuing careers as teachers, soldiers and entrepreneurs."
Despite the many challenges Latinos are facing under the Trump administration, many still believe there are reasons to celebrate. "The cultural aspect of Hispanic Heritage Month is a reminder of our contributions and our indigenous routes, that we didn't come here 10 days ago or 10 years ago," Voto Latino President Maria Teresa Kumar told NBC News. "There's never been a history of America without Latinos."