Hispanic Voter Enthusiasm Spikes For 2018 Midterm Elections Following Record Low 2014 Turnout
Expressing increasing frustration and dissatisfaction with the Trump administration, registered Hispanic voters say they are far more engaged in this year's midterm elections.
More than half, 52 percent, of Latino registered voters responded to a Pew Research Center survey published Friday that they have given "quite a lot" of time and thought into the 2018 midterm elections on November 6 -- a 16 percent increase since the 2014 midterm elections.
A majority, 55 percent, of Hispanic voters said they are far more enthusiastic about voting this year than in 2014. Although the number of eligible Latino voters has increased by 4 million since 2014, voter turnout among the 29 million eligible Hispanic voters across the country has long lagged behind black and white voters.
A record low 27 percent of eligible Hispanic voters cast a ballot during the 2014 midterms, while 41 percent of black voters and 46 percent of white voters cast ballots four years ago.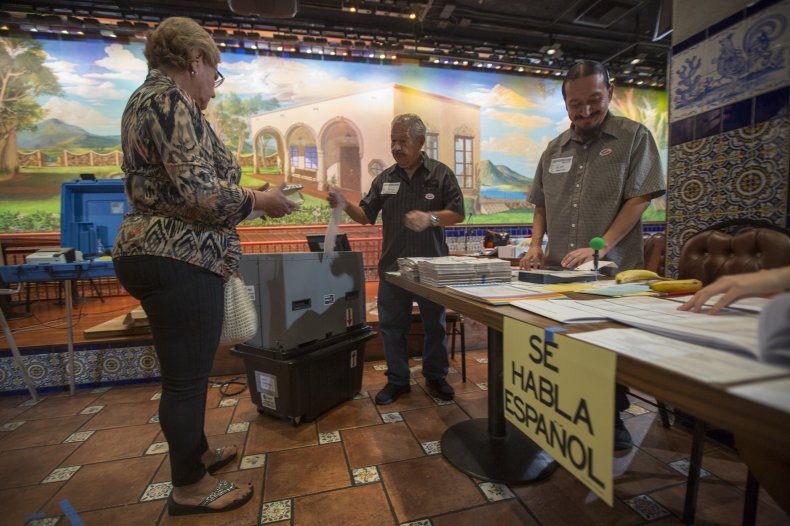 Hispanic registered voters overwhelmingly lean toward the Democratic Party over the Republican Party by a more than two-to-one margin, Pew notes. About 62 percent of Hispanic voters identify with or lean toward the Democrats compared to just 27 percent of Hispanics who identify or lean toward the GOP. Those numbers have not shifted since the last 2014 midterm elections.
A separate Reuters/Ipsos national tracking poll released Sunday found likely Hispanic voters are nearly twice as encouraged to vote for Democrats running for seats in the House of Representatives.
Up from 27 percent in 2014, 36 percent of Hispanic voters said they were "certain" to cast a ballot in this year's election. According to the poll, the voter enthusiasm among Hispanic voters is nearly double that of any other group of American voters.
The Pew survey noted Hispanic voters are less likely than all U.S. voters to say they know anything about the congressional candidates running in their district. Additionally, one-third of Hispanic voters agree with the statement, "voting by people like me doesn't really affect how government runs things."