Historian Fact-Checks Trump After President Claims He's Never Received 'Good' Fox News Poll
After President Donald Trump blasted Fox News, his usual favorite network, for a poll showing record support for his impeachment, a historian fact-checked the commander in chief by sharing screenshots of how he contradicted himself by praising the network on multiple occasions in the past.
In a couple of tweets Thursday morning, Trump criticized the channel for releasing a poll the previous day, reflecting that 51 percent of registered voters want him impeached and removed from the White House, up from 42 percent in July. The voters who do not want Trump impeached was 40 percent, down from 45 percent in July. The poll was conducted October 6 to 8 with a margin of error of plus or minus 3 percentage points.
"From the day I announced I was running for President, I have NEVER had a good @FoxNews Poll," Trump claimed in his first tweet. "Whoever their Pollster is, they suck."
The president added, "But @FoxNews is also much different than it used to be in the good old days. With people like Andrew Napolitano, who wanted to be a Supreme ... Court Justice & I turned him down (he's been terrible ever since), Shep Smith, @donnabrazile (who gave Crooked Hillary the debate questions & got fired from @CNN ), & others, @FoxNews doesn't deliver for US anymore."
Trump concluded: "It is so different than it used to be. Oh well, I'm President!"
Historian Kevin Kruse, who has penned a number of books, tweeted screenshots of Trump's first tweet and eight tweets from 2016 to earlier this year in which the president applauded Fox News when its polls favored him.
"Fox Poll say best Economy in DECADES!" Trump tweeted on July 25 in reference.
"New Fox Poll shows a '40% Approval Rating by African Americans for President Trump, a record for Republicans,'" Trump tweeted on November 4, 2018. "Thank you, a great honor!"
Kruse's screenshots included a half dozen tweets from when he was campaigning, which was after "the day I announced I was running for President," as he tweeted on Thursday.
"Thank you to Fox & Friends for so reporting!" Trump tweeted on September 28, 2016, in reference to online polls, including Time and The Drudge Report having him winning a presidential debate.
On January 24, 2016, Trump tweeted about a Fox News poll that had him winning Iowa and New Hampshire, along with "thank you" to the states.
Two days prior to that, Trump tweeted that he "just received the new Fox poll" that had him as the top GOP nominee preference at 34 percent, leading Ted Cruz at 20 percent and Marco Rubio at 11 percent. "Thank you, America! #Trump2016" he commented.
Trump cited Fox News polls in late 2015 that put him ahead of Hillary Clinton, whom he ended up defeating.
"The last person corrupt Hillary Clinton wants to run against is Donald J. Trump. I'll end up beating her in every state. New Fox Poll-Trump!" Trump tweeted on December 9, 2015. He touted the poll again the following day.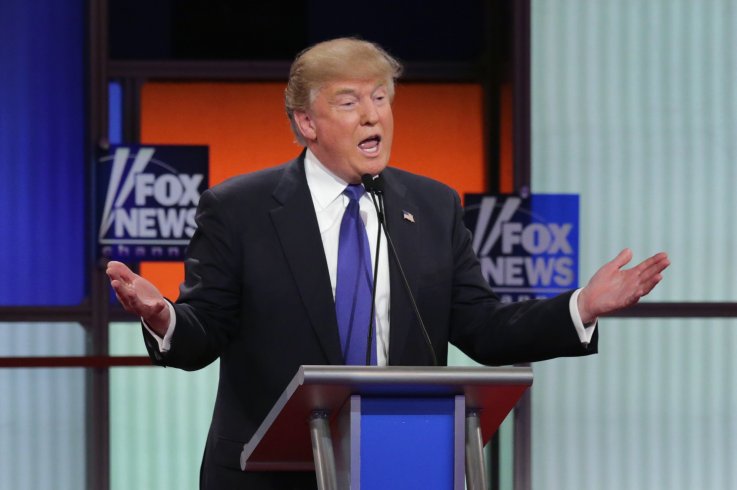 Trump has complimented Fox News more than bashed the news channel since its coverage of him has generally cast him in a more positive light than other major networks. The president directly attacked Smith, who consistently fact checks him; senior judicial analyst Napolitano, who opined that Trump admitted to a crime by saying he encouraged the Ukrainian president to investigate former Vice President Joe Biden; and contributor Donna Brazile, who was interim leader of the Democratic National Committee.
The latest Fox News poll provided worse news to Trump than two other major polls released Tuesday. A Quinnipiac University poll showed that 45 percent of registered voters favored impeaching Trump, while an NBC News/Wall Street Journal poll reflected that 43 percent thought he should be impeached and removed from office.
Historian Fact-Checks Trump After President Claims He's Never Received 'Good' Fox News Poll | Politics