Ahead of President Donald Trump's campaign rally in Florida on Monday night, the Florida Police Chiefs Association (FPCA) made its first-ever presidential endorsement, calling for his re-election.
FPCA president Chief Jeff Pearson announced the group's endorsement on Friday.
"Time and time again, President Trump has demonstrated his unwavering support for law enforcement and for the men and women that risk their lives to protect the peace," Pearson said during a press conference.
"President Trump has done more for police than any other president has in our country, in our history," he added.
Pearson said that other politicians are "openly attacking law enforcement," although it was unclear if he was referring to Democratic nominee Joe Biden,
He cited the Law Enforcement Mental Health and Wellness Act, which was signed into law in 2018, as a reason for the association's endorsement, saying, "President Trump's support of the law enforcement is unmatched and he continues to support law enforcement by ensuring we have the tools, the training and the information that we need to protect our communities."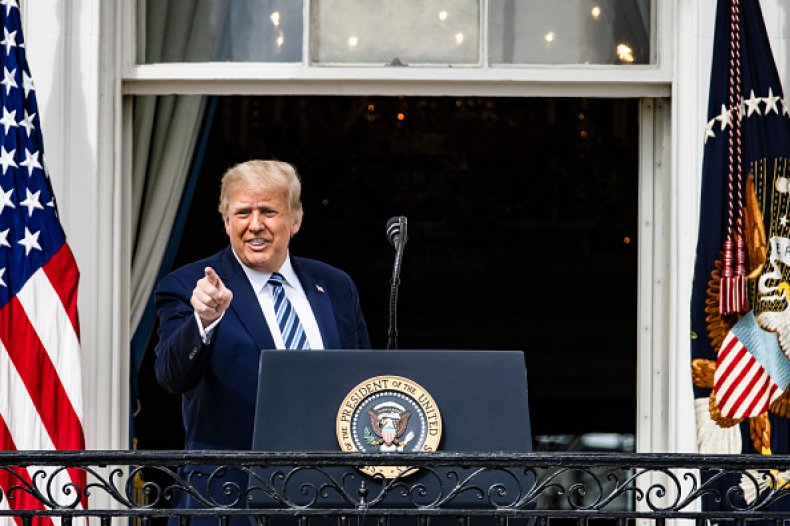 Founded in 1952, the FPCA is the nation's third largest state police chiefs association and represents more than 900 law enforcement officers in Florida.
Two of the president's campaign advisers, Corey Lewandowski and Pam Bondi, were in attendance at the official announcement to accept the endorsement. Trump called in to thank the association and described the officers in Florida as "the bravest and the best" and his "favorite people."
Trump later took to Twitter to thank the association, tweeting, "I was honored to receive the first ever Presidential Endorsement from the Florida Police Chiefs Association. Thank you, I will NEVER let you down!"
The historic first comes as the president returns to the campaign trail following his COVID-19 diagnosis. Trump is holding a re-election rally on Monday night in Sanford, Florida. With 22 days until the election, he is widely viewed as needing to win the Sunshine state if he is going to defeat Biden.
Calling himself the "law and order" president and claiming Biden wants to defund the police, Trump has gained significant support from law enforcement organizations amid conflicts between racial justice protesters and police officers. In early September, the Fraternal Order of the Police, with over 350,000 members, unanimously voted to endorse Trump, and a large number of unions have also endorsed him.
Biden denies he wants to defund the police and has been endorsed by various law enforcement officials, including over 175 in early September.
During the first presidential debate, Trump asked if Biden supported law and order.
"I am in favor of law and order with justice where people get treated fairly," Biden said.
However, when asked by Trump to name a law enforcement organization endorsing his campaign, Biden was unable to name one.
Newsweek reached out to the Biden campaign but did not hear back before publication.