Last week we all witnessed a truly historic moment: the inauguration of a new president and the first Black and first South Asian American woman to be sworn in as vice president. It also was an absolute moment of grace when we saw 22-year-old Amanda Gorman recite her inspiring poem. The inauguration was a moment of long-sought unity, the kind the American people can offer the world when they are at their best.
As a foreign observer, I can only admire how democracy prevailed, two weeks after the riots at the Capitol. It is both an inspiration and a hope.
Yet the challenges we face are daunting: a deadly pandemic, an economic crisis and the need to reunify our societies and acknowledge that what brings us closer is stronger than what pulls us apart.
But what is somewhat new now is international cooperation. It will be one of the best ways to meet domestic and international challenges. This is something we have long and strongly believed. It is the path the Biden-Harris administration wants to follow. And we welcome it.
We cannot defeat the coronavirus unless all countries get a vaccine. Otherwise the virus will come back one way or another. Non-cooperative policies do not work. We have to cooperate to purchase and roll out vaccines in our countries and in others. We have to develop new means of cooperation to prevent other pandemics from occurring in the future. We need to take science-based decisions. That is why we are so very pleased to welcome the U.S. back into the Word Health Organization.
Changes in the environment are becoming more direct and threaten our communities. Climate change transcends national borders. We are all interdependent when it comes to maintaining a sustainable planet. The Paris agreement is here to set the standards and underscore the need to step up our ambitions to combat this global issue. The United States was the only country to leave the agreement. It is now back in the game for the greater good.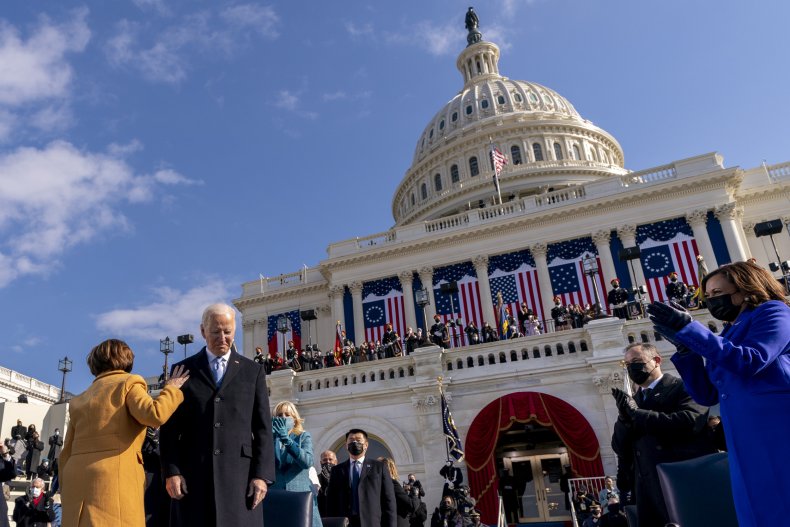 Democracies are more fragile than one thinks. Everyone should feel like they belong–no matter the color of their skin, their religion or the place they were born. Everyone should be able to choose the life they intend to live. As the young poet put it: "We are striving to forge a union with purpose. To compose a country committed to all cultures, colors, characters and conditions of man. And so we lift our gazes not to what stands between us, but what stands before us. We close the divide because we know, to put our future first, we must first put our differences aside."
Speeches that fan the flames of violence and hatred can only create distrust between individuals and in our institutions. It's an independent, strong and free press that offers reliable information to our fellow citizens, even if the news can sometimes be hard to hear. That is what helps everyone forge their own ideas. That is how we grow together as nations.
Our countries are also facing a rather gloomy geopolitical picture: strategic and military competition, with the rising influence of China, international and domestic terrorism, proliferation crises and cyberattacks that endanger our critical infrastructures.
We need to build on the close and fruitful cooperation our countries have developed over the years, such as our efforts to defeat ISIS and other terrorist groups in the Middle East and the Sahel. There our forces are working together every day to defend our security interests and those of our partners against a threat that unfortunately remains acute.
NATO remains the bedrock of our collective defense. It requires both an unwavering political commitment to solidarity by all its members and continued effort by Europeans to take greater responsibility for their own security, developing a more sovereign European Union, which can only strengthen our transatlantic alliance to democracy. To meet this goal, we French, Europeans and Americans can set an ambitious new transatlantic agenda.
All of these challenges are common to our nations, but none of them will prove unsurmountable if we–not just the U.S. and France, but also all of our allies and partners in Europe and around the world–work together. We share the same fundamental interests and values, and we are better at defending them when we support one another. That is what multilateral institutions are here for, defending and promoting our "global common goods," including health, justice and the climate.
Philippe Etienne is the ambassador of France to the United States.
The views expressed in this article are the writer's own.