A historic number of National Guard soldiers and airmen have been activated for domestic operations across the U.S., with nearly half being deployed over "civil unrest" amid widespread protests over the death of George Floyd, the black man who died after a white Minneapolis police officer kneeled on his neck for nearly nine minutes during an arrest on May 25.
According to the National Guard, as of Thursday morning a "historic" 75,000 National Guard soldiers and airmen were activated for domestic operations across the United States, surpassing the approximately 51,000 Guard members who had been activated during the 2005 Hurricane Katrina response.
Of those 75,000 activated National Guard members, the military reserve force has said that at least 32,400 members have been deployed by governors across 32 states and the District of Columbia to "assist state and local law enforcement in support of civil unrest operations."
Thousands of National Guard soldiers and airmen from 10 states are being deployed specifically to support members in the D.C. area, where there have been brutal clashes between law enforcement and protesters, including apparent crackdowns on peaceful demonstrators.
At least 3,300 members from Florida, Indiana, Maryland, Missouri, Mississippi, New Jersey, Ohio, South Carolina, Tennessee and Utah are or will be deployed to support the D.C. National Guard (DCNG), which already has about 1,200 National Guardsmen activated.
Other states have refused to take part, with Virginia Gov. Ralph Northam saying he had no intention of sending National Guard troops "to Washington for a photo op."
In a statement shared by the National Guard, Defense Department Secretary Mark Esper said he believed the National Guard is "best suited for performing domestic support to civil authorities in these situations, in support of local law enforcement."
"I say this not only as secretary of defense, but also as a former soldier and a former member of the National Guard," he said.
In a separate statement, Gen. Joseph Lengyel, Chief of the National Guard Bureau, made clear that in addition to working to "protect life" and "preserve property" troops would also be defending "people's right to peacefully demonstrate."
"We're uniquely suited for this mission," Lengyel said. "People know the National Guard is here to help."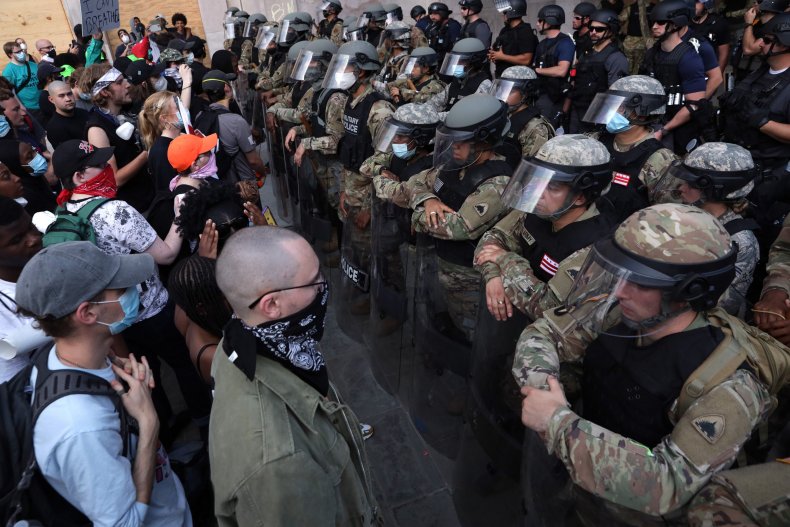 In a statement published on Twitter on Wednesday evening, Lengyel had a significantly stronger message to share, asserting that anyone who "wears the uniform of our country" must take a stand against "racism, discrimination and casual violence."
In his statement, the general said he was "sickened by the death of George Floyd" and "horrified that his 6-year-old daughter will grow up without a father. And I am enraged that this story—of George Floyd, of Philando Castile, of Trayvon Martin and too many others—keeps happening in our country, where unarmed men and women of color are the victims of police brutality and extrajudicial violence."
"Our country has seen peaceful protests descend into unspeakable brutality at lunch counters in Montgomery and on bridges in Selma," he said. "Right now, anger and outrage are spilling out into the streets all across America. We all bear the scars of history, of oppressors and the oppressed. We cannot erase this legacy, but we can listen, we can learn, and we can be better. We must be better."
Addressing troops, Lengyel said that "everyone who wears the uniform of our country takes an oath to uphold the Constitution and everything for which it stands."
"If we are to fulfill our obligation as service members, as Americans, and as decent human beings, we have to take our oath seriously. We cannot tolerate racism, discrimination or casual violence. We cannot abide divisiveness and hate. We cannot stand by and watch."
On Wednesday, the National Guard noted, the District of Columbia National Guard announced it would be "conducting an investigation into the June 1 low-flying maneuvers by its helicopters to ensure all involved complied with applicable procedures and safety regulations."
"I hold all members of the District of Columbia National Guard to the highest of standards," said Maj. Gen. William Walker, DCNG Commanding General. "We live and work in the District, and we are dedicated to the service of our nation," Walker said.
In addition to deployments over "civil unrest" National Guard troops have also been deployed across the country to assist with coronavirus response efforts.