Historic SpaceX Rocket Launches Despite Predictions of Unfavorable Weather Conditions
The first crewed launch from American soil in nearly a decade has finally happened from the Kennedy Space Center in Florida Saturday at 3:22 p.m. ET, after unfavorable weather postponed the original May 27 launch.
The SpaceX Falcon 9 Rocket is carrying NASA astronauts Robert Behnken and Doug Hurley to the International Space Station (ISS) and expecting to dock on Sunday at 10:29 a.m. ET.
Sharing their final message before lift off, mission control said: "Know that we're with you, have an amazing flight, and enjoy those views of our amazing planet."
The astronauts on the Crew Dragon responded: "It is absolutely our honor to be part of this huge effort to put the United States back in the launch business. We'll talk to you from orbit, thank you."
Vice President Mike Pence, who was in attendance to view the launch along with President Donald Trump, tweeted: "Today, @SecondLady and I had the honor of joining President @realDonaldTrump to witness @Astro_Doug and @AstroBehnken complete a historic launch of from American soil on an American rocket at @NASAKennedy! This is the beginning of a new era of American leadership in space!"
Storms in the area called off the initial launch less than seventeen minutes before liftoff on Wednesday, sending Behnken and Hurley back into quarantine at the crews corners in Cape Canaveral.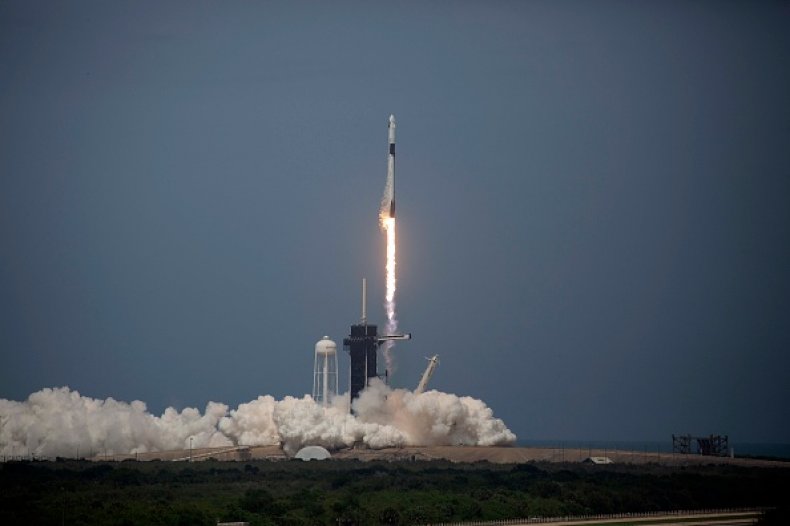 The Crew Dragon Demo-2 mission is the first astronaut launch Elon Musk's SpaceX has ever performed. The company has built and tested the capsule for the past six years. There has not been a crewed launch from American soil since the space shuttle program ended in 2011.
"This launch represents the realization of a decades' long dream to migrate part of human space exploration to private companies. Up until now it has only been governments that have launched people into space," former astronaut Mike Massimino previously told Newsweek, "From now on it will be private companies as well. Similar to when the first commercial airline flights began, I think the world will be changed forever."
Forecasters had earlier predicted that Saturday's launch could face poor weather again.
"The main rules of concern include flight through precipitation, the anvil cloud rule and the cumulus cloud rule," Weather Channel meteorologist Jacqui Jeras previously told Newsweek. "Basically, scattered storms with lightning and/or thick clouds within 10 nautical miles of the historic launch pad 39A [at the Kennedy Space Center] will be the most likely cause of another scrub."
However, earlier Saturday, Musk tweeted: "Proceeding with countdown today, weather cancellation risk ~50%."
Questionable weather had given a 50/50 probability earlier in the day but cleared up to 70 percent of favorable weather. Skies stayed nice enough and at 45 seconds before lift off, the Crew Dragon finally got the "go for launch" command from the launch director.
Trump, who had flown down to the spaceport to witness the planned Wednesday launch, returned Saturday. Before leaving the White House that morning, the president told reporters he had an "obligation" to be there.
Approximately 150,000 people also went to witness the historic launch on Wednesday, despite NASA's warnings to stay home to prevent the spread of the new coronavirus. Massive crowds gathered again on the A. Max Brewer Bridge in Titusville, Florida, a popular place to catch rocket launches, which was open to pedestrian traffic.
Coverage of the launch will continue into Sunday when the spacecraft is expected to dock in the ISS.
Updated 8:17 PM ET, to include a tweet by Vice President Pence.