A History of Chris Christie's Complicated Relationship With Bruce Springsteen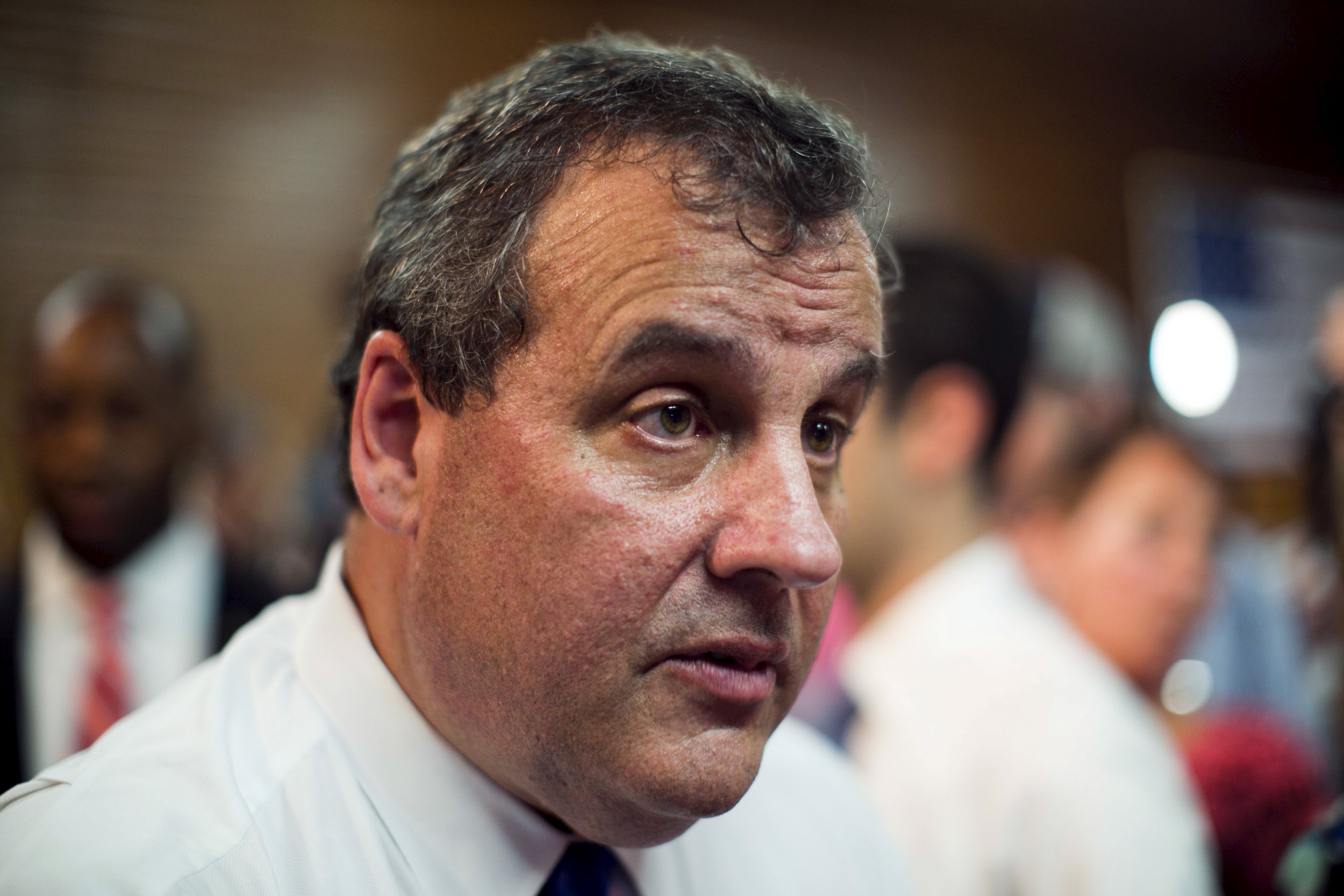 All due respect to gefilte fish, the most precious piece of information to come to light by way of unearthed emails this past week concerns presidential hopeful Chris Christie and his fawning love for the One True Boss of the state of New Jersey: Bruce Springsteen.
Politico recently uncovered messages Christie sent to a Springsteen email listserv from 1999 to 2000 that prove his love for the songwriter runs deeper than that of the average New Jerseyan. In the messages, Christie recounts detailed setlists and the atmosphere of Springsteen shows he attended, and in a note titled "Brush With Bruce at 30,000 Feet," the governor tells a long story about running into Springsteen on a plane. "He was everything I hoped he would be if I ever got a chance to meet him—gracious and incredibly normal in a truly extraordinary way," Christie concluded. "That was my Christmas gift."
But since Christie has risen to prominence as a conservative politician, his relationship with Springsteen has been complicated and, ultimately for Christie, tragic. This summer Christie and his wife Pat drove the nail in the coffin when they said that they preferred a ride with Bon Jovi and his steel horse to Springsteen and his '69 Chevy. So how did Christie go from adoring Bruce fanboy to Bon Jovi defector? Let's take a look.
1975: Chris Christie is 13 years old, the age at which he told The Atlantic he began idolizing Bruce. He attends his first Springsteen concert at Seton Hall University.
1999-2000: Christie's adoration of Springsteen reaches its zenith when he makes the leap from Springsteen email listserv "lurker" to active participant, sending the doting messages that were recently discovered by Politico.
January 2010: Springsteen declines a request to perform at Christie's inauguration ceremony, so the new governor hires the B Street Band, a Springsteen tribute group, and joins them onstage to sing "Badlands," "Glory Days," and "Born to Run." "Bruce and I don't agree on certain things politically—big shock," Christie said about Springsteen's refusal. "But it doesn't diminish at all my enjoyment of him as an artist and a performer."
May 2010: Christie has his second encounter with Springsteen during a ceremony inducting Danny DeVito into the New Jersey Hall of Fame. According to The Atlantic, they only "exchanged formal pleasantries."
March 2011: Springsteen pens a letter to the Asbury Park Press, criticizing Christie. "The cuts are eating away at the lower edges of the middle class, not just those already classified as in poverty, and are likely to continue to get worse over the next few years," Springsteen wrote. In an interview with Diane Sawyer, Christie responded by saying he wasn't surprised. "I mean, you know Bruce is a liberal," he said. "Doesn't mean I like him any less."
March 2012: Christie publicly asks Springsteen to play a Labor Day concert at the newly opened Revel Casino in Atlantic City. His request is denied once again.
April 2012: Christie is accused of falling asleep at a concert in Madison Square Garden while Springsteen performed "Rocky Ground," a song from his then-new album Wrecking Ball. The governor vehemently denied the accusation, claiming he was in a "meditative state." So defensive was Christie that he made a point to call on policy chief Deborah Gramiccioni, who was also at the show, to corroborate his explanation.
July 2012: A piece runs in The Atlantic detailing writer Jeffrey Goldberg's experience of attending a Springsteen show with Christie. Goldberg describes it as "an exercise in volcano management," going on to describe the borderline-insane level of boyish enthusiasm with which Christie celebrated the event: putting staffers in headlocks, air-drumming vigorously and singing lyrics into the faces of other attendees. Christie revealed that he had attended well over 100 Springsteen concerts.
September 2012: Christie appears on NBC's Late Night and sings a duet of "Thunder Road" with Jimmy Fallon.
November 2012: Springsteen praises Christie's efforts in the wake of Superstorm Sandy, and the two come together to mourn the devastation caused by the flooding. They talk (via President Obama), shake hands and hug. Christie admitted to "weeping" after the hug. He also said that Springsteen told him that their friendship was now "official."
January 2014: Springsteen appears on Late Night, and he and Fallon perform a parody of "Born to Run" mocking Christie's George Washington Bridge traffic scandal.
Christie later told Yahoo! that he never watched the performance and assured writer Matt Bai that he wasn't angry about it. "In fact," wrote Bai, "Christie went out of his way several times to assure me he was not angry and was not an angry person, even though I hadn't suggested he was."
August 2014: Christie nearly loses it responding to a question about Springsteen allegedly telling Christie not to use any of his songs while campaigning. "No. Never did that. No, you're wrong about that," Christie said. "Bruce has never asked me to do that. I saw Bruce about a week and a half ago. And he had every opportunity to tell me not to. He didn't, and he never has. Bruce has never asked me to do that."
September 2014: Christie wishes Springsteen a happy 65th birthday on Twitter and links to a list of his 10 favorite songs by the Boss.
June 2015: Fellow New Jersey rocker Jon Bon Jovi gives Christie his blessing to use his music during his 2016 presidential campaign.
July 2015: Sitting next to his wife with his hands on his knees and a blank expression on his face, Christie tells LifeZette that he prefers Bon Jovi to Springsteen. The ultimate betrayal.
August 2015: Christie commemorates the 40th anniversary of Born to Run with an expanded tweet professing his love for the album.
September 2015: Christie tells Sean Hannity that he is no longer friends with Springsteen, only that he "knows" him. Bon Jovi, on the other hand, he is friends with.
If the tumultuous past few years are any indication, the Christie-Springsteen saga is not over, but switching allegiance to Bon Jovi is as cruel a blow as their relationship has dealt. It isn't hard to imagine that once, a joyous, youthful Christie railed against the flamboyant, hirsute '80s rocker while professing his love for Springsteen's working-man appeal. Decades later, that same rosy-cheeked teen is publicly allying himself with Bon Jovi through gritted teeth. The effects politics can have on a man's soul are more horrifying than we ever could have fathomed.