A Brief History of Donald Trump and Bill Clinton's Friendship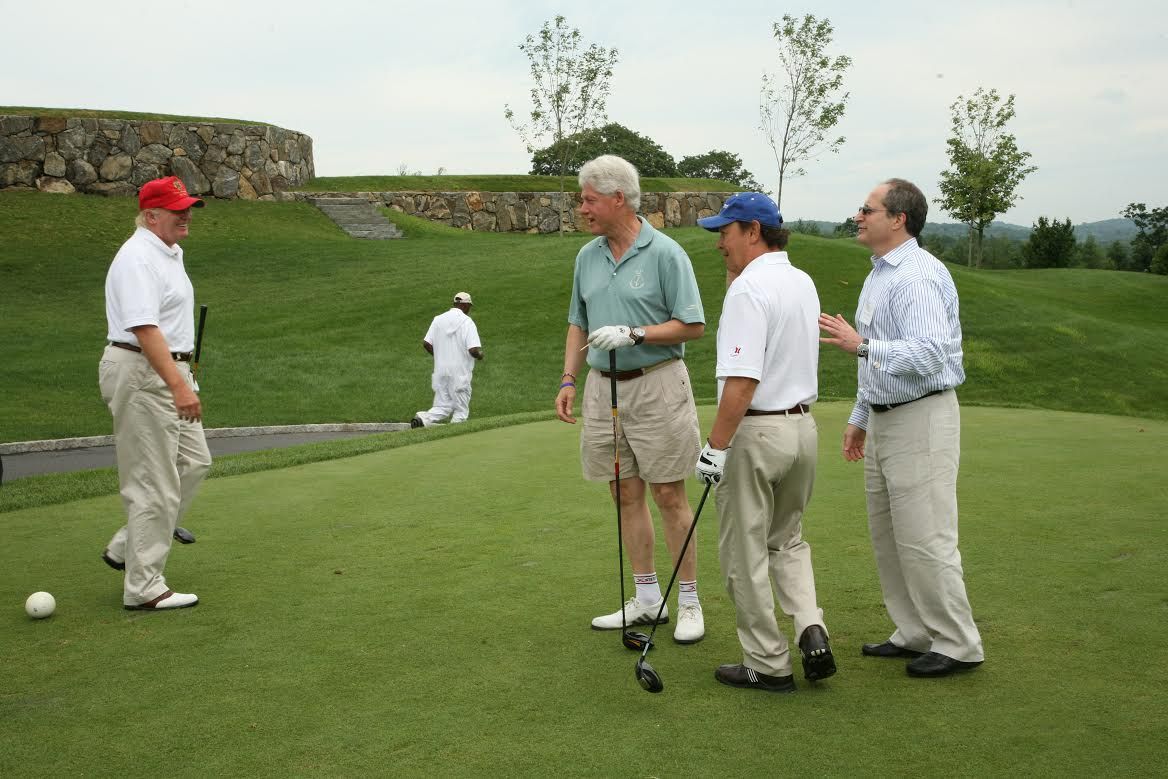 Despite recent rhetoric regarding the former U.S. president, years before he secured the Republican nomination in the 2016 presidential election—a feat acknowledged Thursday—Donald Trump and Bill Clinton were longtime friends.
But now as a Republican contender, Trump is being criticized for his ties to the Clintons—Democrats and fellow New Yorkers who celebrated his 2005 marriage to Melania Knauss with him. Hillary Clinton was granted a front-row seat at the ceremony, and her husband later joined the reception at the Mar-a-Lago estate in Palm Beach, Florida. A snapshot taken of the Clintons and the newlywed Trumps has been widely circulated during the primary season; the wedding was dubbed the event that explains the 2016 election. During the first GOP debate in August, Trump said the couple "had no choice" but to attend his third wedding, because he had donated generously to the their charitable foundation, as well as to Clinton's Senate campaigns and her first presidential bid. Never mind that their daughters, Ivanka Trump and Chelsea Clinton, are also known to be friends.
Nine months ago, The Washington Post reported that on a private, casual phone call last spring, Bill Clinton encouraged Trump to play a larger role in the Republican Party. That conversation reportedly took place in May 2015, a month after Hillary Clinton declared her 2016 presidential bid and just weeks before Trump announced his.
Prior to his sweeping primary wins that began in February, Trump was known to defend the former president on multiple occasions. Meanwhile, Clinton has admitted the billionaire was "uncommonly nice to Hillary and me."
"I like him. And I love playing golf with him," Clinton said in a May 2012 interview with CNN, according to transcripts. He spoke highly of Trump, despite the real estate tycoon's prominent role in the so-called "birther" movement, wherein he spent months publicly questioning President Barack Obama's original birth certificate. Trump, speaking to Fox News earlier that same year, said he thought Clinton was "a really good guy."
But Trump's recent words regarding the 42nd president might make you think he no longer considers him a friend. The GOP candidate has stepped up attacks against both Clintons since early May, when his two remaining competitors, Ted Cruz and John Kasich, both dropped out of the race. Now, he's eyeing a November general election matchup with Clinton, the Democratic front-runner who likely will be her party's candidate. And the election season likely will only get uglier, as will his attacks against Bill Clinton.
But it wasn't always like this. The Trump-Clinton relationship has evolved as the billionaire transitioned from a longtime private citizen to a first-time presidential contender.
The Lewinsky Scandal
Then. Clinton's sexual relationship with Monica Lewinsky took over the narrative of his presidency in January 1998. Seven months later, and days after Clinton admitted to his actions with the White House intern, Trump seemed to express sympathy in his view that Clinton should have refused to answer questions about his sex life.
"It's a terrible thing for a president to take the Fifth Amendment, but he probably should've done it," Trump said in an interview with CNBC in August 1998. "I don't think he could've done any worse than what's happened. It's such an embarrassment to him."
Then, a decade later, Trump repeated his views, saying the Lewinsky scandal was overblown.
"Look at the trouble Bill Clinton got into with something that was totally unimportant, and they tried to impeach him, which was nonsense," the businessman said during an interview with CNN in October 2008. He continued, comparing what he called the "lies" then-President George W. Bush made about weapons of mass destruction that eventually led to the 2003 invasion of Iraq.
Now. Trump, readying himself for the nomination, is no longer a private citizen. In December, he referenced the Lewinsky scandal as "fair game" in the political sphere. Less than a month later, Clinton, considered by most to be an asset to his wife's presidential bid, became more visible in her campaign as she prepared for the first nominating events of the election cycle.
Female Accusers
Then. Along with the Lewinsky scandal, Clinton spent much of his career embroiled in accusations of sexual misconduct with multiple women: Kathleen Willey, Juanita Broaddrick and Paula Jones. None of their complaints ultimately resulted in criminal trials, but at the height of the Lewinsky scandal, Trump weighed in, seemingly scorning Jones by calling her a "loser" in the 1998 interview with CNBC. Jones is a former employee of the state of Arkansas—where Clinton was governor—who sued the former president for accusations of sexual harassment.
When Trump was asked about whether he would run for a public office, he compared himself to Clinton, saying, "Can you imagine how controversial I'd be? You think about him with the women. How about me with the women?"
Trump also suggested Clinton was a "victim" to an unattractive group of female accusers. He told The New York Times in September 1999 that Americans might have been more forgiving toward the president about his actions with Lewinsky if he had cheated on his wife "with a really beautiful woman of sophistication."
Just last year, when given the option between the four most recent presidents—two Republicans and two Democrats—Trump said Clinton was the best leader.
"There was a little spirit. Frankly, had he not met Monica, had he not met Paula, had he not met various and sundry semi-beautiful women, he would have had a much better deal going," Trump told MSNBC's Morning Joe in June 2015.
"He was destroyed by that, he was really hurt very badly," he added. "But he's Teflon."
Now. Trump classifies Bill Clinton as a victimizer. "[Hillary's] married to a man who was the worst abuser of women in the history of politics. She's married to a man who hurt many women," Trump said at a May 7 rally in Spokane, Washington. "She's married to a man who got impeached for lying. He was impeached and he had to go through a whole big process and it wasn't easy."
About two weeks later, in an interview with Fox, Trump accused Clinton of rape.
Then on May 23, he released an attack ad that highlights the rape allegations against Clinton and includes audio from Broaddrick and Willey, who both separately accused Clinton of sexual assault.
Vincent Foster
Then. Early on in the Clinton administration, on July 20, 1993, the body of White House Deputy Counsel Vincent Foster was found in a Virginia park. Rumors swirled about his death, and there was speculation the Clintons were in some way involved in a murder. But law enforcement officials, as well as multiple investigations—including by the U.S. Department of Justice, FBI and U.S. Park Police—ruled Foster's death a suicide.
Trump seemingly remained silent on the issue at the time, as a search turns up no former commentary from the billionaire.
Now. Trump, resurfacing the long-ago and debunked rumors, in May called Foster's death "very fishy." He admitted to not knowing "enough" to discuss it, but acknowledged some Americans continue to bring it up because "they think it was absolutely a murder."
—
Despite his recent tough talk toward Clinton, Trump repeatedly expressed sympathy toward the former president and his scandals. Now, the mogul uses those same instances in attacks against "Crooked Hillary," whom he has called an "unbelievably, nasty, mean enabler" of her husband's affairs—in rhetoric many view as a waver from his previous comments.
CNN's Chris Cuomo recently questioned Trump adviser and special counsel Michael Cohen on the candidate's past defense of Clinton. "He wasn't lying. He was protecting a friend. There's a difference," Cohen said in a May 24 interview. "It didn't matter to him at that point in time."
"He was a private citizen who was friendly with the Clintons," Cohen said. "Now, it's a different game. It's 2016, he's the Republican presidential nominee."