After Clinton's Wins, Sanders Now Seems Up Against History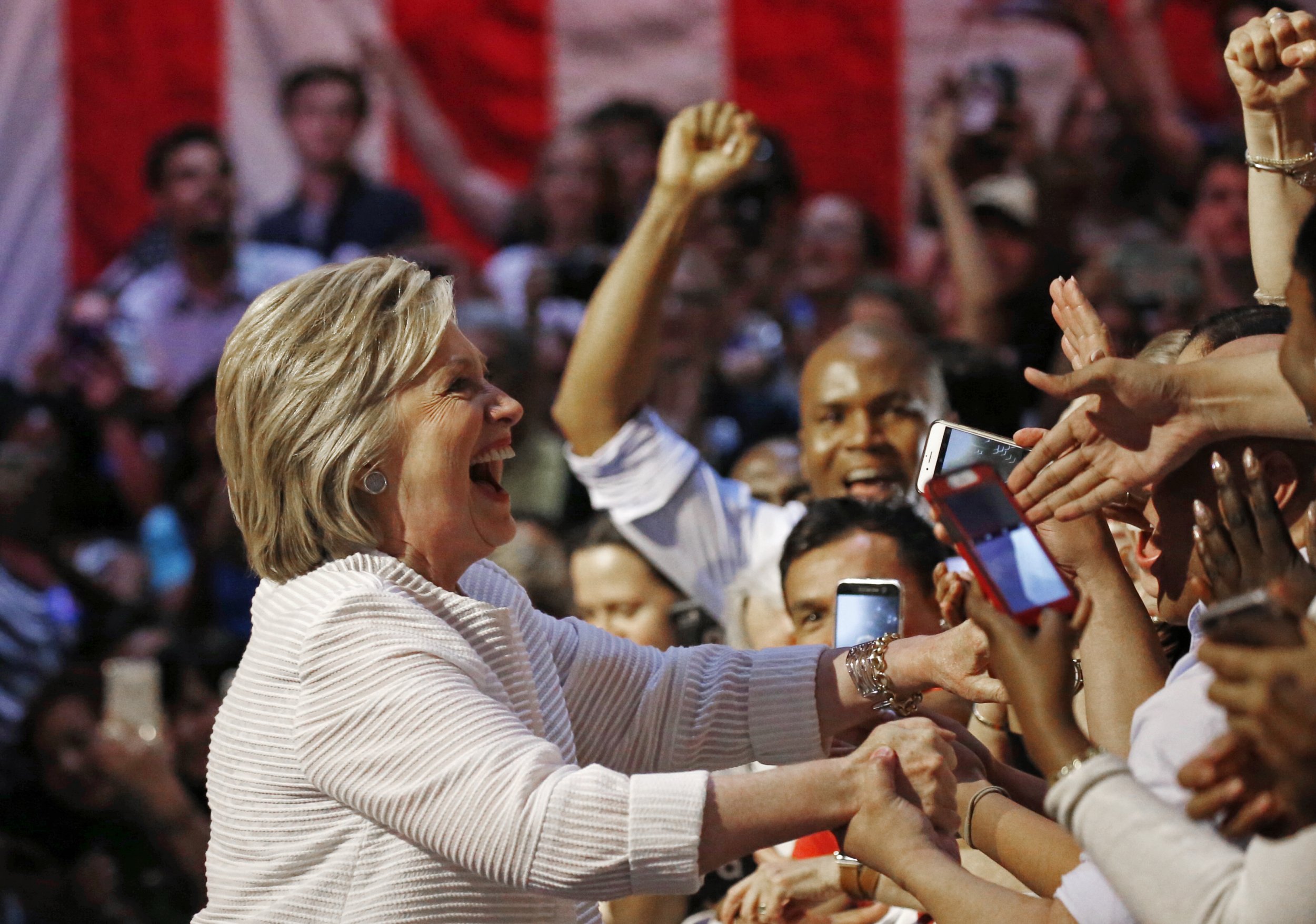 Bernie Sanders bristled. When asked at a press conference in California on Monday if it was sexist for him to stay in the Democratic presidential primary, despite virtually no chance of catching Hillary Clinton to win the nomination, he snorted: "Is that a serious question?"
It's a lot more serious today, as the historic nature of Clinton's nomination really begins to sink in. The race was called by the Associated Press on Monday, but it was cemented Tuesday night with Clinton's victories in New Jersey, South Dakota and New Mexico, and then, early Wednesday morning, California, with its 475 pledged delegates. Sanders picked up wins in North Dakota and Montana. But the fact that a major political party in the United States appears, for the first time, poised to nominate a woman for president, was the talk of the penultimate primary night of 2016. Washington, D.C., has yet to vote and will head to the polls next week.
"It's a big deal in human history," noted Van Jones, a liberal political commentator on CNN. Even if Sanders supporters want to quibble that the "corporate media" has been in the bag for Clinton all along (never mind how strained relations between the press and the Clinton campaign have been), it's hard to argue with the symbolism of this image:
Eight years ago Tuesday, Clinton conceded to Barack Obama in the 2008 presidential primary, famously acknowledging, "we weren't able to shatter that highest, hardest glass ceiling this time," but adding, "it's got about 18 million cracks in it." The momentousness of finally breaking through was not lost on Clinton on Tuesday night in Brooklyn, New York. She began her remarks to supporters by paying homage to the Seneca Falls Convention, the nation's first women's rights gathering organized by trailblazing female activists in upstate New York in 1848. Clinton also noted that her mother was born on the day Congress passed the 19th Amendment, granting women the right to vote. "I wish she could see her daughter become the Democratic Party's nominee," Clinton said, choking up.
It's difficult to see how Sanders can continue his campaign after that kind of moment. Before Tuesday, the Vermont senator's repeated pledge to stay in the race until the party's convention at the end of July was already widely seen as quixotic. Now it also appears as though he is resisting history.
Never mind that the Democratic political establishment has already moved on. President Obama was clear in his statement Tuesday night, congratulating Clinton "for securing the delegates necessary to clinch the Democratic Nomination for president." Obama also said that, at Sanders's request, he and the Vermont senator had arranged a Thursday meeting at the White House "to continue their conversation about the significant issues at stake in this election."
Sanders told a crowd of supporters late Tuesday night in California he has no intention of backing down. The biggest prize of the night, California, was Sanders's last hope to make his case. Nevertheless, he remained undeterred as he spoke to a jubilant crowd in Santa Monica. "Next Tuesday, we continue to fight in the last primary, in Washington, D.C.," he said as the audience roared. "And then we take our fight for social, economic, racial and environmental justice to Philadelphia."
Yet there are signs that Sanders's resolve may be weakening, or at least that he's pivoting from an election campaign to a broader one about the priorities of the Democratic Party. "Our job," he told the crowd, "is to bring the American people together to create a government that works for us, not the 1 percent." His top priority, he said, is to prevent right-wing Republicans from controlling the government—particularly Trump, the presumptive GOP nominee. Sanders avoided even referring to Clinton, except to acknowledge that he'd received a "gracious call" from her earlier in the evening. The mention of his rival drew heated boos from the crowd.
Meanwhile, The New York Times reported Tuesday night that Sanders plans to lay off much of his campaign staff in the coming days. And liberal advocacy groups, which have been some of Sanders's fiercest supporters, issued statements Tuesday night that sounded more like campaign eulogies than rallying cries ahead of a general election. "Our party and our country has been made better by the political revolution Bernie Sanders helped inspire, and despite suggestions to the contrary, that will remain true as he continues his campaign until every last vote is cast and caucus is conducted," Democracy for America Chairman Jim Dean said in a statement.
After his meeting with Obama on Thursday, Sanders is scheduled to hold a campaign rally in Washington, D.C. Democrats will be watching closely to see where he stands.