A History of Papal Visits to America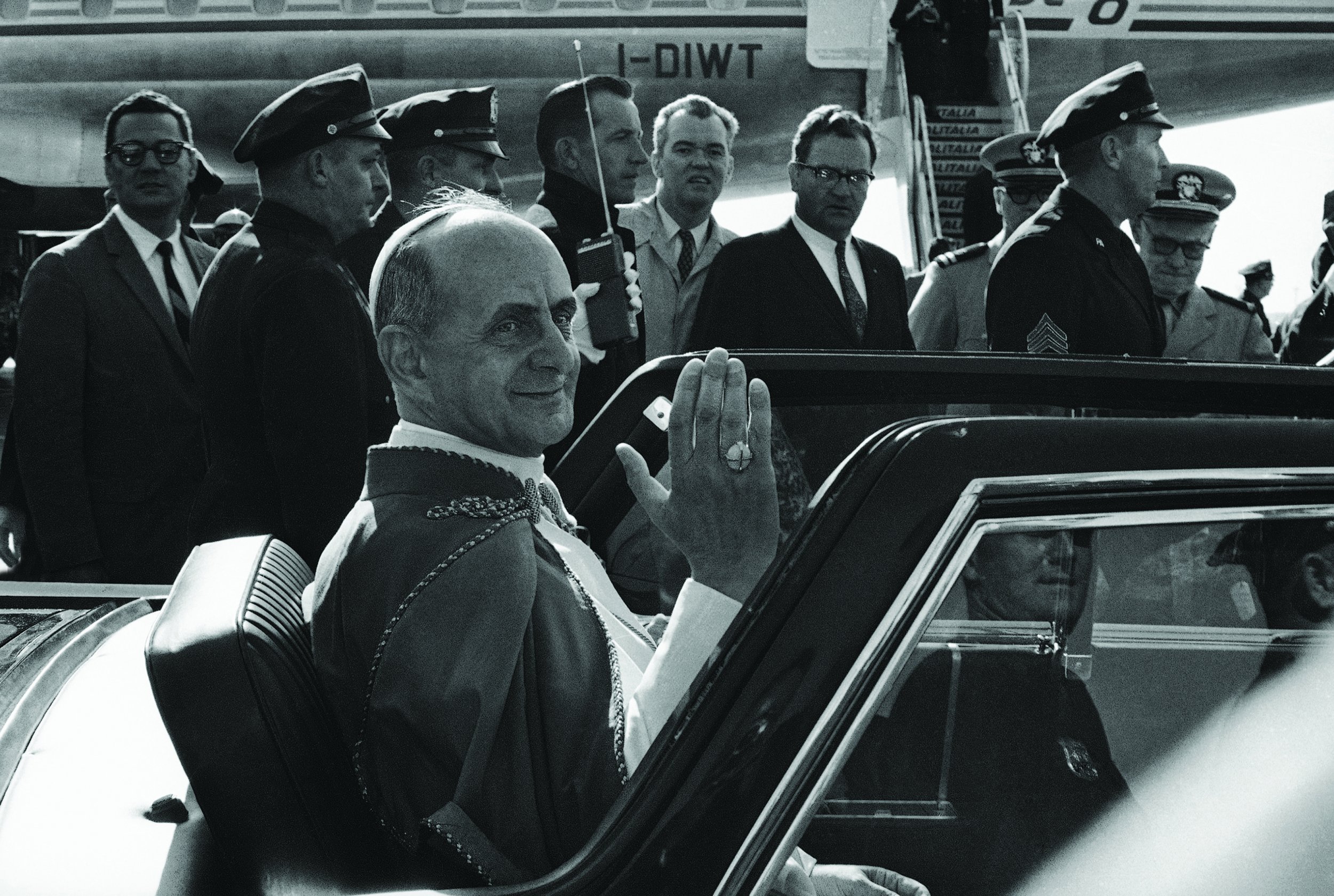 Since the inaugural papal visit to the New World by Paul VI, the United States has become a destination visited as often as possible by pontiffs. Ahead of Pope Francis's first visit to the United States since becoming head of the Roman Catholic Church in 2013, Newsweek's Special Editions takes a look at a history of papal visits to America.
POPE PAUL VI
1965 (10/4) New York
Becoming the first pope to leave the confines of the Italian border since the Napoleonic era, Paul VI made a one-day trip to the U.S. in 1965, also becoming the first pontiff to set foot in the New World. In his 14-hour New York adventure, Pope Paul VI visited St. Patrick's Cathedral on 5th Avenue, making a speech to assembled American Catholics in his slight Italian accent. Upon his arrival at JFK Airport, he proclaimed, "Greetings to you, America. The first pope to set foot on your land blesses you with all his heart. He renews, as it were, the gesture of your discoverer, Christopher Columbus, when he planted the Cross of Christ on this blessed soil."
ST. POPE JOHN PAUL II
1979 (10/1–10/7) Boston; New York; Philadelphia; Chicago; Washington, D.C.; and Des Moines, Iowa.
During his first-ever trip to the United States, the future St. John Paul II led Mass at Yankee and Shea stadiums in New York City, on the Benjamin Franklin Parkway in Philadelphia and in the expansive Grant Park in Chicago. More than one million American Catholic worshippers showed up to receive the pope's blessings during his stateside visit.
1981 (2/27) Anchorage, Alaska
After canonizing the first ever Filipino saint, Lorenzo Ruiz, in Manila, Philippines, His Holiness stopped off for half a day in Anchorage, Alaska, which made him the first pontiff ever to visit the American arctic.
1984 (5/2) Fairbanks, Alaska—stopover/several hours
On his way to his visit to the Far East, Pope John Paul II returned to Alaska during a stopover on his way to Seoul, Korea. His trip to the Asian peninsula was for the purpose of canonizing 103 Korean martyrs.
1987 (9/10–9/19) Miami; Columbia, South Carolina; New Orleans; San Antonio; Phoenix; Los Angeles; Monterey, California; San Francisco; Detroit
During his longest ever trip to the United States, John Paul II led Masses in Miami; New Orleans; San Antonio; Phoenix; Los Angeles; Salinas, California; and Pontiac, Michigan. He also met with President Ronald Reagan in the process to discuss world issues.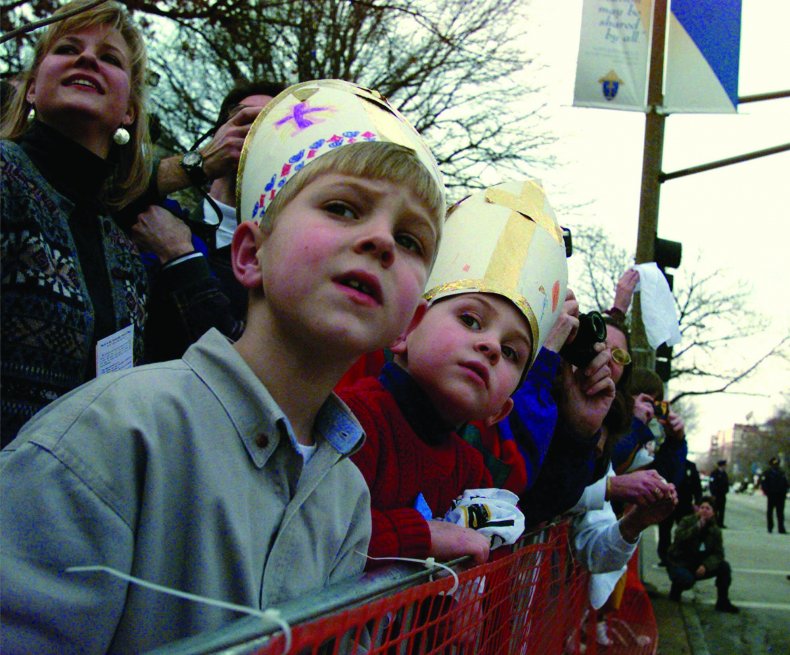 1993 (8/12–8/15) Denver (World Youth Day)
In Colorado for the growing tradition of World Youth Day, Pope John Paul II condemned violence, drug abuse and pornography as threats to the future of society before officially meeting with President Bill Clinton.
1995 (10/4–10/8) Newark, New Jersey; New York (including Brooklyn); Baltimore
Making a tour of the New York Metropolitan Area, Pope John Paul II arrived in Newark and greeted the gathered faithful in typically warm and stately fashion: "It is a great joy for me to return to the United States, as I had hoped to do last year. Thank you all for receiving me so warmly. This is a land of much generosity, and its people have always been quick to extend their hands in friendship and to offer hospitality. Thank you especially, President Clinton, for coming here today in that same spirit.... I look forward to meeting the Catholic communities of Newark, Brooklyn, New York and Baltimore, as well as our brothers and sisters of other Christian Churches and Ecclesial Communities.... I greet all the people of this great nation, of every race, color, creed and social condition. I pray for you all and assure you of my profound esteem."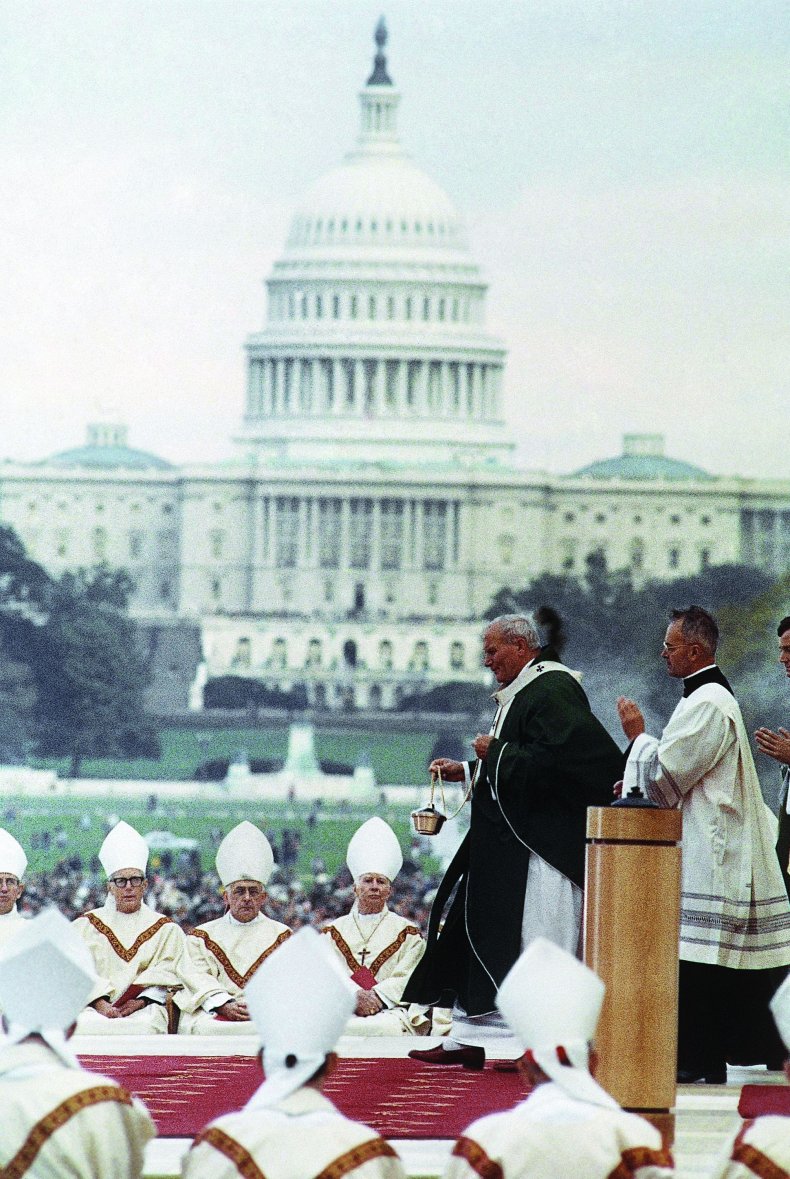 1999 (1/26–1/27)—St. Louis
An aging John Paul II visited St. Louis and held Mass in front of 100,000 people in the city's football stadium. He took the opportunity of an audience in the American heartland to roundly decry the death penalty as cruel and unnecessary.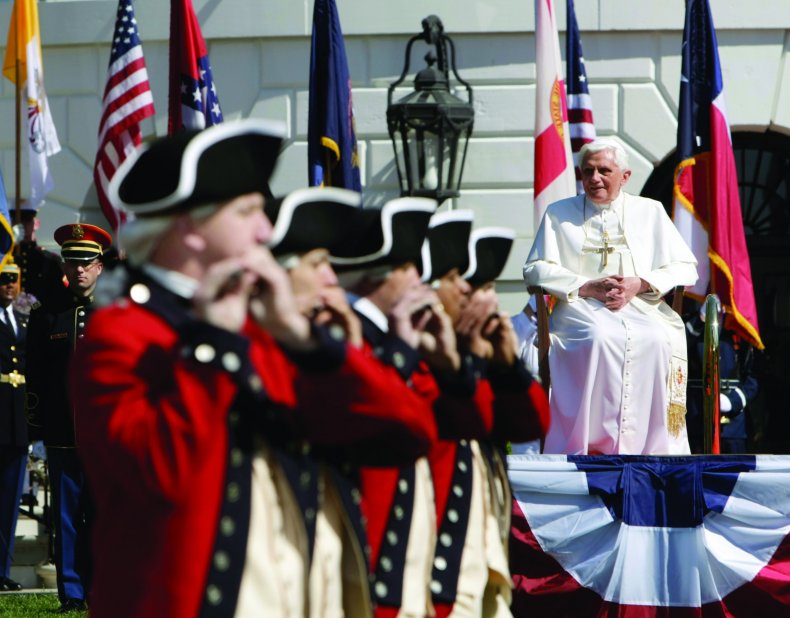 POPE BENEDICT XVI
2008 (4/15–4/20)—Washington, D.C. and New York
After meeting with President George W. Bush at the White House, Benedict said Mass at Nationals Park and moved on to New York. While in the Big Apple, the pope said Mass at both St. Patrick's Cathedral and Yankee Stadium before offering a blessing at the former site of the World Trade Center.
This article appears in Newsweek's Collector's Edition, Pope Francis The American Journey, by Issue Editor James Ellis.