A History of Taylor Swift's Feud With Scooter Braun, Big Machine Label Group Around American Music Awards
Taylor Swift will be awarded Artist of the Decade at Sunday night's American Music Awards (AMAs), but hype surrounding the recognition has been tumultuous.
Swift has spoken in-depth about her feud with Scooter Braun and her former music label, Big Machine Label Group, in the past year. Now, the conversation has pointed directly at the awards show. Here's everything you need to know ahead of the AMAs: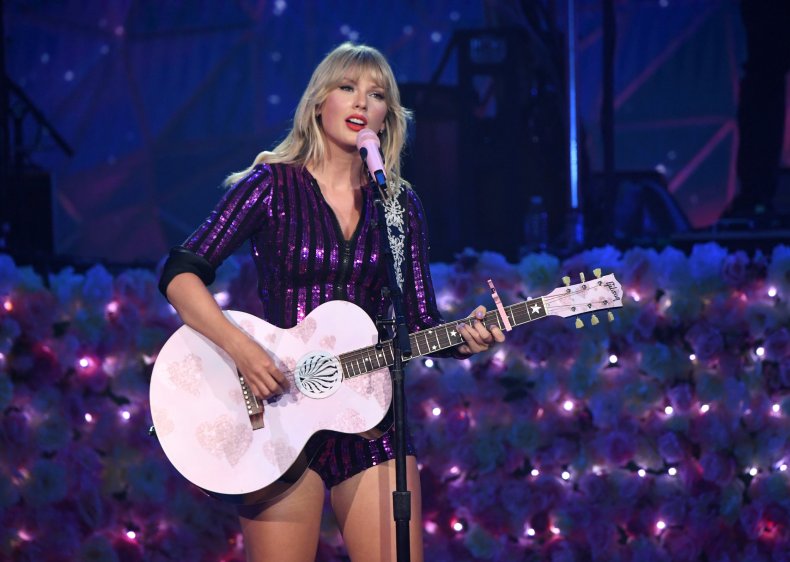 Scooter Braun Buys Big Machine
Braun, who managers singers Ariana Grande, Demi Lovato and Justin Bieber, acquired the majority rights to Big Machine Label Group in June. The label, who Swift parted from in November 2018, holds the ownership of her music before 2019 album Lover.
Swift Says She Didn't Have A Chance To Buy Her Music
When Braun's new ownership was revealed, Swift expressed her disappointment publicly. She wrote a statement on her Tumblr account. "For years I asked, pleaded for a chance to own my work," the post read.
She also claimed Braun had bullied her in the past. "Now Scooter has stripped me of my life's work, that I wasn't given an opportunity to buy. Essentially, my musical legacy is about to lie in the hands of someone who tried to dismantle it. This is my worst case scenario. This is what happens when you sign a deal at 15."
A month later, during a conversation with Good Morning America in August, Swift explained she'll be legally allowed to re-record her old albums in 2020. She claimed her plan was to create new versions of all her albums.
Swift Calls Out AMA Censoring
Swift originally claimed she wouldn't be able to perform any of her old music on the show in a lengthy social media statement uploaded on November 14. In it, she explained Big Machine Label Group, it's CEO Scott Borchetta and Braun were preventing her from doing so. Big Machine owns all of Swift's music before her 2019 album Lover, and therefore, controls the rights and licensing of all songs.
The singer's statement explained Braun and Big Machine wouldn't allow her to perform her old hits on the awards show because it contradicts the agreement that allows Swift to re-record her old songs next year. Because of the televised event's public recording, Swift wrote that this would be a breach of the agreement.
"Scott Borchetta told my team that they'll allow me to use my music only if I do these things: If I agree to not re-record copycat versions of my songs next year (which is something I'm both legally allowed to do and looking forward to) and also told my team that I need to stop talking about him and Scooter Braun," she wrote in the statement.
Big Machine Responds
Big Machine responded the next day. "Taylor, the narrative you have created does not exist," the label wrote in a statement on its website. "All we ask is to have a direct and honest conversation. When that happens, you will see there is nothing but respect, kindness and support waiting for you on the other side. To date, not one of the invitations to speak with us and work through this has been accepted. Rumors fester in the absence of communication. Let's not have that continue here. We share the collective goal of giving your fans the entertainment they both want and deserve."
Swift's Team Explains TV Agreement
In another response, Swift's team cited an alleged email from the Big Machine Label Group Vice President, Rights Management and Business Affairs. It dives into Swift's claim that Big Machine would not allow her to use her old music during the American Music Awards or her unreleased Netflix documentary.
"Please be advised that BMLG will not agree to issue licenses for existing recordings or waivers of its re-recording restrictions in connection with these two projects: The Netflix documentary and The Alibaba 'Double Eleven' event'," the email began, according to Deadline.
"To avoid an argument over rights, Taylor performed three songs off her new album 'Lover' at the Double Eleven event as it was clear that Big Machine Label Group felt any televised performance of catalog songs violated her agreement. In addition, yesterday Scott Borchetta, CEO and founder of Big Machine Label Group, flatly denied the request for both American Music Awards and Netflix. Please notice in Big Machine's statement, they never actually deny either claim Taylor said last night in her post," Swift's team said in a statement.
Big Machine Makes Agreement With AMAs
On Monday, Big Machine revealed a direct agreement with Dick Clark Productions, the producers of the AMAs.
The statement, shared on their website, read: "The Big Machine Label Group informed Dick Clark Productions today that they have agreed to grant all licenses of their artists' performances to stream post show and for re-broadcast on mutually approved platforms. It should be noted that recording artists do not need label approval for live performances on television or any other live media. Record label approval is only needed for contracted artists' audio and visual recordings and in determining how those works are distributed."
Braun Speaks Out
On Friday, Braun issued his own statement on Instagram, seemingly in concern for his safety. He claimed, since Swift's original post, his family has received numerous death threats.
The statement addressed Swift directly. "Since your public statement last week there have been numerous death threats directed at my family. I came home tonight to find my wife had received a phone call threatening the safety of our children as well as other threats seen above."
It continued. "I assume this is not your intention but it is important that you understand that your words carry a tremendous amount of weight and that your message can be interpreted by some in different ways," Braun wrote. "While disappointed that you have remained silent after being notified by your attorney 4 days ago of these ongoing threats, I'm still hopeful we can fix this."