Police have intervened after a group of 'Hitler Gang' middle school students posted an insensitive TikTok video that their transgender Jewish classmate felt was a direct attack on their faith and gender identity.
The Grinnell Police Department released an official statement on their Facebook page regarding an alleged hate-based incident at the Grinnell Middle School in Iowa, in which a group of boys allegedly filmed themselves performing an antisemitic and anti-LGBTQ routine.
"On May 5th, 2021 at 7:50 a.m. the Grinnell Police Department received a complaint from a citizen regarding a video posted on several social media platforms," Chief of Police Michael McClelland wrote.
"The reporting party believes the video was sent directly to his teenage [child] because of their family's religious faith."
In the since-deleted TikTok video, several young male students are seen walking down a school hallway. They are moving "in a goose-step style manner with their right arms extended and palms down," indicating an apparent Nazi salute.
McClelland noted the video was titled "Hitler Gang" and was posted "with several racist and derogatory hashtags attached."
In the video obtained by KCCI, the caption included "#DONTBEAJEW," "#IHATEGAYPEOPLE," "#RACISM," and "#KILLALLF****TS"
Elliot Zaret, the father of 14-year-old Ori, told The DesMoines Register that his child, who is Jewish and "identifies under the umbrella of trans/nonbinary," received the video from their peers online and immediately told their parents.
Elliot felt that the video was a thinly-veiled threat on the eighth-grader, based on the language and actions against Jewish and LGBTQ community members in the video.
"That's why it seems so much more specifically targeted towards Ori," he said. "There aren't that many Jews in Grinnell to begin with, let alone LGBTQ Jews."
Ori also shared with KCCI that they are frightened for their well-being now.
"Now I'm kind of scared to go to school," Ori told the outlet.
Elliot noted that his family is relatively new to the Grinnell-Newberg Community School District, telling KCCI that they had only moved to the area at the beginning of 2021.
"I don't really remember doing much of anything to them," Ori added. "So, [it] kind of confuses me."
McClelland also noted on Facebook that the Grinnell Police, the school district and the Poweshiek County Attorney's Office are aware of the situation. They have launched "an open investigation into the matter to determine if any laws have been violated."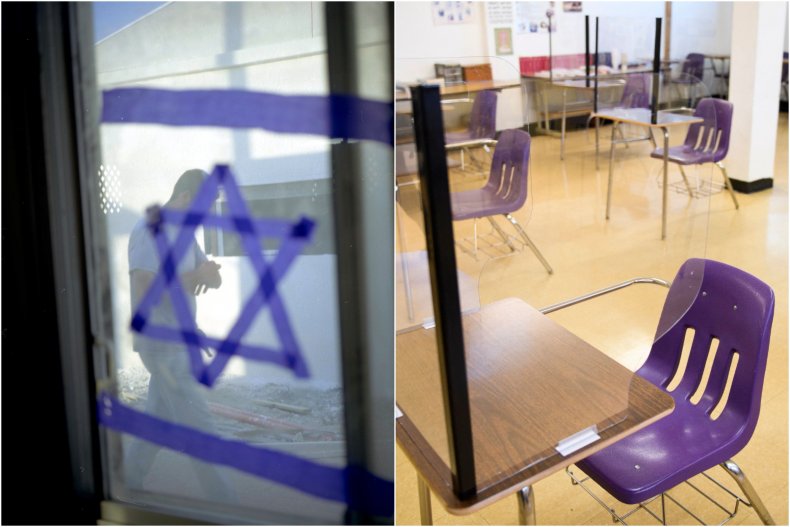 Grinnell-Newburg Community Schools Superintendent Dr. Janet Stutz told The DesMoines Register that she is "shocked, disheartened and disappointed" in the students.
"This family is new to our community. This is not how we welcome our new families," Stutz told the outlet.
Stutz and Grinnell Middle School noted that the students involved have been disciplined, and the school staff is working on an "action plan" to discuss the situation with students and preventing it from happening again.
Elliot also told The DesMoines Register that this was not the first hate speech incident with the students in the video. He claimed that the same classmates have made anti-Black statements in the past, but did not receive any punishment at the time.
Stutz claimed that she was unaware of the previous incidents and will "look at the evidence."
The Zarets also told KCCI that they hope, as heinous as the actions in the video were, this becomes a teaching moment for the community.
"These kids need to know this is not what our community finds acceptable," Ori's mother Zoe said. "This is not what our country finds acceptable."
This is the latest incident of antisemitic and anti-LGBTQ rhetoric caught on camera in America. A spate of vandalism and hate speech, considered by many in the Jewish community as a "swastika epidemic," has deepened fears of a far-right surge of violence.