Trump Boy Scout Speech Is Nazi Hitler Youth Rally, Left Says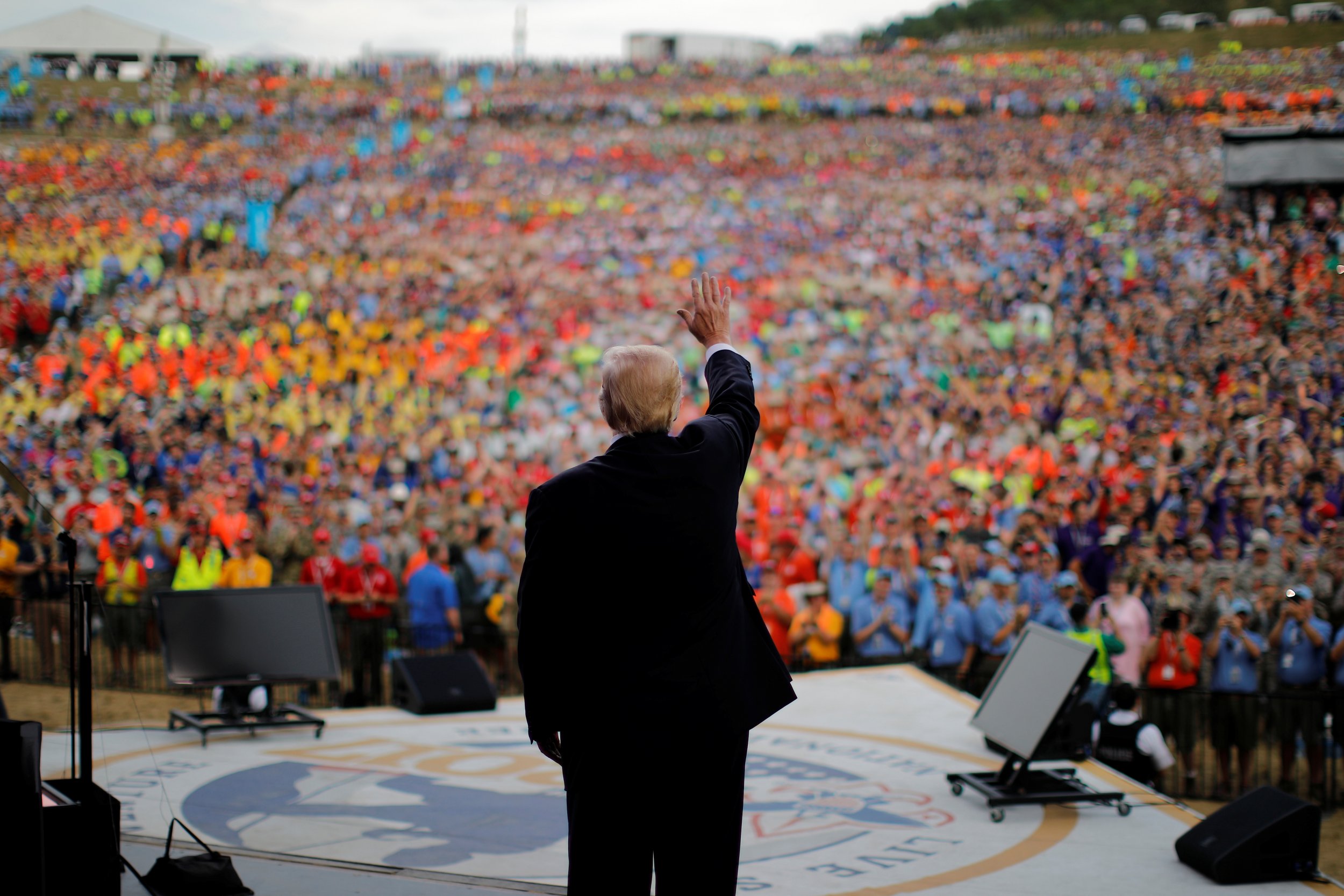 President Donald Trump brought his bombastic politics to a Boy Scouts event Monday in West Virginia, drawing cheers from the children gathered at the event and prompting comparisons between his rousing rhetoric and Nazi youth rallies from some liberal activists and journalists.
The president, the first sitting U.S. commander-in-chief to address the group since George W. Bush, used his speech to slam the "fake news," demand loyalty from administration officials and advocate for the overhaul of federal health care. He spoke to about 40,000 people at the Boy Scouts of America 2017 National Scout Jamboree.
"As the scout law says, a scout is trustworthy, loyal," Trump said, before adding, "We could use some more loyalty, I will tell you that." As he spoke, the crowd chanted "U.S.A" and applauded, prompting some critics of the president, who has the lowest approval ratings in modern history, to compare his rhetoric to the Hitler Youth, a wing of Germany's Nazi party.
"The Boy Scouts must distance themselves from that offensive attempt to politicize scouting and turn them into a Trump youth organization," wrote Richard W. Painter, vice-chairman of Citizens for Responsibility and Ethics in Washington and the chief ethics lawyer in the White House under Bush, on Twitter Monday night.
Trump reminded the crowd of his victory against Hillary Clinton in the November presidential election and thanked Americans for supporting him after he lost the popular vote to her. "Do you remember that famous night on television, November 8?" Trump asked. He said his ascendance to the White House was "an unbelievable tribute to you and all of the other millions and millions of people that came out and voted for Make America Great Again."
At one point, Trump pointed out Obama's decision not to attend a jamboree during his two terms in office. He told the crowd, "Did President Obama ever come to a Jamboree?" Boy Scouts yelled out in response: "Noooooooo!"
Trump referred to one of his campaign slogans at another point: "The Scouts believe in putting America First."
The Boy Scouts of America said in a statement after the speech that the organization did not endorse Trump or any "position, product, service, political candidate or philosophy." The group has a tradition of inviting sitting presidents to address its annual gathering. It concluded, "the sitting U.S. president serves as the BSA's honorary president. It is our longstanding custom to invite the U.S. president to the National Jamboree."
Trump noted that at least 10 of his Cabinet members were Boy Scouts, including Interior Secretary Ryan Zinke, Energy Secretary Rick Perry and Secretary of State Rex Tillerson, who served as the group's president from 2010-2012. Obama was also a Boy Scout. Trump was not.
Trump, who has attracted support from white nationalists leaders in the past, has repeatedly been compared to a Nazi leader by his critics. The Nazi Party targeted German children to help spread its propaganda messages, at one point counting more than 5.4 million members before joining became mandatory in 1939. A Trump supporter launched a group named "Trump Youth" last year that also drew comparisons to the Hitler Youth. A video promoting the group made references to a worldwide "parasite" enemy, a code in Nazi propaganda for Jews. "Our nations have been commandeered by an international criminal cartel and this parasite is feeding on our energy. It's in Japan, it's in China, it's in Germany, it's in America — now, if we don't throw this parasite off our backs, the world will fall into chaos," group leader Jayme Liardi said in the video message, the Forward reported.
Other critics of the Trump administration have said it is offensive to compare the president's politics to Nazi imagery and tactics. "Although the candidate has said a number of disgusting things, the comparison to Hitler is far too facile — so facile that it is dangerous," Jonathan A. Greenblatt, CEO of the Anti-Defamation League, wrote in March 2016 during the 2016 campaign.