A group of Neo-Nazis drove a white van covered in anti-Semitic hate messages drawn on with window paint past a pro-Israel rally in Boca Raton, Florida on Wednesday.
The van's "Hitler was Right" message, along with many other hateful comments, sparked ralliers to boo in protest, and local law enforcement appeared to have kept a few ralliers from getting close to the van.
Rabbi Efrem Goldberg of the Boca Raton Synagogue tweeted a video and said, "We rally for peace and this van filled with hate, call for genocide and threats kept circling."
"Hard to believe in the heart of Boca Raton if [I] didn't see it myself," he wrote.
According to writer and Twitter user Jared Holt, the group streamed their stunt to a white supremacist video site. Holt also identified one of the members of the van as Jovanni Valle, otherwise known as Jovi Val, an anti-Semitic event organizer and white nationalist extremist.
Jovi Val first made headlines when he was struck in the face with a broken glass bottle in a New York City bar, reportedly because he was wearing one of former President Donald Trump's "Make America Great Again" hats. After the incident, he joined the extremist hate group, Proud Boys (from which he was later expelled), according to Right Wing Watch.
Jason Kessler, a former member of Proud Boys, organized the 2017 white supremacist "Unite the Right" rally in Charlottesville, Virginia.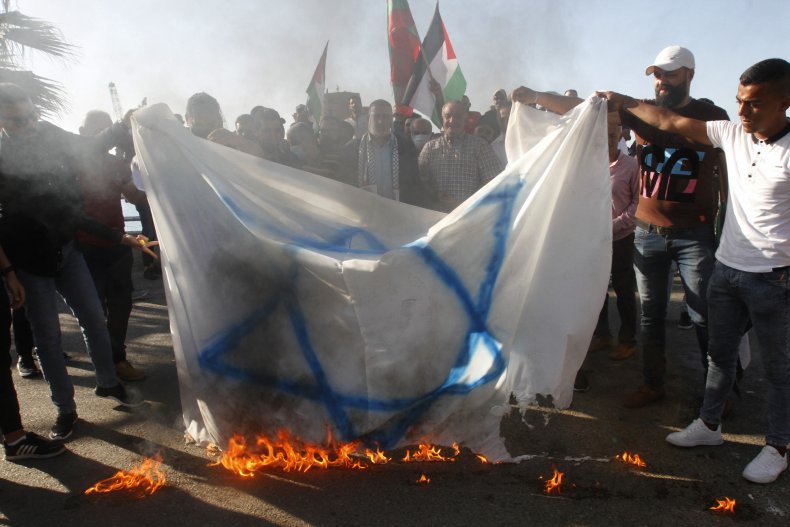 Now, Val is a part of the Goyim Defense League (GDL), the group responsible for the hateful drive-bys at Wednesday's pro-Israel rally. The Anti Defamation League (ADL) produced a write-up of information on the group:
"GDL attracts a range of antisemites and white supremacists who are motivated and united by their hatred of Jews. The most zealous GDL actors are in California, Colorado, Florida and New York. They work alone, in small local cliques and occasionally travel across the country to work together in larger teams," ADL wrote on their site.
The GDL is also responsible for a protest held at Maitland's Holocaust Memorial Resource & Education Center. Lisa Bachman, senior operations director at the center reported a van painted with anti-Jewish messages and the phrase "stop white genocide" trying to drive onto the property.
Bachman told the Orlando Sentinel that the van then went across the street, and a group of about 10 people with anti-Jewish signs used a bullhorn to shout anti-Semitic slurs and handed out flyers to drivers stopped at the traffic light.
"There is a cancer in our society that is hatred and bigotry and unfortunately it is not going away," the Holocaust Center wrote in a Facebook post. "It is not just history. It is happening here and now."
No arrests were made during the protest at the Holocaust Center, reported Maitland police Capt. Louis Grindle, nor at Wednesday's rally.