'Hitman in a Porno Movie': SNL's Pete Davidson Mocks Veteran Dan Crenshaw Who Lost His Eye in Afghanistan
Comedian Pete Davidson mocked Dan Crenshaw, a military veteran who's running for office in Texas, during "Saturday Night Live," drawing the ire of some who considered the segment took it too far.
During the weekend update segment of "Saturday Night Live," Davidson mocked several people who were running for office, including Representative Pete King, Florida Governor Rick Scott and Crenshaw. After Crenshaw's picture, which was a photo of him wearing an eye patch, graced the screen, Davidson's co-host Michael Che told him, "Come on, man," in anticipation of the joke.
"You may be surprised to hear he's a congressional candidate from Texas and not a hitman in a porno movie," Davidson said.
The "Saturday Night Live" star then acknowledged Crenshaw's military service and said with a shrug of his shoulders, "I know he lost his eye in war or whatever."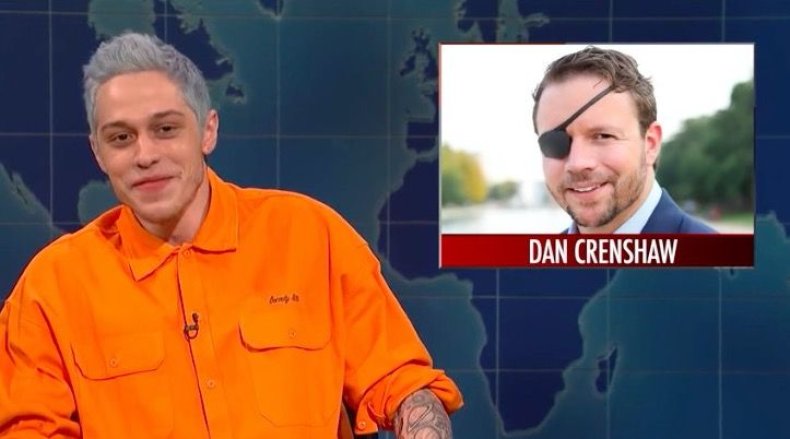 Crenshaw is a military veteran who served five deployments overseas as a Navy SEAL, according to his campaign website. During his third deployment in 2012, he was hit by an improvised explosive device (IED) while conducting a mission in Helmand province, Afghanistan. He was evacuated and put into a medically induced coma. When he woke up, he learned that his right eye was completely destroyed and his left eye was severely damaged.
Crenshaw regained sight in his left eye after several surgeries and deployed again to the Middle East in 2014 and then South Korea in 2016. He was awarded two Bronze Stars, the Purple Heart and the Navy Commendation Medal with Valor for his service to the United States. The military veteran now has a glass eye in place of his right eye, but often wears an eye patch that covers the entire eye.
Davidson's mockery of Crenshaw was criticized on social media from people on both sides of the aisle for being a cheap shot at someone who was undeserving of the superficial mockery. Washington Free Beacon writer Natalie Johnson called it "low even for them."
National Republican Congressional Committee Spokesman Jack Pandol said in a statement that getting dumped by a girlfriend is "no excuse" for criticizing a decorated war hero who was injured serving his country.
"Pete Davidson and NBC should immediately apologize to Dan, and to the millions of veterans and military families who tune in every weekend – because they're not laughing," Pandol said.
David Weigel, a journalist at The Washington Post, acknowledged that he has the "world's darkest sense of humor" but noted that the jab at Crenshaw was "offensive and stupid." He added that when he met Crenshaw, he told him about a friend who lost vision in her right eye and the congressional candidate offered the name of his eyepatch designer.
"This is absolutely disgusting. The guy did three combat tours as a Navy SEAL. Not funny in any way, shape or form," Politico senior writer Jake Sherman tweeted.
While the bit garnered attention on social media and many people came to Crenshaw's defense, as of Sunday morning, Crenshaw hadn't publicly addressed the dig.