'HIV Is Not Real,' Claims Russian Conspiracy Theory, as Disease Keeps Spreading
In Russia, deaths from HIV are on the rise and activists believe that ignorance and denialism about the disease is helping fuel the problem.
In 2016, Russia registered 103,438 new diagnoses, which made up a staggering 64 percent of all new diagnoses in the World Health Organization's (WHO) European region. Russia's consumer rights watchdog reported on Wednesday that new infections increased by a rate of nearly one percent compared to last year, state news agency Itar-Tass reports.
The ongoing problems in Russia with HIV and AIDS have been labelled a silent epidemic, partly because stigma still exists against sufferers of the disease in the conservative country. Russian social media has numerous groups dedicated to denying that HIV is a genuine medical diagnosis, some boasting thousands of followers. Such groups often argue that treatment or other pre-existing factors are what is actually harmful to an HIV sufferer.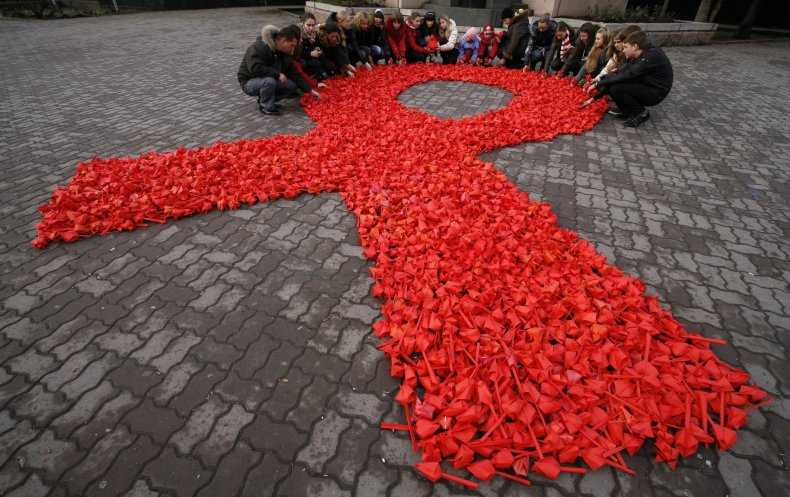 Many of the posts rely on pre-existing biases about the spread of AIDS as a disease that predominantly affects gay men and heavy drug users. With many Russians already on edge by the constantly alarmist, anti-Western worldviews espoused by the state-dominated media, a leap into AIDS conspiracies is not a step too far, Yelena Dolzhenko, a worker at the Moscow-based AIDS prevention center, the SPID Tsentr foundation, told AFP.
"On TV they are talking about how Russia is surrounded by enemies and that we must fight everybody," she said, noting it is a good foundation for believing suspect theories.
Yekaterina Zinger, director of the Svechha Foundation in Saint-Petersburg, added that the lack of proper education about the disease is nurturing unhealthy skepticism.
"The biggest reason is lack of consultation," Zinger said. "People don't get enough information and begin to think that somebody is hiding something from them.
Read More: Russia is accusing the U.S. of recruiting its journalists as spies
"The temptation to believe that it's a myth is very high," she said, adding that this is especially the case for heterosexual people who are not part of the usual HIV risk groups who get infected and then "don't understand how it happened to them."
"Imagine an Orthodox girl who went to church on Sundays, got married, and is told she is positive," Dolzhenko said.
Where HIV is regarded by many as a virus spread among drug users and "American gays," Dolzhenko said, "this girl is going to think that it has nothing to do with her," making her more likely to doubt both her diagnosis and the existence of the virus at all.
In other cases the shock of the discovery and the lack of sympathy or psychological support can push people toward believing harmful theories, experts warn.
"Denialism is usually a coping mechanism for people in crisis," former HIV denier Julia Vereshchagina told the Independent. She was diagnosed in 2007, after her doctor tested her without her consent during a routine appendicitis operation. Doctors then announced her diagnosis during a visit to her mother's house and incorrectly told her she had AIDS.
"That's when my denialism began," she said. "I understand the way I was told had a colossal effect on how I accepted things later.
"It's like a sect. You're either with them, and that's OK, or you doubt things," she added, recalling her experience with denialists. "That means you're not praying properly."
'HIV Is Not Real,' Claims Russian Conspiracy Theory, as Disease Keeps Spreading | World