HIV Positive Baby Dies After Russian Mother Calls AIDS a Western 'Myth'
A Russian mother who said AIDS is a Western "myth" faces manslaughter charges after the death of her HIV-positive baby in February.
Investigators and regional health officials told Agence France-Presse they opened a case Monday against the woman, who is HIV positive herself, after she rejected medical treatment for her five-month-old. Officials in the Siberian capital of Irkutsk said the baby girl died after her lungs "literally exploded from inside" from prolonged effects of pneumocystis pneumonia, a strain that attacks weak immune systems.
"The baby's mother was HIV positive and refused treatment for herself and her daughter," investigators from the Anti-AIDS Center in Omsk, Siberia, said in a Monday statement. "The woman stubbornly kept saying that HIV is a myth" and denied treatment for herself longer than five years.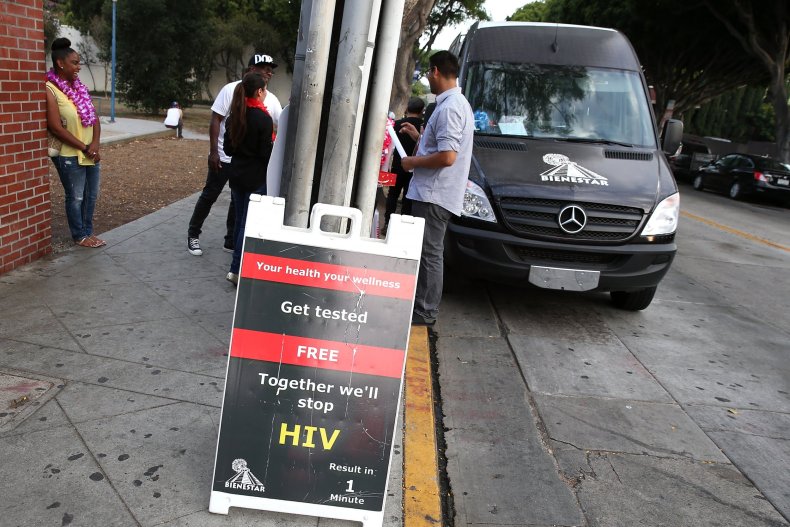 The mother, who has two other children, blamed the hospital staff and continued to claim the child died of regular pneumonia. Health officials pointed blame at a widespread HIV-denying conspiracy theory across Russia that the AIDS-causing virus is a Western creation. Figures published in 2017 by Russian government health officials found that more than 900,000 Russians are living with HIV, adding 10 new cases every hour. And while AIDS-related deaths and new HIV infections have decreased globally, Eastern Europe and Central Asia cases continue to rise each year.
Pro-Kremlin lawmaker Alexander Petrov called on international NGO's to assist in "reach[ing] out to those who do not believe that HIV exists" and are rejecting treatment, the AFP reported in 2017. Government figures showed that 80 people died every day from AIDS-related deaths in the first half of 2016.
"Before we built our center four years ago, people were fighting over medicine in crowded hallways; they were humiliated, treated as criminals," Yulia Plotnikova, the head doctor at the Irkutsk AIDS Center, told The Daily Beast in December 2017. Medical officials partially blamed "fake news" for the epidemic that's killed more than 200,000 Russians over the past three decades.
Several high-profile cases of "HIV dissidents" in Russia have caused ripples throughout international medical communities in the past few years. In one case, a 10-year-old Saint Petersburg girl died in August 2017 after her Russian Orthodox priest father rejected to give her HIV treatment for religious reasons. In response, a Volgograd physician nicknamed "Doctor Death," Olga Kovekh, reiterated to several Russian news outlets that HIV is "the greatest myth of the 20th century," used to enrich pharmaceutical companies.
"One goal of the AIDS myth is decreasing the planet's population to two billion by establishing total control," Kovekh told a local Russian news outlet in 2017.
Investigators told the AFP the death of the Siberian five-year-old last month could land the child's mother under manslaughter charges and up to two years in prison.