Russians Auction Line Jumps for H&M Closing Sale Amid Final Sales Surge
Russians are selling spots in line at clothing chain H&M's Moscow stores as the fast fashion giant seeks to sell-off its remaining stock before withdrawing from the Russian market.
According to local media outlets, line placements at H&M locations in Russia's capital began to appear on Avito, Russia's main classified ads website, with prices ranging between 300 rubles ($5) and 500 rubles ($8).
H&M Group suspended its operations in Russia in March, shortly after Russian President Vladimir Putin launched an invasion against neighboring Ukraine—joining many western brands pulling out of the country over the war.
An ad cited by Russian news outlet Moslenta said that a place was being sold "at the beginning of the queue at H&M in the Aviapark shopping center."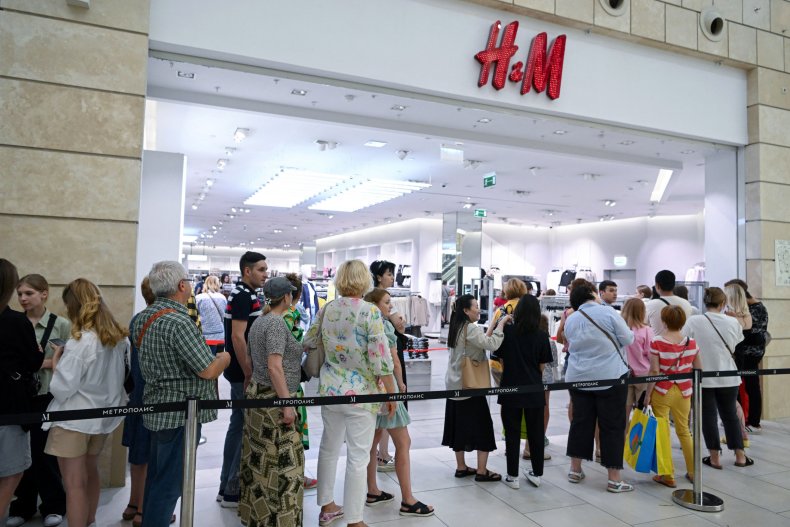 "Saving several hours. Quick entrance to the store," the advert said.
"For now, the price is quite reasonable—only 500 rubles," Russian state-run outlet RBC reported.
Another seller, who put up an ad for 300 rubles, told Moslenta that "it is not clear how the [H&M] store in Aviapark works. You need to book for a certain time...It seems that it opens, and then the employees go for a break and the store closes."
Long lines of people were seen outside H&M stores in Moscow on Tuesday after the Swedish company reopened stores in the city to sell of its remaining inventory, according to a clip posted on Telegram by news outlet Baza.
Last month, H&M Group said it would permanently exit Russia, but that it would will temporarily reopen its stores in the country to sell off its stock. The retailer said it was "impossible" to continue its business in Russia due to the war, which began on February 24.
"After careful consideration, we see it as impossible given the current situation to continue our business in Russia," chief executive Helena Helmersson said in a statement.
"We are deeply saddened about the impact this will have on our colleagues and very grateful for all their hard work and dedication. Furthermore, we wish to thank our customers for their support throughout the years," Helmersson added.
H&M group opened in Russia in 2009, and prior to Putin's war, the country was H&M's sixth-biggest market, accounting for some 4 percent of group sales in the final quarter of 2021. The wind-down process is expected to cost the Swedish company $196 million, the company said in a statement.
Newsweek reached out to the H&M group for comment.