'The Hobbit' Anniversary: What Inspired J.R.R. Tolkien's Iconic Book?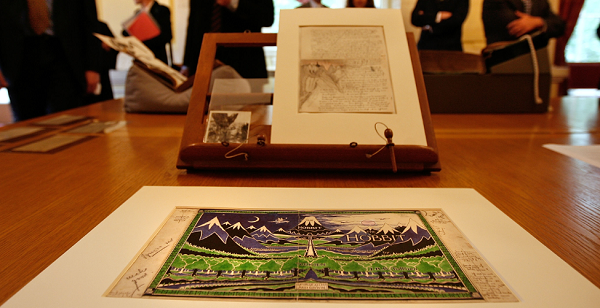 Eighty years ago Thursday, English writer John Ronald Reuel Tolkien, otherwise known as J.R.R. Tolkien, released the first edition of The Hobbit, or There and Back Again. The children's fantasy told the tale of Bilbo Baggins, a sweet, homebody hobbit who goes on a life-changing quest to win treasure and defeat the evil, fire-breathing dragon Smaug.
Although The Hobbit wasn't published until 1937, Tolkien was already known for his narrative poems and short tales based on fantasy beings such as elves and hobbits. An Oxford professor from 1925 to 1945, Tolkien was heavily inspired by the writings, languages and fantasies of Icelandic linguistic traditions, particularly Old Norse sagas like the Poetic Edda and Prose Edda.
Iconic English literature may also have played a role in Tolkien's first novel. He was a fan of William Morris, who translated Beowulf, and his creation of Smaug may have been inspired by the dragon in that ancient English poem. Tolkien often lectured on the tale while he was teaching at Pembroke College. The dwarfish hordes that control Middle-earth in Tolkien's books have many similarities to the dwarfs in the classic Grimm's Fairy Tales, which Tolkien also admired.
As for the precious and cursed gold ring, which was to be the focal point of The Hobbit's sequel, The Lord of the Rings, the author reportedly came up with the idea following a visit to an archaeological dig in Gloucester in 1929. An archaeologist found a Roman relic there in 1785.
Various locations Bilbo visits during his journey were inspired by Tolkien's own travels. In many ways, the Shire, where Bilbo lived, was influenced by the rural town Sarehole, near Birmingham, where Tolkien grew up. The author once told publishers that the Shire was representative of a preindustrial England and said that his creation was "more or less a Warwickshire village of about the period of Queen Victoria's Diamond Jubilee," which was held in 1897, according to The Independent.
Meanwhile, Middle-earth regions like Rohan and Gondor were inspired by Tolkien's trips to the Malvern Hills, while Rivendell came from memories of a vacation Tolkien took as a young boy to the Swiss Alps. The Two Towers arose in Tolkien's imagination after visits to Perrott's Folly and the Waterworks Tower in Edgbaston.
Initially, the tale of the hobbit was merely a bedtime story Tolkien told to his sons, John, Michael and Christopher. It started with the famous line that also opens the book: "In a hole in the ground there lived a hobbit."
Christopher Tolkien recalled his father sharing the oral version around 1929, according to The Guardian. Eventually, in 1937, while in his study at Oxford, Tolkien decided to breathe new life into the story of Bilbo Higgins by writing an entire book based on the thrilling adventures he often shared with his children.