Hochul, de Blasio to Move More Than 200 Women and Trans Prisoners out of Rikers Island
An estimated 230 prisoners at Rikers Island in New York will be temporarily transferred to two state facilities as local politicians work to address the "grave and complex" circumstances at the jail, New York Governor Kathy Hochul announced Wednesday.
The prisoner transfers, which comprise of "nearly all of women- and trans-identified individuals currently incarcerated" at Rikers, was agreed upon in collaboration with New York City Mayor Bill de Blasio, according to a press release from Hochul's office. The individuals covered by the transfer will be taken to either the Bedford Hills Correctional Facility or the Taconic Correctional Facility, both of which are located north of the city in Westchester County and overseen by the New York State Department of Corrections and Community Supervision.
Hochul said in the release from her office that the circumstances at Rikers Island, which have gained attention from lawmakers and civil rights advocates in recent months, "requires bold action" from the state and local governments.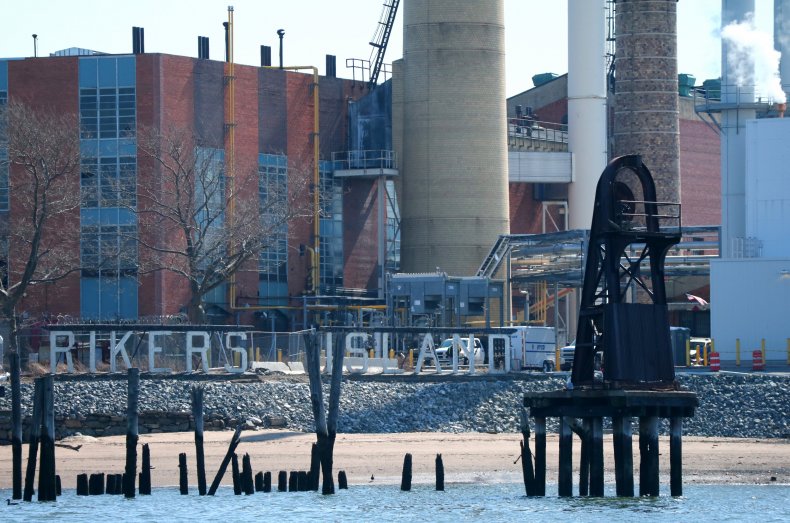 In addition to transferring the inmates to what Hochul described as "safer State facilities," the move will "help ease staffing concerns, capacity constraints, and improve safety for many until the City can implement a permanent solution that will bring justice to Rikers," Hochul said in a Wednesday tweet.
De Blasio said in the release he was "proud" to participate in the collaboration, which he said "will provide important relief" to the jail.
"Our reform efforts on Rikers Island have made encouraging progress, and our borough-based jails plans are moving forward and will fully transform this system—but there is no substitute for immediate support from our State partners at this critical moment in time," the mayor said.
The transfers are expected to begin next week and will happen twice every week, with between 10 and 20 prisoners moved each time until all of the designated individuals have been relocated. The prisoners will be physically and mentally assessed once they arrive at their new assigned facility, and the Department of Corrections will assist with transporting individuals based in New York City who wish to visit the prisoners at their new locations, Hochul's office said.
New York City's City Council approved a plan to close Rikers Island in 2019. At the time, the plan intended for the jail to be closed by 2026, but that date has since been pushed to 2027.
City officials and lawmakers at the local and federal levels have called for action to address the situation at Rikers, with some touring the jail and further emphasizing those calls in recent weeks. Representative Alexandria Ocasio-Cortez of New York, whose district includes Rikers Island, has raised concerns about the jail throughout her time in Congress and called for the release of all inmates at the facility in a letter sent to Hochul and de Blasio last month.
Jullian Harris-Calvin, the director of the Greater Justice New York program, told Newsweek when reached for comment the "most important action" Hochul could take as governor "is to facilitate the release of people to the community."
"She can order the courts to dedicate courtroom capacity to exclusively hear cases of people at Rikers Island for bail review and resentencing," Harris-Calvin said. "We hope that intermediate steps, like expanding video hearing capacity at Rikers Island and moving some people off the Island to upstate facilities, are simply a temporary fix for the much bolder action that needs to happen."
The Vera Institute for Justice additionally told Newsweek it recommended de Blasio and New York's City Council provide support to individuals who are released from Rikers Island, such as offering a location near the jail where individuals can receive help in obtaining food, MetroCards and assistance in finding housing upon release.
Updated 10/15/2021 at 5:52 p.m. ET: This article was updated to include comments from Greater Justice New York Director Jullian Harris-Calvin and additional information from the Vera Institute of Justice.