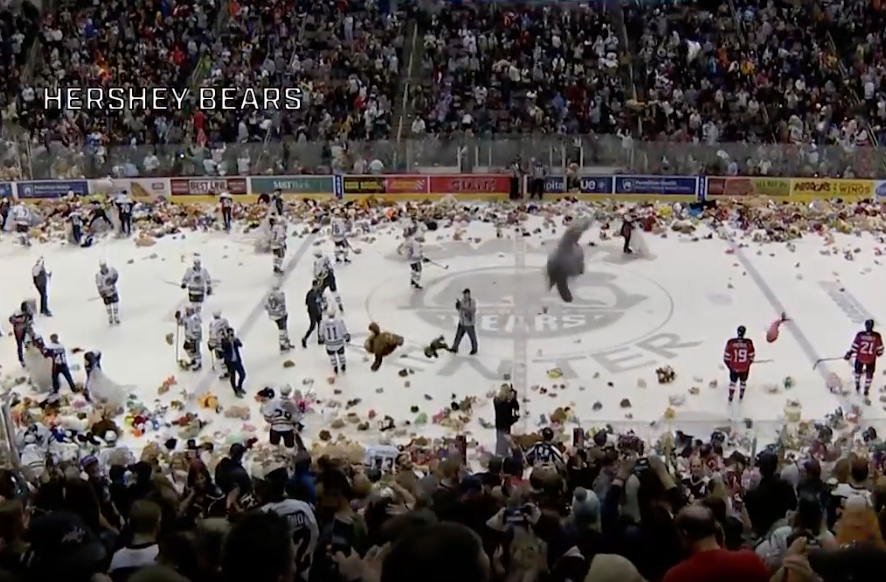 The city of Hershey, Penn., dubs itself "The Sweetest Place on Earth." The city is home to North America's leading candy manufacturer — The Hershey Company. Fans of the local minor league hockey team, the Hershey Bears, made their own sweet gesture in world-record fashion Sunday night.
During the first period of the Bears' game against the Binghamton Devils, Bears fans tossed 34,798 stuffed animals and toys onto the ice, breaking not only their own record but the world record set in 2016 in Canada by the Calgary Hitmen of the Western Hockey League.
Fans of the Hitmen threw 28,815 stuffed animals.
Binghamton went up 1-0 on a first-period goal, and then Bears right wing Riley Barber, a Pittsburgh native, tied the game at 1-1, prompting the avalanche of stuffed animals to rain from the Giant Center crowd of 10,046.
Toys and stuffed animals flew to the ice from all directions. Fans seen sitting near the glass had double duty of taking the animals that didn't make it to the ice and giving those toys an extra push.
The new and gently-used stuffed animals will be distributed to nearly 30 local organizations, including schools, churches, the Children's Miracle Network, the American Cancer Society and food banks throughout Central Pennsylvania.
CommunityAid, a local partner, will donate $15,000 to the Children's Miracle Network, and one Bears club seat holder pledged to donate $1 per stuffed animal on behalf of the Sweigart Family Foundation.
The promotion from the Bears has been going on for several years. In 2017, the team collected 25,017 stuffed animals.
Calgary and Hershey have both been doing the teddy bear toss for years, but they aren't alone. The San Jose Barracuda, Grand Rapids Griffins, Cincinnati Cyclones, the University of Minnesota Gophers, the Cornell men's hockey team and many others had success in similar promotions.
The Hershey promotion is held in early December so the animals can reach their destination in time for the Christmas and holiday season. The collection begins when the home team scores its first goal.
Barber caught a rebound from a shot that deflected off the crossbar and knocked it in. There was a lengthy period of time for the crew at the Giant Center to collect the stuffed animals and clean the ice, and the Bears went on to a 6-3 win.
The Hershey Bears are one of the oldest and most-decorated teams in the AHL. Hershey is a town built around Milton Hershey's chocolate company built in 1905.
About the writer
Scott McDonald is a Newsweek deputy night editor based in Cape Coral, Florida. His focus is assigning and writing stories across all topics, from news to politics, business, weather, sports and international news. Scott joined Newsweek in 2018 after a lengthy career of print journalism in Texas, including The Dallas Morning News, where he was a sportswriter, and he's a voter for the Heisman Trophy. He has been a newspaper editor-in-chief and also a newspaper publisher. He is a graduate of The University of Texas at Austin. You can get in touch with Scott by emailing s.mcdonald@newsweek.com. Languages: English