Hockey Player Removes Front Tooth Before Accepting Award at ESPYS
The St. Louis Blues pulled off a remarkable hockey feat in the 2018-19 season when they went from the worst team in the league to world champions and at the ESPY awards on Wednesday, the Blues were named 'Best Comeback.'
A handful of players took the stage to accept the award, but it was Blues center Ryan O'Reilly who pulled off the most "hockey" of moves before he thanked the crowd.
"Before I speak I'm gonna take my tooth out so I don't spit on any of the celebs in the front row," O'Reilly said.
O'Reilly reached slowly up to his face, slightly opened up his mouth and pulled a tooth away so that a gapped smile shone through his grizzled beard.
Newsweek subscription offers >
"Okay, we're good now," O'Reilly said.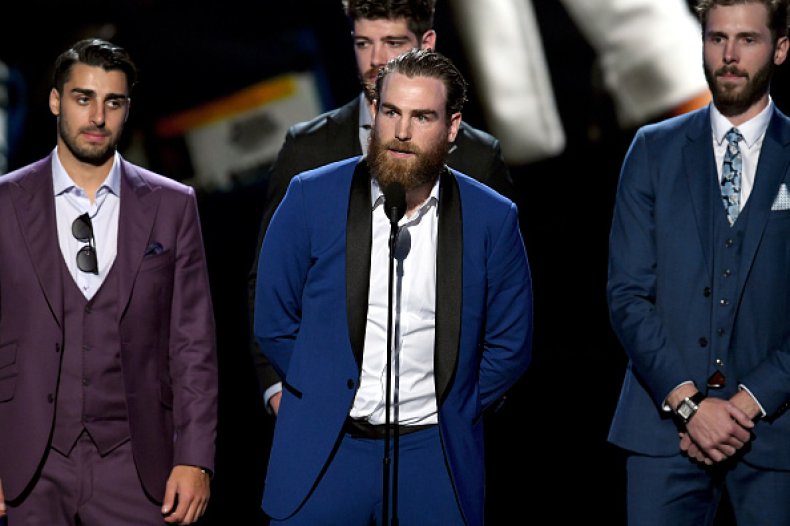 The Blues had never won a Stanley Cup during the club's existence, and they sat in 31st place in the league in January.
The team put together a strong second half to make the NHL playoffs, grabbing the No. 3 seed in the Western Conference. They beat the Winnipeg Jets four games to two in the first round, and then won a crucial Game 7 over the Dallas Stars in the conference semifinals.
The Blues then knocked off the San Jose Sharks in six games to advance to the Stanley Cup Finals to face the Boston Bruins, who were fresh off a sweep of the Washington Capitals and looking to keep their city's title streak alive with the Boston Red Sox and New England Patriots holding the professional baseball and football titles, respectively.
Boston had the home-ice advantage in the finals, and they took Game 1. The Blues won games two, four and five to take a 3-2 lead in the series, but the Bruins evened it and had home ice to force a Game 7 in Boston.
St. Louis dominated the deciding game, winning it 4-1.
Technology and equipment — like face guards and mouthpieces — have evolved over the decades to prevent hockey players from losing teeth. But O'Reilly decided to give viewers on both TV and the audience of what an original St. Louis Blues player may have looked like when hockey began in the Gateway to the West.
Hockey Player Removes Front Tooth Before Accepting Award at ESPYS | Sports