'Hocus Pocus' Film With Entirely New Cast Is Disney Channel's Halloween Gift for Millennials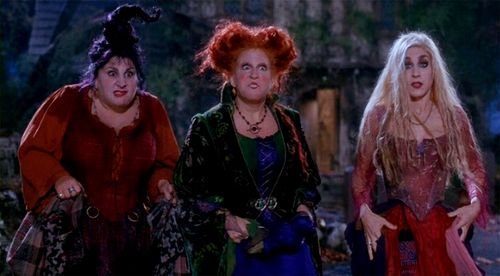 As a Halloween gift to '90s kids, Disney Channel is developing a Hocus Pocus remake that no one asked for. And the worst part? The new TV movie will feature a brand-new cast.
Yes, you read that correctly—a Hocus Pocus without Bette Midler, Sarah Jessica Parker and Kathy Najimy could very well exist in the near future. Deadline reported on Thursday that Scarlett Lacey, known for her work on The Royals, is writing the script, and David Kirschner, who produced the original 1993 film, will be back as executive producer. The film's original director, Kenny Ortega (High School Musical, Descendants), will reportedly not return.
The film is in early stages of development, so it's likely still a ways out, if it happens at all. There have been rumors that the reboot could happen recently—one the film's original writers, Mick Garris, told Forbes earlier this week, "I have heard they are developing the script. I haven't been involved in it, but I think there will be a sequel. It might be for Disney Channel or Freeform or ABC. I think it will be for television, but I hear that it is moving ahead."
And for some reason, it seems they are moving ahead without Midler, Parker or Najimy. Of course, those actresses might be busy—Midler at least is finishing up a run on Broadway and might want some time to rest—but both Midler and Parker have expressed interest in being involved in a Hocus Pocus sequel. Last November, Parker told Entertainment Tonight she was "down" for both a Hocus Pocus and a Sex in the City reboot. However, when she was asked if the sequel conversations were happening, Parker replied, "Nothing that is substantive, not more so than any other conversation that has happened."
As for Midler, the 71-year-old showed up to her 2016 Hulaween Bash in New York in full Winfred garb, complete with her iconic red hair, teeth and dress. If that's not a sign that she'd be in, what is?
It's hard to imagine that Hocus Pocus—which since its release has become a cult Halloween classic—could reinvent even a fraction of its former success without those three iconic evil witches. Perhaps the TV movie plans to feature a few choice cameos, but we'll see. Millennials are likely not going to be happy about this one.