Who Is Joel Schiffman? Hoda Kotb's Longtime Partner Just Became Her Fiancé
After dating for more than six years, Hoda Kotb and her longtime partner Joel Schiffman are officially engaged. Kotb announced her engagement on Today on Monday.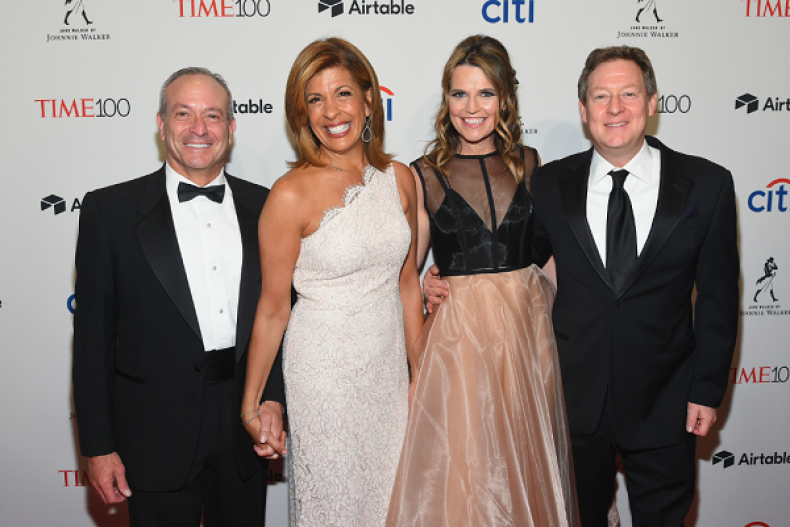 "I have something to tell you that a friend of mine, a friend of ours, asked me to let you guys in on, a secret. I'll give you her initials. Her initials are Hoda Kotb, and she's engaged," the morning show anchor said before flashing a stunning diamond engagement ring for her Today show co-hosts to see.
Kotb, 55, revealed 61-year-old Schiffman popped the question while they were enjoying dinner on the beach during a weekend vacation. The pair have enjoyed a public relationship since 2013, and in 2016, Kotb announced she and the financier were living together.
The couple share two children together, Hayley Joy and Hope Catherine, who are both adopted. Schiffman also has an adult daughter from a previous marriage. Kotb was formerly married to tennis coach Burzis Kanga, whom she divorced in 2008.
With a background in business development and investment, Schiffman works as the Head of US Defined Contribution and Insurance Sales at New York City firm Schroder Investment Management. He was first introduced to Kotb back in 2013 through the couple's mutual friend Joanne LaMarca Mathisen, who is a producer at Today.
Appearing on Watch What Happens Live in September, Kotb said she first met Schiffman at an event that she didn't even want to go to. However, she had to make good on her appearance since it was orchestrated by LaMarca Mathisen's husband. "It was pouring rain. It was a bunch of Wall Street guys. Not my crowd. I had to give a speech. They were bored," she explained.
Kotb said she was scheduled to autograph photos after the speech, and that's when the "Jewish gentleman" Schiffman caught her eye.
"They said, 'Oh ,you need to sign a few pictures and stuff.' I said, 'Look, no one's interested.' They were like, 'To my Aunt Milly. To my meemaw,' and he was next in line. He goes, 'Can you sign this?' I said, 'Who should I sign this to?' and he said, 'How about to me?'"
After the event, Kotb asked one of the event organizers to find out Schiffman's "situation," which eventually led to Schiffman asking her out on a date via email.
Back in June, Kotb shared an Instagram post of the couple celebrating their 6-year anniversary and thanked the Mathisens for coercing her into attending the event, which ultimately led her to Shiffman.