Hofstra Music Professor Apologizes for Confessing 'Foolish and Dangerous' Attraction for Student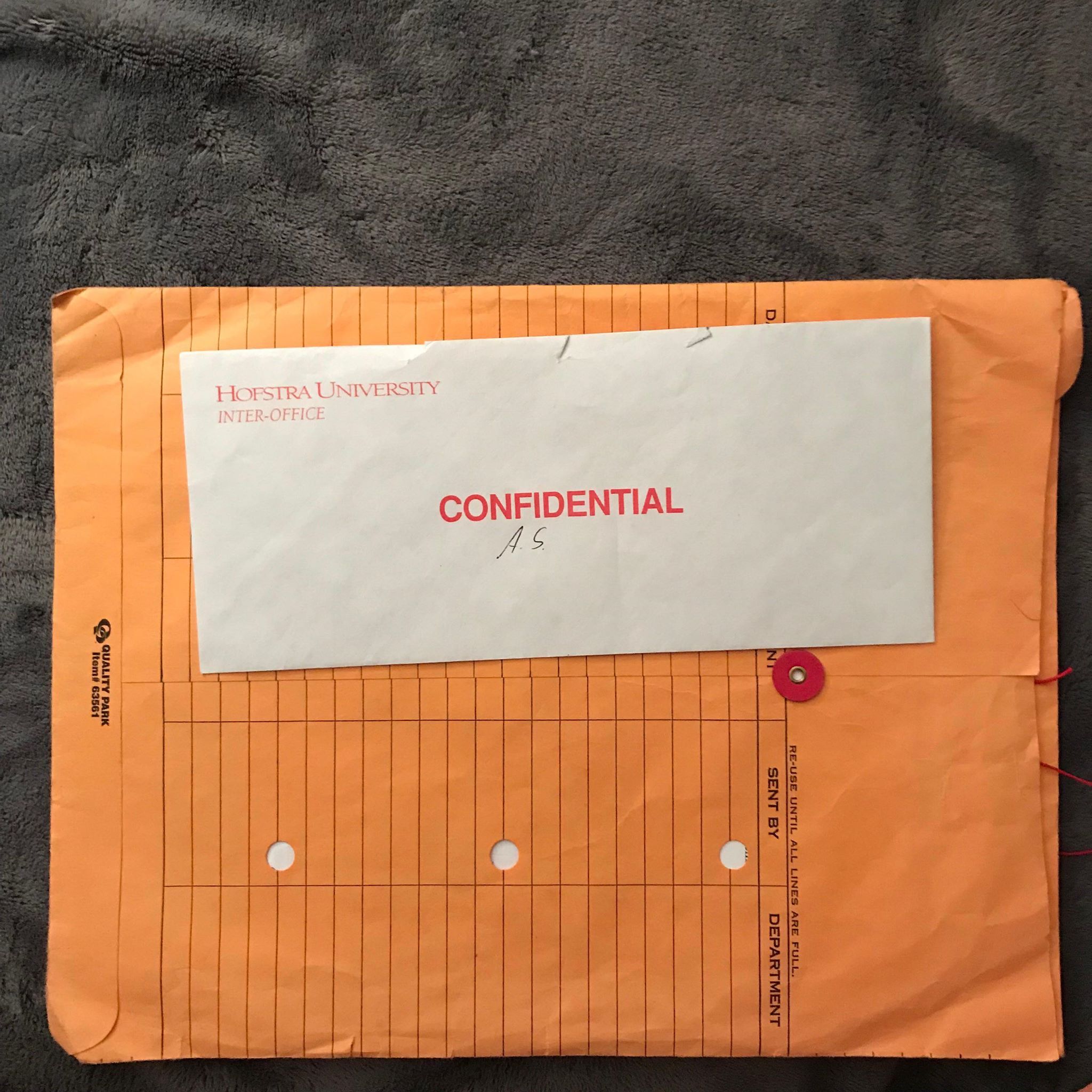 A music professor at Hofstra University, a private university on Long Island, New York, issued a second apology to a student on Wednesday. His statement of remorse came a day after the school newspaper published an article exposing the contents of a letter he penned last year, which detailed his feelings for the student.
The letter, dated May 5, 2018, outlined Professor Chandler Carter's attraction for Angelina Scolari, who was a senior at the time. She reported the incident to multiple people at the university and her decision to go public with the letter prompted calls for the school to fire Carter. The professor responded to the recent article with the acknowledgment he was wrong but added the caveat that it was a one-off incident.
"In my 23 years teaching at Hofstra, I have never previously communicated–nor felt–the sentiments I expressed in the letter referenced therein. And I never will again," Carter wrote in a letter to the editor of The Hofstra Chronicle. "I have always tried to act in my students' best interests. But in this instance, I failed. Upon receiving the student's negative response, I immediately offered a sincere apology, which I reiterate now."
After receiving the letter, which Scolari told The Hofstra Chronicle she found in an envelope marked "Confidential" attached to her graded final project, she left a note that said "no" on the professor's mailbox. The student also reported the letter to Philip Stoecker, a professor of music and the department chair, who informed the Title IX office.
Newsweek subscription offers >
"As I started reading, I was shocked," Scolari told Newsweek. "I tried thinking of thoughtful rebuttals to each point as I read, considering his perspective first and assuming responsibility for misrepresenting myself to him."
After reading the letter, she started to question every interaction she had with the professor, including "every time he had offered encouragement for my work as a student." She even searched her memories of the semester for every outfit she wore to class.
In the hand-written confession, Carter admitted he didn't want to "oppress with unwanted attention," but, at the same time, he wanted "to be honest."
"At the risk of embarrassing myself, I confess a foolish and dangerous attraction to you," the letter said. "…Such feelings from a teacher toward a student–while inevitable given that we're only human–are usually toxic to all involved when expressed openly."
Newsweek subscription offers >
When Scolari read the segment about the situation being toxic, she told Newsweek she recognized "manipulation for what it was." The experience was isolating and required some time to overcome the feeling she was at fault for "somehow inviting it."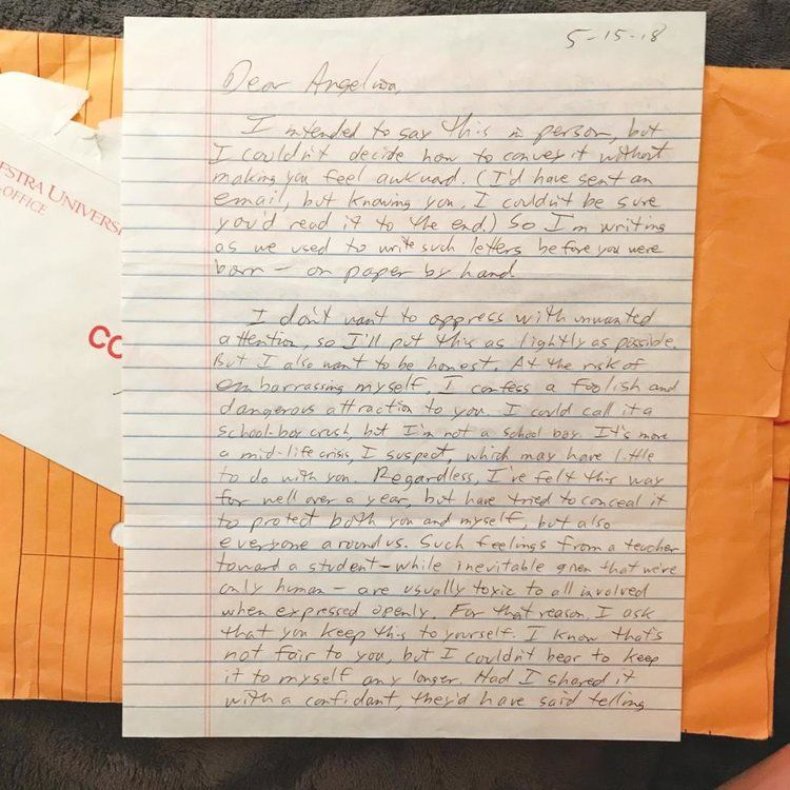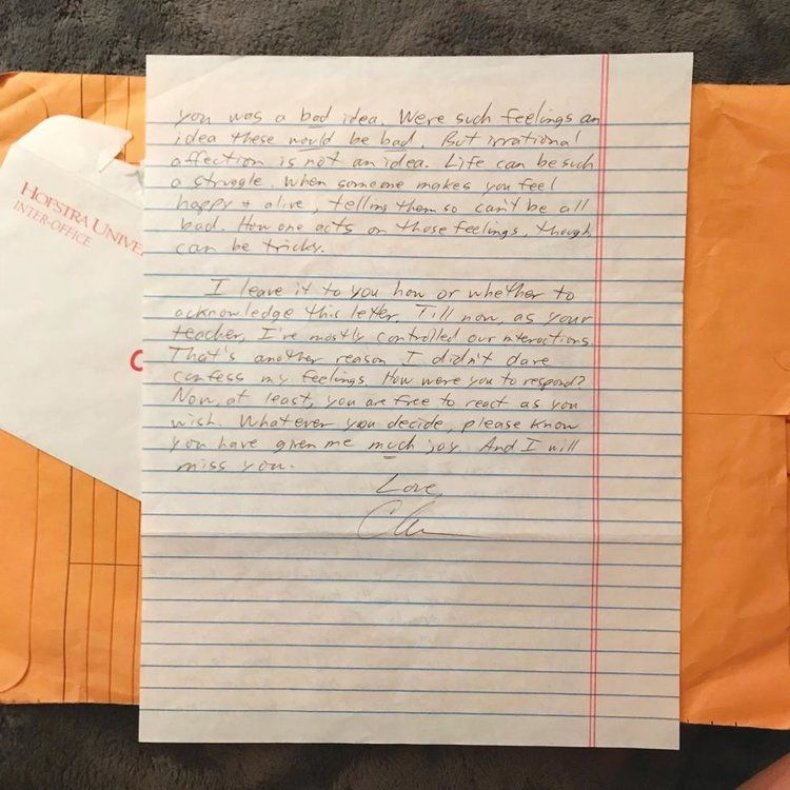 While he acknowledged it wasn't a fair request, he asked Scolari to keep the letter to herself. The professor added that had he confided in someone else, the person likely would have advised him confessing his feelings was a bad idea. However, he reasoned "irrational affection is not an idea" and telling a person they make you feel "happy [and] alive" can't be "all bad."
The letter concluded with the sentiment that regardless of how Scolari responded, she gave Carter "so much joy" and he would miss her.
Along with Title IX officers, Hofstra College of Liberal Arts and Sciences Dean Benjamin Rifkin and Provost Herman Berliner met with Carter to address the situation. Any potential consequences Carter faced, The Hofstra Chronicle reported, were confidential. Newsweek reached out to Carter for comment but did not receive a response in time for publication.
"While an unsolicited letter in which a faculty member requests a relationship with his former student, who is still an undergraduate student at the University, may not constitute sexual harassment under the law, the University does not condone such behavior," Hofstra University told Newsweek. "…The University is committed to fostering a climate of mutual respect and trust in faculty/student relationships, which is an essential component of our academic mission."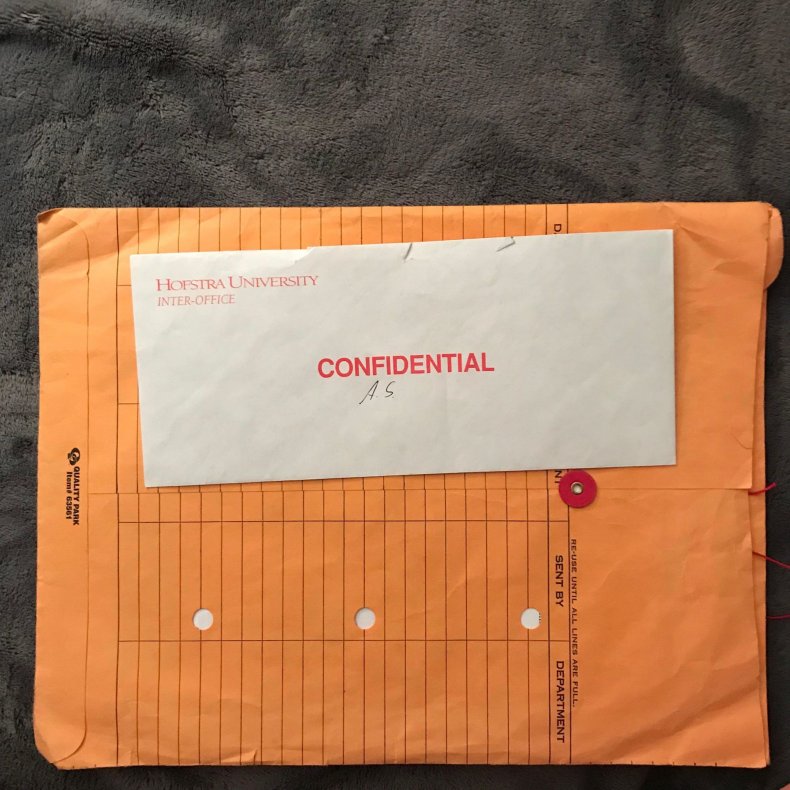 University administrators, in collaboration with faculty, are proposing changes to the formal policies regarding such matters. Current university policy prohibits all faculty members, including graduate students, from having a sexual relationship or conducting themselves in a way that could be reasonably perceived as inviting or encouraging a sexual relationship with a student.
If the faculty member does not have an academic or professional relationship with the student, sexual relationships and advances are "discouraged" but not explicitly prohibited.
In her experience, Scolari found the people working in the Title IX office were "as supportive as could be." Unfortunately, the university's lack of policies against this type of action prevented them from taking the "meaningful action" Scolari felt would have been appropriate.
"The University says that they are working to change these policies, but until they do, I am immensely disappointed by the administration," Scolari said.
After hearing about Scolari's experience, more than 10 students penned anonymous letters to send to Rifkin, accompanied by a cover letter, The Hofstra Chronicle reported it was signed by about 30 students and urged Rifkin to "re-examine" Carter's position at the University.
Along with his work as a professor at the university, Carter has extensive experience in the music industry, including the composition over 50 songs and writing the words and music for the musical drama, No Easy Walk to Freedom, based on former South African President Nelson Mandela's life.
Hofstra Music Professor Apologizes for Confessing 'Foolish and Dangerous' Attraction for Student | U.S.