Hoka One One Mach 4 Review: A Lightweight Running Shoe for Everyone
Running shoes don't have to be attractive, and most of the time they're not. Case in point: Hoka One One shoes are typically high-stack running shoes that favor comfort over aesthetics. The good news, and the reason why people love running in (and wearing) Hokas, is that their appearance is in service to their function. Now, one of the latest shoes from the company, the Mach 4, slims down the height and focuses a bit more on speed.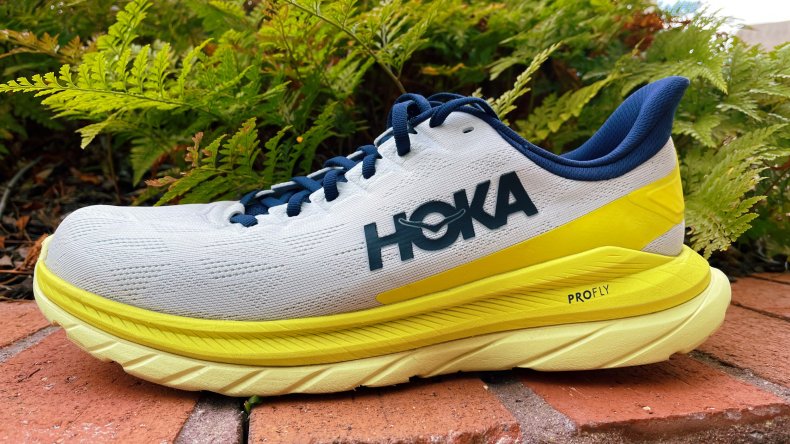 If you're new to running or haven't branched out much in what you put on your feet, you may be less familiar with Hoka One One—pronounced HO-ka OWN-ay OWN-ay. Mach 4 is a perfect option for new runners to consider and could make you an enthusiast of the brand. It will also work perfectly for seasoned milers.
The Mach 4 isn't necessarily sleek, but it is pared back for the company. What remains is a very lightweight and stable running shoe that can still pick up some speed if that's your goal. I put them through nearly 100 miles to see how they fared. The results aren't that surprising though. Hoka One One Mach 4 is a fantastic daily running shoe.
Mach 4 Design and Fit
As I slipped on the Mach 4 for the first time, my attention was drawn to its weight—or lack of it. These aren't visually minimalistic in any way, but they are impossibly light. The shoes' sizeable appearance contradicts their feel.
I was immediately impressed by the feather-light midsole and its wide, stable ride. My appreciation extends to the airy and stretchy upper that is secure but isn't constricting. Anyone who has tried on a pair of Hoka shoes knows they're (generally) generous with internal space. That's the case with the Mach 4, too. These shoes have a spacious toe box that didn't mash my toes together.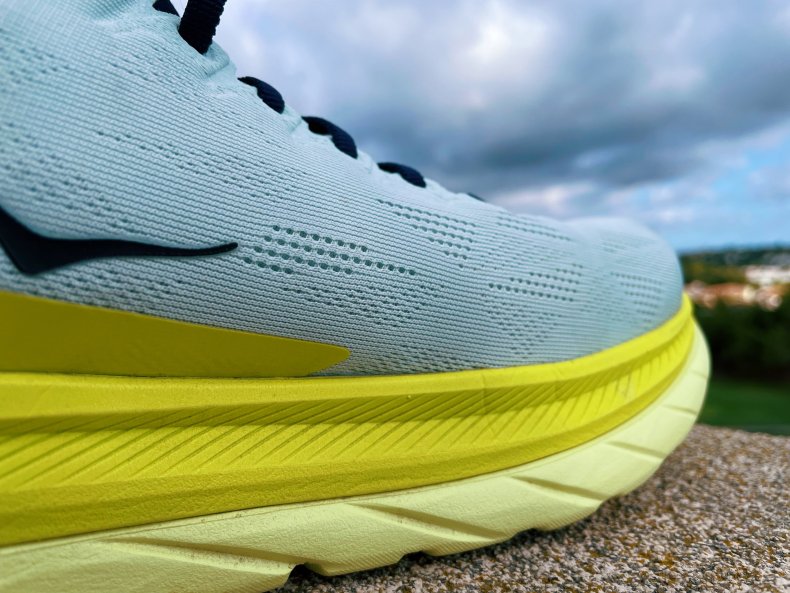 While I found the Mach 4 to be extremely comfortable right out of the box, I didn't find them extremely attractive. This will be personal and vary among runners, but these still very much have a "running shoe" look that may or may not be to your taste. To be fair, I tried the Blue Flower and Citrus color combination, and the bright yellow is attention-grabbing. I do think the Black and Dark Shadow variant is pretty nice looking.
Looks aside, after confirming they felt great, I was ready to put the Mach 4 through plenty of tests across roads, sidewalks and the occasional dirt path.
Running Performance
Over two months, I managed to put around 75 miles on these shoes to give them a fair shake. My initial performance perception of them changed from then until now, but a constant remained. The thing that stood out to me on my first 5K was how wide and stable the midsole felt under my feet. The confident footing was refreshing compared with some more-narrow midsoles. I noticed this a lot in the beginning, but over time it was less obvious and just more of a given.
The thing I still notice, even after all the miles, is the lightweight feel of the Profly midsole foam. I remain impressed on each run with the nimbleness it provides. I tend to select the Mach 4 for runs when I can sense sluggishness setting in and I don't want to feel like I'm carrying all my gear. If I'm tired or sore, the lightness of the Mach 4 is a huge win. Compared to other daily training shoes, these shed unwanted weight while keeping a very comfortable and forgiving ride. They also don't sacrifice speed for the wide and solid midsole foundation.
While I wouldn't consider the Mach 4 a speed shoe, they also aren't slow or made for recovery. They can be pushed when need be, but they also feel solid at your comfortable pace.
I used the Mach 4 on shorter midweek runs as well as on longer weekend ones. Most of my runs fell between 3 and 9 miles, and these worked across that spectrum. On the shorter ones, these shoes were fantastic. I had no problem achieving my average pace and digging in when I needed to. Similarly, on longer runs, they could handle the task in front of them without leaving my feet aching.
The Mach 4 are comparable to Nike's Pegasus line or Reebok's Floatride Energy line. Each of these revolves around daily use and being able to carry lots of miles. Of course, those shoes are all pretty different in practice, but it's reasonable that someone looking for a regular workhorse running shoe would consider all of them. Hoka's Mach 4 is the most expensive at $130, but it might also be the most versatile in this category.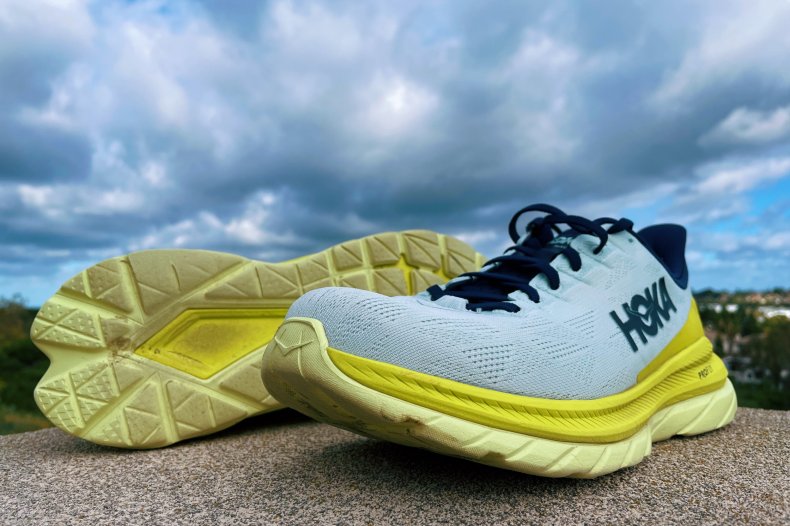 The shoe is a little bulky from its upper to midsole. It might also not be to everyone's style preference, but there are very few performance downsides to it. I've been extremely surprised by its durability, too. It hasn't shown much in terms of wear and tear. Despite my test shoes having a light-colored material upper, there has been very little discoloration or stains on them. The outsole has worn evenly and looks like it could go hundreds of miles, even though it has no rubber pieces attached.
Should You Buy Hoka One One Mach 4?
The Mach 4 is an impressive daily running shoe. It can be used in a variety of ways and should suit a wide number of people's needs. Those already in the world of running gear will see and appreciate what Hoka has done here. New runners should take notice, too. If you stumbled across this review, looking for some nice running shoes to get mods into the sport, be sure to take notice. These are a great option, even if the brand is unfamiliar to you.
These shoes are definitely pricey compared to some other options in the same space, but for lightweight comfortable running shoes that should last a while, they are a wonderful choice.
Newsweek may earn a commission from links on this page, but we only recommend products we back. We participate in various affiliate marketing programs, which means we may get paid commissions on editorially chosen products purchased through our links to retailer sites.