Hokkaido Earthquake: Several Dead As Rescuers Work to Free Residents Trapped Under Rubble
Several people have been killed by a major earthquake that struck close to Japan's northern island of Hokkaido Wednesday. Dozens remain missing and the death toll is expected to swell as emergency workers reach homes buried by landslides.
The 6.6-magnitude earthquake hit just after 3 a.m. local time, according to the United States Geological Survey (USGS), and knocked out power to the island's 5.3 million residents. It was the first time the island has lost power since 1951.
The quake struck at a depth of around 25 miles, its epicenter some 40 miles southeast of the island's capital Sapporo.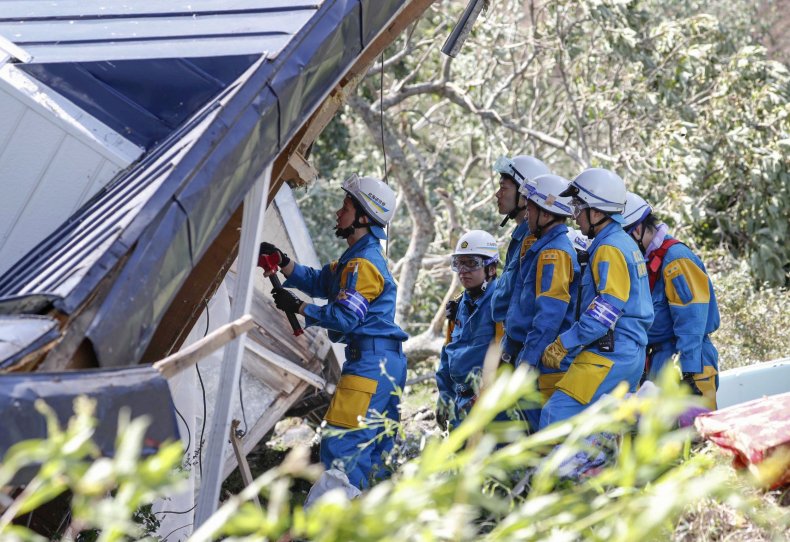 The quake triggered devastating landslides, mud and rocks cascading down hillsides into nearby towns. So far, two people have been confirmed dead with another 120 injured. Reuters quoted public broadcaster NHK, which said five people had been found "unresponsive," a term often used in Japan before death is confirmed.
The town of Atsuma suffered multiple landslides. A local resident told NHK, "The shaking was really terrible. I thought the house was going to collapse." In Sapporo, roads were cracked and mud washed through the streets.
The government said the Tomato-Atsuma power plant—which supplies power to half of Hokkaido's residents—had been damaged. The Hokkaido Electric Power Co shut down all its fossil fuel plants immediately after the quake as an emergency precaution. Industry minister Hiroshige Seko told reporters the government would work to bring some power back online Thursday, but warned it could take a week to restore full capacity.
The island's airport, New Chitose Airport, was close to the epicenter of the quake. Roof tiles and water could be seen on the floors of the terminal Thursday, Reuters said. The hub will be closed until at least Friday, affecting around 200 flights and 40,000 travelers, according to the Kyodo News agency.
A series of smaller shocks have been felt across the island, and residents have been warned to remain cautious and prepared to respond to another large event. Hokkaido is home to several large factories, including the Kirin and Sapporo breweries, both of which were closed by the earthquake. A fire broke out at the Mitsubishi Steel plant in Muroran, but it was extinguished without injury.
Japan sits on the Pacific Ring of Fire, the most active volcanic region in the world according to the USGS. The 250,000-mile horseshoe shaped ring is home to 452 volcanoes, including 75 percent of the world's total active and dormant volcanoes, and is the location of 90 percent of the world's earthquakes.