Holbrooke's Storied Career Lauded at Memorial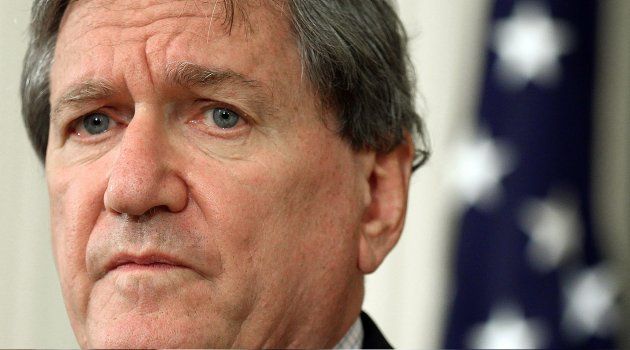 At today's memorial service for Richard C. Holbrooke, the Obama administration's special envoy to Afghanistan and Pakistan who died in December after suffering a tear in his aorta, friends and family recalled his storied career. Attention also turned to his tumultuous final years, when Holbrooke was portrayed as a disruptive force within the Obama administration, whose relationship with top American and foreign officials had chilled, and whose professional tenure was nearly over. The truth, of course, is always more complex—as revealed by NEWSWEEK's Jonathan Alter and Christopher Dickey.
In a report to be published Monday, the authors mine interviews with people who knew Holbrooke in Kabul, Islamabad, New York, Brussels, and Washington—including his wife, Kati Marton; Gen. David Petraeus; and Secretary of State Hillary Clinton—to create an unprecedentedly full portrait of the 69-year-old diplomat's life since 2009, his struggle to find a major role in the Obama administration that resulted in efforts by rivals to contain and muzzle him, his tragic final hours, and the real meaning of his seemingly dovish last words. "Ending the war in Afghanistan," Holbrooke said from his hospital bed, "that would relax me."
The half-joking quip was reported around the world as if it were a call for divine providence. Even the Taliban picked it up as a supposed sign of American defeatism. But ending the war in a way that would best serve U.S. interests had always been Holbrooke's mission, and he wasn't calling on a higher power to carry that out. Holbrooke thought, until the day he died, that he was the man to do the job—and many of his friends agreed. "Dick Holbrooke would have been Obama's best ally," lamented Council on Foreign Relations President Emeritus Leslie H. Gelb. "Obama had just the right hammer he needed in Dick for dealing with Afghanistan and Pakistan, and Obama's failure to see that—and his staff's failure to see that—really cost him and our country. What in God's name would make you not make full use of Dick Holbrooke?"
Had Clinton won the presidency in 2008, she would have made Holbrooke her secretary of state. On the morning of Dec. 10, inside her Foggy Bottom office, he shrugged off his coat and sat down heavily. His chest began to heave. His neck and face turned "scarlet red," Clinton tells NEWSWEEK. As blood rushed to his head, he put his hands over his eyes.
For a long time Holbrooke's closest friends had tried to get him to slow down. They "told him for months to give up, get out," says his wife, an author and journalist. "I never joined the chorus, because I knew this is who he was. He didn't want to sit in a Barcalounger kibitzing. He wanted, by millimeters, to nudge things in the right direction, and he needed to be inside to do that."
The Obama administration had created a post for Holbrooke to coordinate not only within the State Department but "across the entire government," according to Clinton. With all that "coordinating" going on among so many powerful agencies and their jealous heads, however, the question arose immediately: "Who's in charge?"
With no clear authority, Holbrooke tried to grab as much power as he could. That immediately threatened James Jones, the retired Marine general Obama chose as his national-security adviser, and Gen. Douglas Lute, a holdover from the Bush administration as the "war czar" overseeing the military side of the AfPak quagmire. White House aides couldn't fire Holbrooke, but they could muzzle him. Denis McDonough, an early foreign-policy adviser to Obama when he was a senator, and director of strategic communications for the National Security Council, kept him off television and away from print reporters. But Holbrooke kept building his portfolio in whatever bureaucratic space he could find. "The big contribution that he made to the overall effort was generating international support," says Petraeus, the U.S. commander in Afghanistan. "He had an unequaled Rolodex in terms of not just passing acquaintances but people with whom he had worked over time."
The aftermath of the 2009 presidential elections in Afghanistan seemed like the ideal time for Holbrooke's adversaries to squeeze him out. In early 2010, a letter from Jones leaked to the press. In it, the national-security adviser suggested that Holbrooke would soon be relieved of his duties. But in November, it was Jones who was fired by a frustrated Obama—a fact that Holbrooke couldn't resist crowing about. In early December, on a visit to the White House, Holbrooke told one of the president's aides, "You'll notice that I am still here and Jones isn't."
Right up to the end, Holbrooke met formally and frequently with officials in Afghanistan. In Pakistan, when enormous floods devastated the country last summer, Holbrooke "was like a force of nature battling the water," as his friend Peter Galbraith puts it. The United States took the lead in delivering relief and, for a change, got some credit from the Pakistani public. Last fall, Islamabad and Kabul signed an unprecedented transit and trade agreement, which was one of Holbrooke's key goals. "We are quite sad on his sudden death," says Haji Adeel, a prominent Pashtun member of Pakistan's Parliament. "He didn't complete his mission."
Holbrooke's Storied Career Lauded at Memorial | U.S.