A Woman President? The Dream Lives On With Elizabeth Warren, Kamala Harris And Others Who Could Run in 2020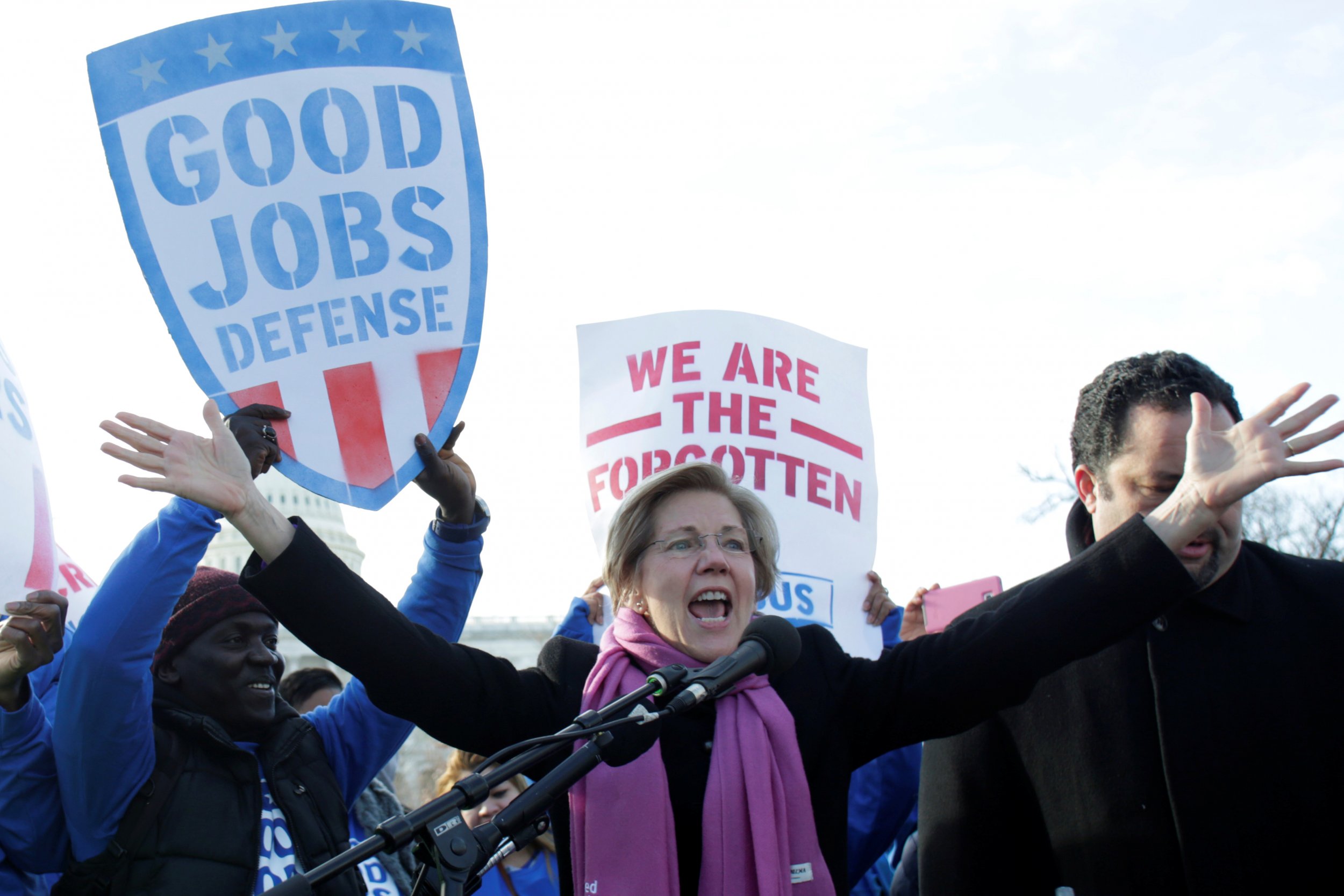 Updated | With Democratic nominee Hillary Clinton's stunning election night loss to now-President Donald Trump, the largest glass ceiling in American politics remained intact. The literal glass ceiling at the Clinton election-night party at the Javits Center in New York added insult to injury for those hoping to see the election of the first female president.
Of the United States' 44 presidents, all have been men. But with Donald Trump struggling with strikingly low approval ratings in his first year in office, some are already envisioning the 2020 field.
California Senator Kamala Harris' strong questioning of Attorney General Jeff Sessions has re-ignited speculation that she could be a contender in 2020. A number of Democratic women seem well-suited for the 2020 race, and if Trump finds himself susceptible to a Republican primary challenge in 2020, a couple of women would be well-positioned to launch that challenge.
Here are eight women who could, potentially, become the first female president in 2020.
Kamala Harris
Harris, the junior senator from California, was just elected to the Senate in 2016. But since her arrival, Harris has been making waves as a leader of the resistance to Trump. The former California attorney general was interrupted twice by male Republican senators who asked her to allow the witnesses to answer her questions in two hearings over the past couple of weeks. Twitter reacted swiftly to two white men cutting off the black, female Harris.
Seen as an up-and-comer in Democratic circles, Harris is very popular among strident anti-Trump Democrats. Although she was just elected to the Senate, her experience as California attorney general arguably makes her more politically experienced than former President Barrack Obama was when he first ran for office. Harris has insisted she is focusing on the job at hand and is not thinking about 2020.
Elizabeth Warren
Warren, the junior senator from Massachusetts, was the subject of widespread speculation about a presidential bid before deciding not to run in 2016. Warren would be a natural fit to appeal to 2016 supporters of Bernie Sanders—if Sanders decides not to run. The former Harvard professor has focused on decrying money in politics and deregulation on Wall Street, two issues close to the hearts of progressives. While denying she's running, she has recently released a book, a common precursor to running for president. But if Sanders runs again, Warren's path to the nomination becomes notably tighter. Either way, Warren's stature in the Democratic party would make her a top contender for the nomination.
Amy Klobuchar
The Minnesota senator is already positioning herself for a possible 2020 presidential bid, appearing at events in Iowa. Klobuchar has been in the Senate since 2006, and is up for re-election in 2018. She is widely popular in her home state, and has become another figure closely identified with the resistance to Donald Trump's presidency. As a Midwesterner, Klobuchar may be well-positioned to appeal to voters in typically-Democratic states that supported Trump and helped him seize the electoral college.
Kirsten Gillibrand
Gillibrand has drawn many a comparison to her predecessor in the Senate: Clinton. As the junior senator from New York, Gillibrand has morphed from a Blue Dog moderate to a more liberal figure while remaining generally in the center of the Democratic party on most issues. She's made paid family leave a signature policy issue, and has evolved her views on immigration and gun control into the Democratic mainstream. However, her support for Wall Street, as noted here in The Week, may pose difficulties in a Democratic primary. Also, Gillibrand has enthusiastically denied interest in running for president in 2020.
Tammy Duckworth
Duckworth, also newly elected to the Senate from Illinois, cruised to victory over Republican Mark Kirk in 2016. A combat veteran who lost both of her legs in Iraq, the former congresswoman previously worked in the VA and served on the Committee on Armed Services in the House. Duckworth's limited time in the Senate and limited national name recognition could make a 2020 presidential bid a stretch, but she certainly is a possible contender for president down the road.
Hillary Clinton
Clinton has remained in the spotlight since her 2016 loss, freely discussing the factors that she believed played into her electoral defeat. Will she run in 2020? Almost certainly not, but her continued public presence and recently formed PAC, Onward Together, hint that she may not be ready to throw in the towel quite yet. Plus, her ambition for the presidency and persistence have both been central tenets of her long career in politics (along with controversy). Although another Clinton presidential bid would be surprising, the possibility shouldn't be completely discounted.
Carly Fiorina
If Trump is impeached or loses the support of the Republican establishment, which has rallied behind him since he was nominated, Fiorina could be a threat for the 2020 nomination. Despite her poor performance as a candidate in 2016, Fiorina increased her name-recognition in her campaign and gained even more notoriety when Ted Cruz named her as his (albeit short-lived) vice presidential candidate. Fiorina was seen as positioning herself to possibly be the chair of the Republican National Committee following Trump's loss or running for Tim Kaine's vacant Senate seat if he were to become vice president. Trump's upset victory halted those plans, but she is rumored to be eyeing Kaine's seat in 2018. It wouldn't be surprising if Fiorina remains active in the GOP in the years to come.
Nikki Haley
The former South Carolina governor and current ambassador to the United Nations is solidifying her foreign-policy chops. Haley is earning a reputation as a tough ambassador who spoke passionately about the ongoing Syria crisis. She's even, at times, had a higher profile than Secretary of State Rex Tillerson, especially earlier in the administration. Haley, who spoke against Trump during the campaign, was popular as governor and is certainly a Republican to keep an eye on moving forward.
Amy Klobuchar's last name was spelled incorrectly in an earlier version of this article.