A teenager who was horrifically tortured after meeting someone on gay dating app Grindr has recounted the ordeal as he presses for hate crime charges.
Holden White, then 18, was throttled, had his wrists cut and neck sliced in a bathtub of bloody water in June 2020. The attack happened when he met Chance Seneca, 19, for a first date, he said.
White, who is from Louisiana and is openly gay, was physically scarred for life. He shared his story with local news outlets in a bid to prevent others from similar trauma.
Now 19, he is continuing his recovery and has landed a new job, while a crowdfunder has raised more than $100,000 to help him get back on his feet.
—Warning: This report contains graphic and upsetting details—
White and Seneca met on Grindr, which is primarily used by gay and bisexual men, and had been messaging for about a month before meeting up at Seneca's home.
A short while into the date, White recalls his attacker pulling a chord around his neck, throttling him until he blacked out.
"When I wake up, I am in his bathtub naked. The water is running, and it's cold. He is in the process of doing my left wrist," White said, describing his wrists being cut horizontally. "It was to the point that he was basically trying to cut off my hands."
He partially recalled how his other wrist was also cut and his neck sliced as he lay in the tub. "The neck was more like the torturing stage," he told local newspaper The Advocate.
"I want to say he was trying to go for the carotid artery but he missed. He would take the tip of the knife and he was twisting it into my throat each time." It left him with at least six scars. "You can't really see them because they healed very good."
At one point, White awoke. He recalled feeling cold, seeing the blood-stained water and his attacker looking down at him. "He was just staring at me with a fearful look in his face, like a 'I just did this?' look," White said.
"I was laying in the bathtub, naked, bleeding out, the water red and cold, and I remember thinking, 'Well, this is it.' The last words I said to myself were just 'stay calm,' over and over and over in my head I was just repeating to myself to stay calm."
Seneca allegedly called 911 and told the operator he had just murdered a man and would wait for police outside of the home.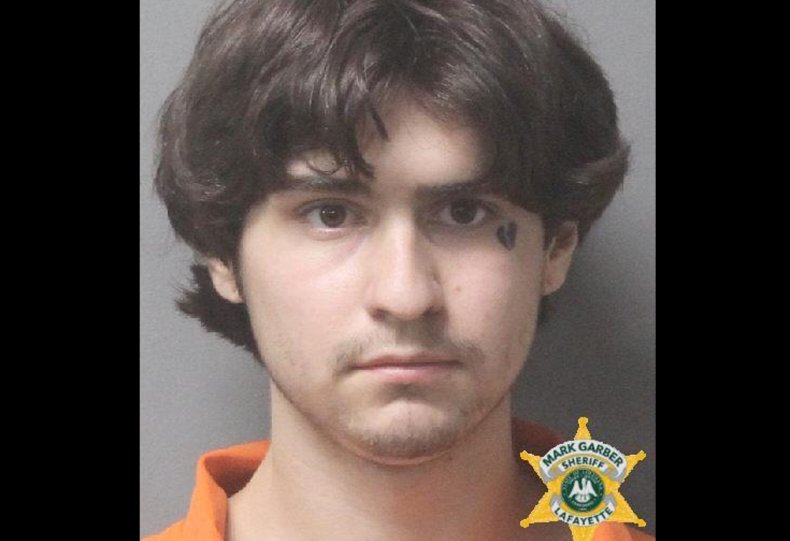 Seneca was arrested and charged with attempted second-degree murder, he remains jailed with a $250,000 bond. He reportedly entered a not guilty plea in November.
Lafayette Police Department said they are not investigating the incident as a hate crime, but White and his family say the attack was homophobically motivated.
They point to a Facebook account, purportedly belonging to Seneca, that features a profile picture of Jeffrey Dahmer, the cannibal serial killer who murdered 16 men and boys from 1978 to 1991, as evidence. White had not noticed the picture before they met.
Hate crime questions
"I just don't understand what he could have done to someone so horrible to deserve to die," his mother told local news station KATC shortly after the attack.
Rayette Gaspard said her son was a "good kid," adding: "He stands for the gay Pride thing, he's won all sorts of trophies for acting, he's a good kid, he doesn't do drugs."
White spent about a month in Ochsner Lafayette General's intensive care unit. He has since landed a new job as he continues rehabilitation and has begun raising questions about the police response, calling for a hate crime conviction.
"He could have done this to a woman," White said. "Instead, he chose to do something to someone who's gay and proud about his sexuality."
In an interview with WAVY TV last week, White added: "He chose to go on the app Grindr. He went on an app designated for gay people. He chose to choose someone who is gay and very proud of his sexuality. He said this in prison.
"He said he chose me because I have a smaller stature and it would be easier to kill me. He knew what he was doing."
White has also questioned why police did not offer a rape kit to medical personnel to gather evidence on whether or not he had been sexually assaulted.
Newsweek has contacted Holden White and Lafayette police for comment.
Seneca's next court appearance will be a pre-trial hearing scheduled for March 3.