Holi 2019: Wishes, Quotes and Messages to Celebrate the Hindu Spring Festival
The religious festival of Holi, known as "the festival of color" or "the festival of love", is one of the most important dates in the Hindu calendar.
The day and night of celebrations surrounding the spiritual festival begin at the full moon in the Hindu month of Phalguna, the 12th month in India's civil calendar. It is known by a variety of names with "Holika Dahan" or "Choti Holi" marking the evening before, with Holi itself called "Rangwali Holi".
Falling between March 20 to 21 and celebrated principally in India and Nepal, Holi celebrates the arrival of spring, the fertility of the months that cast off winter, color and vibrancy. The day before Holi is celebrated with a bonfire rejoicing in the triumph of good over evil. However, the day is most visible around the world because of the colorful powder, called gulal, worshipers throw over one another at Holi.
A series of Hinduism's religious legends intersect at Holi. These include The Legend of Holika and Prahlad, The Legend of Radha and Krishna and The Legend of Kaamadeva, among others.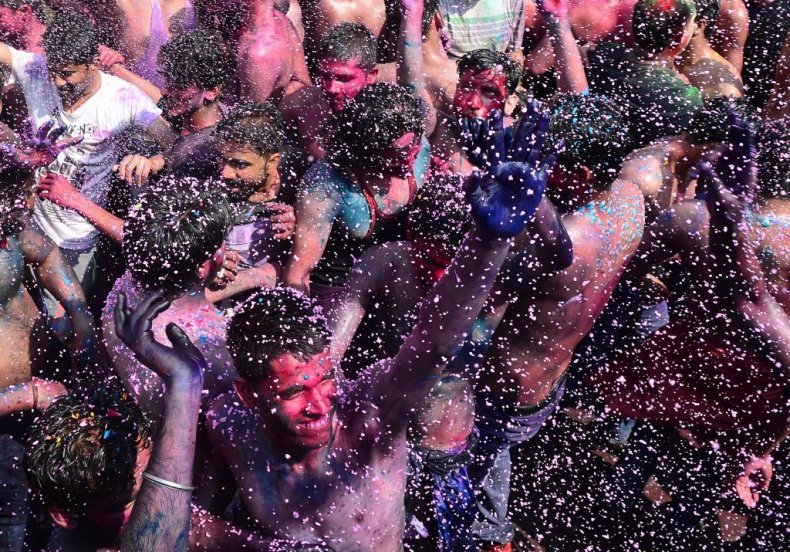 Perhaps the most famous of these is The Legend of Holika and Prahlad, wherein Prahlada defeats his father Hiranyakashipu, a demon king, and Holika, a female demon, ruling in his father's place and worshiping the Hindu god, Lord Vishnu. The Triumph of Prahlada over Hiranyakashipu, with Vishnu's help, represents a struggle between good and evil from which the festival is derived.
Here are ten Holi messages to brighten up your day (from bestmessage.org and dgreetings.com):
1. Let the colors of Holi spread happiness, joy, peace and love all around. Wishing you a blessed Holi!
2. May the splash of colors bring joy within your family. Have a Happy Holi!
3. A pinch of green for prosperity, a pinch of red for positive energy, a pinch of blue for calmness. I send this platter of colors to wish you a colorful and joyful Happy Holi. Love you all.
4. May God paint the canvas of your life with the most beautiful colors. May he sprinkle peace, luck, success and joy at every step. Happy Holi!
5. Bright colors, water balloons, lavish gujiyas and melodious songs are the ingredients of a perfect Holi. Wish you a very happy and wonderful Holi.
6. May all the seven colors of the rainbow come together this Holi and bless your life with happiness and joy. Have a Happy Holi!
7. Let's make a bonfire of our pride, negativity, and envy this Holi and bring in a fresh start. Happy Holi!
8. It's Holi. So, drench all your loved ones with water and the fabulous colors of Holi. Happy Holi!
9. This Holi, let us celebrate the colors of our bonding and pray to God to shower his blessings on our family. Let us make this festival of colors all the more fun. Happy Holi 2019 to you all.
10. Dipped in colors of happiness, love and trust, here comes the beautiful festival of colors that will brighten our lives. Wishing you all a wonderful, beautiful, colorful Happy Holi. God bless us all.