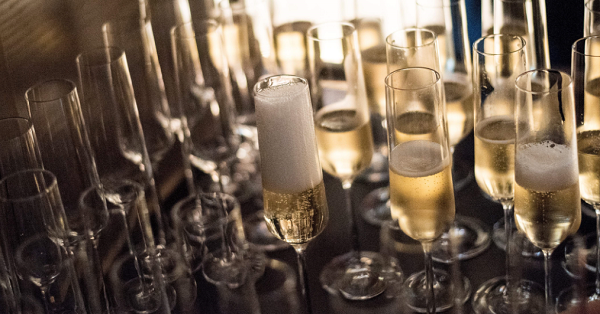 Christmas is approaching and the holiday party invites just keep rolling in. The problem, though, is that you have nothing to bring and showing up to your friend's ugly sweater party empty handed is obviously the first step to landing on Santa's naughty list. Luckily for you, we've compiled a list of all the best wines and spirits to spread holiday cheer this Christmas whether you're looking for stocking stuffers for your festive brother, big bottles to impress your boss or something to bring to the holiday party. Check out our list of the best wines and spirits for Christmas below.
Hochstadter's Slow & Low: Rock And Rye: A perfect stocking stuffer, the 84-proof, canned Rock and Rye packs the flavor of Hochstadter's whiskey with the sweet taste of honey and orange, resulting in the perfect quick and sweet punch-to-the-face cocktail. Did we mention it comes in a can?
Novo Fogo Sparkling Caipirinha: Canned cocktails got a boost in 2018, and they'll likely be all the rage in the new year. Novo Fogo put a cute spin on the classic cocktail that reminds everyone of having fun with loved ones, which is what the holidays are all about. Not to mention, this little alcoholic beverage is made with Novo Fogo Silver Cachaça—11.1 percent in each can—to get the party started.
Crystal Head Vodka: For your mystical friend who enjoys a smooth, clean taste of vodka, Crystal Head, produced in Newfoundland, Canada by actor Dan Aykroyd and artist John Alexander, is not only a vodka they'll enjoy drinking but they'll likely want to hold on to the exquisite skull bottle long after the last drop. The liquor is made from peaches, cream corn and wheat-based Aurora plants, resulting in a refined, enchanting taste.
Guild Gin: The family botanist will surely appreciate the delicate, floral scented gin that's actually infused with chamomile, rose petals and nutmeg. The gin itself is rather smooth—which is great for martini making—and exudes a pleasant bouquet taste in the finish.
Dalmore Scotch—12 Year: A single malt that will knock the socks off your boss, your dad or anyone who fancies a nice stiff glass of scotch at the end of a long day. Dalmore 12 reeks of citrusy, fruity, spicy flavors on the nose while flushing the palate with subtle notes of dried fruits—think apricot—and ripe oranges. The finish is also keenly enjoyable, oozing with lasting notes of roasted coffee soaked in citrus.
UP Rosé by Ultimate Provence: From the blessed grapes grown in Côtes de Provence of Provence, France, UP Rosé is that balanced mixed of dry and fruity that will please any holiday party crowd. It's also worth noting that the glass bottle is as intricately beautiful as the pink juice that comes in it, which makes it all the more worth collecting.
Laurent-Perrier's Cuvée Rosé:The folks at Lauren-Perrier know a thing or two about sparkling rosé. They've been making it with Pinot Noir champagne grapes from 100 percent grand cru vineyards since 1968. It's an effervescent, not-too-sweet, not-too-dry toast to the holidays and the good new year to come.
Biondi-Santi Brunello di Montalcino DOCG Riserva, 2011: Woo the wine lover in your life with a deep, rich red wine made for collecting. Its vibrant ruby red hue is saturated with notes of dark fruits, black pepper and spice resulting in a complex yet balanced structure and a long-lasting finish, making the lengthy wait to crack the bottle open all the more worth it.
Royal Tokaji Late Harvest: Let the experts tell it, white wine is so off-season during Christmas, but any fermented-grape connoisseur will tell you that the only rules of wine are to drink it. The cold weather and exhaustion Christmas can bring make this white wine blend of Furmint, Hárslevelű and Muscat de Lunel a particularly special wine for gifting, thanks to its splashy tropical fruit taste and lasting citrus finish. It's a vacation in a bottle that will easily transport drinkers away from the frigid temperatures and holiday fuss with just one sip.