Over the weekend, the New York Police Department Special Operations team took to Twitter to share a video of some surprising holiday visitors near Queens—a pod of dolphins.
In a tweet Saturday afternoon, @NYPDSpecialops wrote, "While patrolling in the vicinity of Flushing Bay in Queens, #NYPD Harbor personnel were able to capture a quick video of some of New York City's holiday tourists, a Dolphin pod."
While these sightings are rare, every so often a surprising ocean dweller makes an appearance in one of the Big Apple's rivers and harbors.
According to the New York State Department of Environmental Conservation (DEC) both cetaceans (whales, dolphins, and porpoises) and pinnipeds (seals) inhabit the waters off the coast of New York City.
The DEC says the dolphin species that are most often seen in the New York area are the bottlenose dolphins, common dolphins, pilot whales and Risso's dolphins. These sightings often occur off the south shore of Long Island.
Sightings of bottlenose dolphins are the most common since they live closer to shore in coastal waters like harbors and bays, according to the DEC, but these often occur in warm, summer months.
In March of this year, some New Yorkers spotted a pair of dolphins in the East River off the coast of the Brooklyn neighborhood, Greenpoint, ABC 7 reported at the time.
Howard Rosenbaum, director of the Wildlife Conservation Society Ocean Giants Program and senior scientist at the New York Aquarium, told ABC 7 that the pair appeared to be common dolphins and to see them in the East River is not very common.
"We see these animals during our offshore surveys in the wider New York Bight—so this is not normally where they are seen," Rosenbaum told the outlet.
The New York Bight refers to the coastal area between Long Island and the New Jersey coast, according to the National Oceanic and Atmospheric Administration.
Rosenbaum told ABC 7 that they had detected two other species of dolphins, the bottlenose and harbor porpoise in the New York Harbor as well as the surrounding estuary.
In the video posted this weekend, which has been viewed over 24,000 times, about half a dozen dolphins can be seen swimming in Flushing Bay though the tweet did not note the animals' species.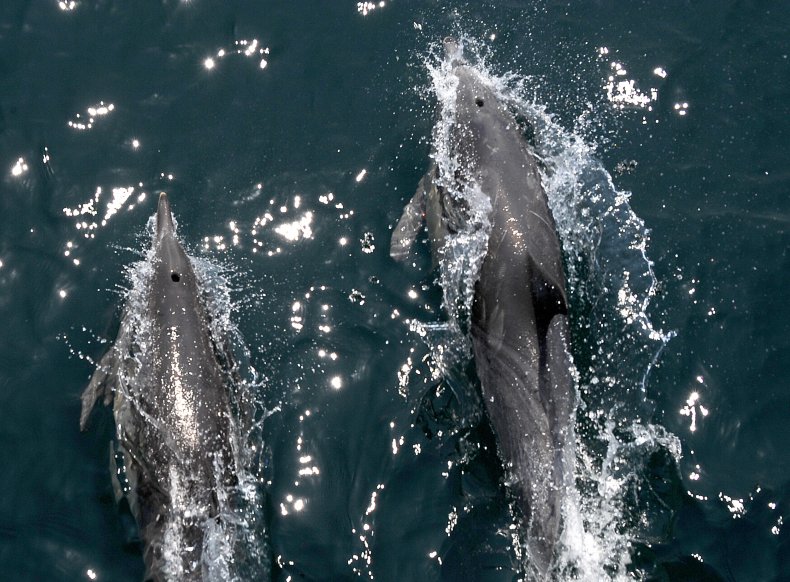 "It's a well-known fact that Dolphins love the windows at @saks," one Twitter user joked in a comment under the video.
While others noted just how "beautiful" this sighting was.
In December 2020, a sighting that might be viewed as even more out of the ordinary occurred not far from the Intrepid Museum in Manhattan—a humpback whale. ABC 4 reported that marine experts attribute the rare sighting to the animals just following the fish. Before the 2020 sighting, the last whale seen in the area was in 2016.
Newsweek has contacted the Office of the Deputy Commissioner, Public Information for the NYPD for comment.