New York City's Best Holiday Window Displays in Photos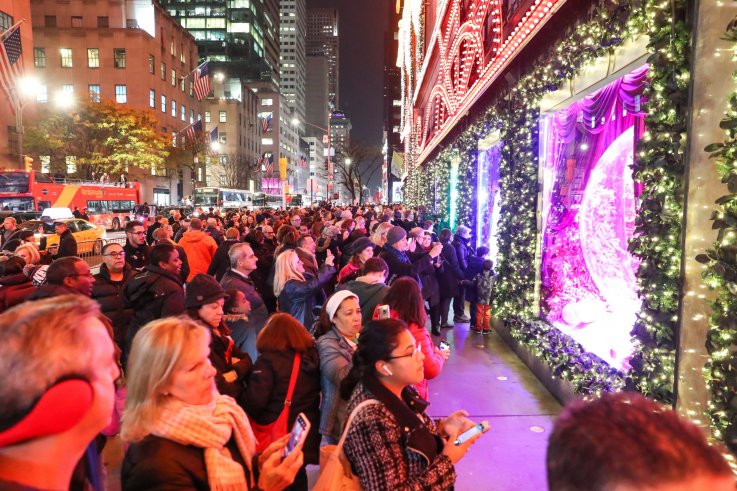 There's no other place in the world that does Christmas as well as New York City does. From the Rockefeller Center Christmas Tree to the annual SantaCon, December in New York City is a magical time of year. But there's one tradition that truly defines the holiday season in the Big Apple: the window displays at some of 5th Avenue's most famous stores like Saks Fifth Ave, Bergdorf Goodman, Bloomingdale's and many more.
"I remember my parents bringing me to the big department store windows, where all the toys were animated—it was fantastic," Laure Heriard Dubreuil, founder and chief executive of the fashion boutique Webster, told the New York Times. "So I like the magic of Christmas and all these beautiful windows."
Window displays have long been used to entice shoppers, especially over the holidays, but Macy's claims to be the first to start the New York tradition. In 1874, R.H. Macy, then owner of Macy's, displayed dolls in scenes themed to Harriet Beecher Stowe's Uncle Tom's Cabin. The displays proved popular with the public. In the years to come more stores followed suit and thus a holiday tradition was born.
Even though other department stores carry on the tradition, Macy's remains one of the most popular window displays. The department store spends a year planning the six window displays around their 34th Street location. An estimated 10,000 people visit the Macy's window displays every day during the month of December.
From Bergdorf Goodman's to Tiffany & Co., this year's window displays are as impressive as ever. Each window display has its own creative theme, like Saks Fifth Avenue's "Theater of Dreams," Bergdorf Goodman's "#BergdorfGoodies" and Bloomingdale's Grinch theme.
"We track how many people are taking their photographs and sharing them back out," Frank Berman, chief marketing officer of Bloomingdale's, told the New York Times. "We also have methods in place to track how many people are passing by the windows, stopping and engaging. We also track the amount of traffic coming into the store and the conversion rates. We're up in terms of traffic this holiday season."
Fortunately, you don't have to be in New York City to enjoy these gorgeous window displays (thank you internet). Even if you are in New York but are adverse to holiday crowds, we've got you covered. So get into the spirit of the season and slide through to check out some of the best New York City department store holiday window displays.