Francois Hollande to Meet Vladimir Putin in Bid to Destroy ISIS Following Paris Attacks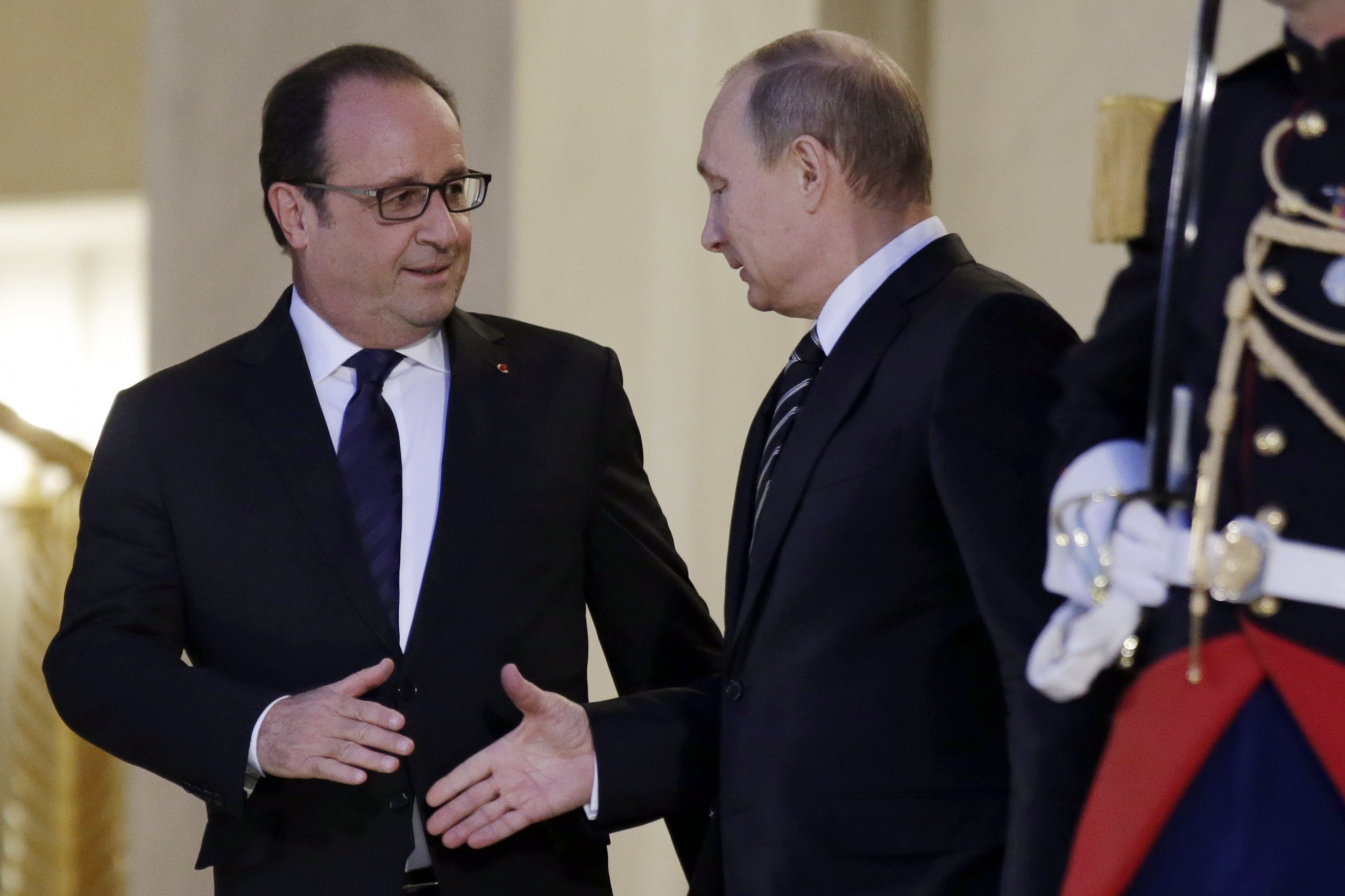 Francois Hollande will meet his Russian counterpart Vladimir Putin in Moscow on Thursday as the French president seeks to drum up international cooperation in the battle against the Islamic State militant group (ISIS).
Russian state-run news service TASS reported that the two presidents will discuss closer coordination in their efforts against ISIS. The Syria-based militant group claimed responsibility for the November 13 attacks in Paris that left 130 dead, and also said that it planted a bomb on a Russian airliner that exploded over Egypt in October, killing all 224 people on board.
However, Hollande's calls for a grand coalition against ISIS have been dealt a blow by the ongoing row between Russia and Turkey over the shooting down of a Russian jet by the Turkish military Tuesday. Turkey claimed that the Russian Su-24 infringed its airspace multiple times, while Russia said that the jet remained in Syrian airspace throughout its journey.
Reuters reported that Hollande would scale back his calls for an international coalition and simply seek concessions from Putin, including Russia limiting its airstrikes in Syria to ISIS targets. A Reuters report in October claimed that almost 80 percent of Russian airstrikes on Syria had not been on areas held by the militant group.
Russia also bombarded rebel-held areas in Syria's Latakia province in the wake of the shooting down of the Su-24, which came down in rebel territory. Syrian rebels reportedly killed one of the two pilots who ejected from the downed Russian jet.
Hollande has met with various world leaders in the wake of the Paris attacks as France presses ahead in the battle against ISIS. U.S. President Barack Obama said that the U.S. stood by France and that ISIS, which he described as a "barbaric terrorist group," that must be destroyed, during a meeting between the two leaders on Tuesday. British Prime Minister David Cameron visited Paris on Monday and said he was convinced that the U.K. must join France in extending its bombing campaign against ISIS into Syria, as well as Iraq.
The BBC reported that German Chancellor Angela Merkel pledged that the country would "act quickly" to support France and its allies in fighting ISIS following a meeting with Hollande in Paris on Wednesday. Germany has also pledged to send 650 soldiers to Mali—the site of a deadly hotel attack on Friday that killed around 20 people—in a move designed to offer relief to the 1,500 French troops stationed there.
Following the Paris attacks, France has invoked a European Union clause that had previously never been used and obliges other member states to offer military assistance. The Local France reported that Hollande will also hold talks with Italian Prime Minister Matteo Renzi on Thursday morning before traveling to Moscow.