The Hollande-Merkel Embrace Toughens Europe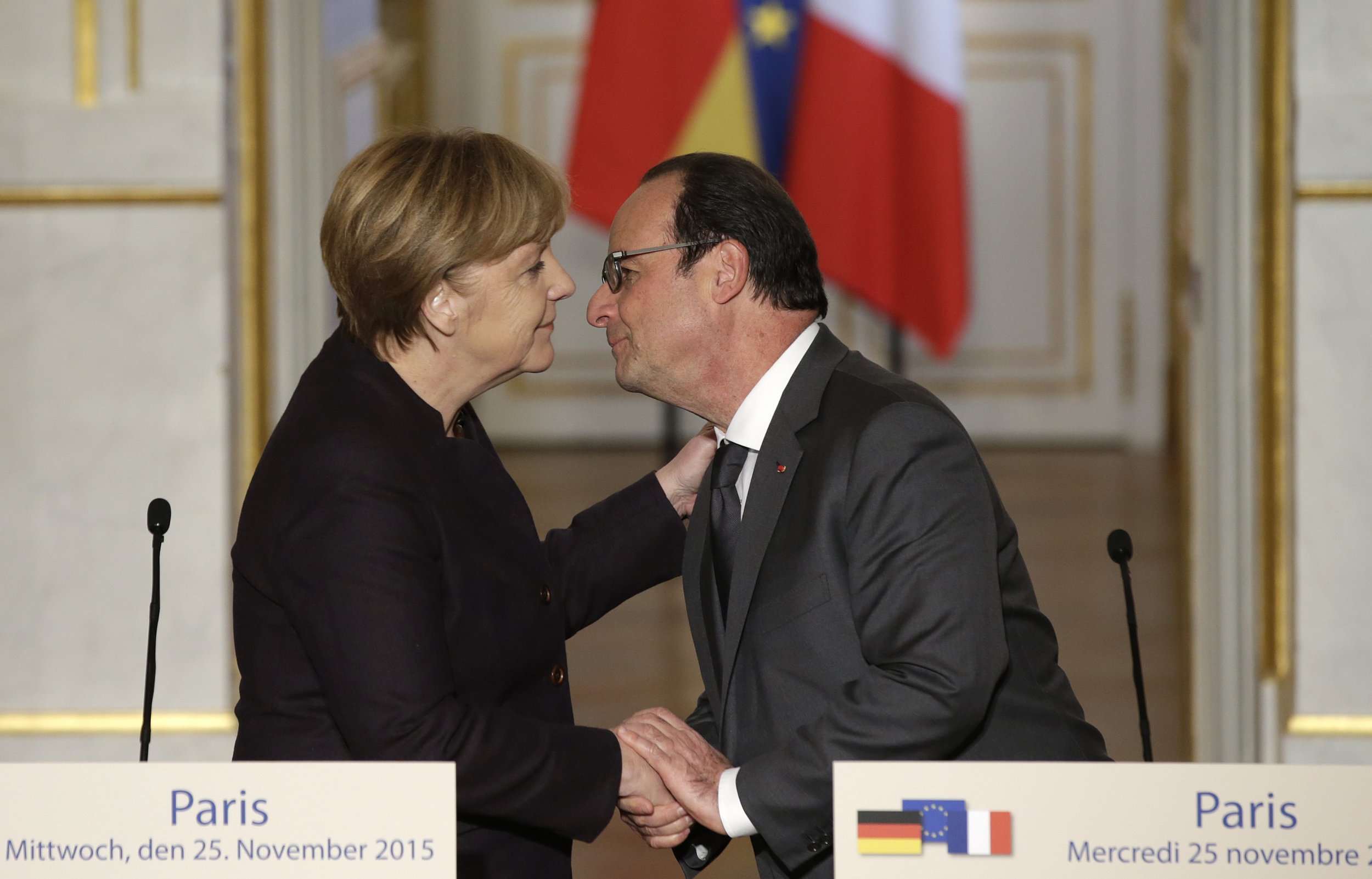 This article first appeared on the Carnegie Europe site.
These days there's little good news coming out of Europe. France is dealing with the aftermath of the November 13 terrorist attacks in Paris that killed 130 people. The refugee crisis has buoyed the political ambitions of populist parties. Several countries have imposed border restrictions to curb the influx of refugees or have refused to even take in people fleeing the wars in Syria and Iraq.
The eurozone economies aren't in good shape either. They show little growth. And Poland's new right-wing government no longer thinks it's worth having the EU flag alongside the Polish one at the prime minister's weekly press conference—and this in a country that once believed that joining the EU in 2004 was about returning home to Europe.
But amid the gloom and deficit of self-confidence, there is something that could give Europe a much-needed fillip. It is the Franco-German relationship.
German Chancellor Angela Merkel's quick decision to provide France with a frigate, four to six Tornado jets, refueling aircraft and at least 1,000 soldiers to help fight the self-proclaimed Islamic State in Syria is not only about strengthening ties between Berlin and Paris. It is also about rescuing Europe from tearing itself apart.
Had Merkel given French President François Hollande only verbal support in confronting the Islamist group, that would have done irreparable damage to a relationship that has been so crucial for the EU's development and that is needed more than ever.
Germany's decision is not without risk. The German public is divided, with 47 percent in favor and 46 percent against the military operation, according to a recent opinion poll . Yet the fact that so many of those surveyed support the mission marks a significant shift among a public that has long been opposed to sending its soldiers to fight.
Merkel's conservative bloc is uneasy about the mission. The chancellor, who also has to contend with increasing criticism from her Christian Democratic Union party of her open-door policy toward the refugees, could face a serious backlash were any German soldier killed in this mission or civilians accidentally hit.
Worse, there are fears that joining France's fight against the Islamic State will make Germany more vulnerable to terrorist attacks. The decision by the German authorities to cancel a football match between the Netherlands and Germany days after the Paris murders was made precisely because there was intelligence that an attack was being planned. Furthermore, no one knows if ISIS supporters have joined the tens of thousands of refugees arriving in Europe over the past several months.
Apart from strengthening the Franco-German relationship, Germany's military support to France has three other dimensions.
The first is that Hollande has been loyal to Merkel. He has supported her policy over Ukraine and the sanctions imposed on Russia after its March 2014 annexation of Crimea and meddling in eastern Ukraine. He reluctantly supported Berlin's insistence that the financially troubled eurozone countries impose strict austerity measures in return for economic assistance from the European Commission, the European Central Bank and the IMF.
And Hollande has supported Merkel's policy on refugees, even though it is far from popular in France, where the National Front is exploiting the policy for all it is worth. In all these cases, Hollande's support for Merkel has been crucial. Merkel cannot disregard such support.
The second dimension is the view from Berlin—or rather, from the Chancellery—that France cannot go it alone in the fight against ISIS. France is the one European country that launched a military mission in Mali to prevent the country from being taken over by Islamists. Were that to happen, Europe would be faced with even more refugees, not to mention the impact that an implosion in Mali would have on the broader Sahel region.
The third aspect is what Germany's support for France would mean for the EU's miserable security and defense policy. For far too long, Germany has paid lip service to the EU establishing such a credible policy, while France has often despaired over the EU's unwillingness to understand why it needed one.
Such a policy is not about competing with NATO. Those sentiments are long gone. It is about Europe coming to terms—or rather, coming of age—by recognizing that its belief in soft power is not a security guarantee, and that Europe cannot continue to depend on the United States to be its hard-power backer.
Earlier terrorist attacks in London, Madrid, and Brussels should have put paid to those assumptions. They didn't. The attacks in Paris may finally have the effect of persuading EU governments of the need for a credible security and defense policy, instead of one that is borne by just a few countries.
Judy Dempsey is a nonresident senior associate at Carnegie Europe and editor-in-chief of Strategic Europe. Follow her on Twitter @Judy_Dempsey.