Students Receive Death Threats After Video Shows Racist Game of Hangman in Classroom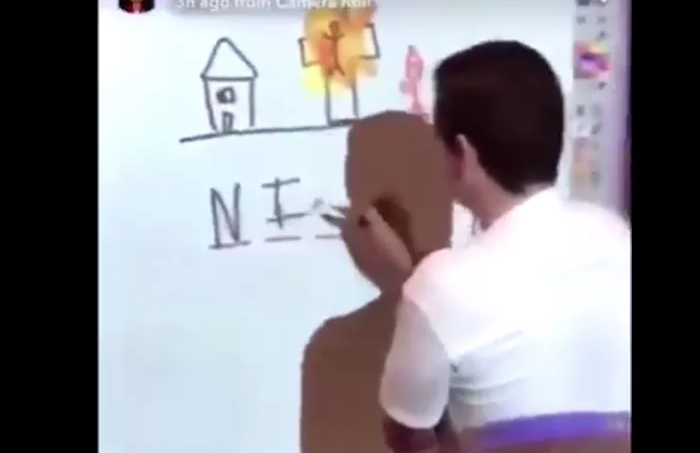 School officials in Hollidaysburg, Pennsylvania are investigating a video posted to social media this week showing students shouting out letters to spell the n-word on a classroom whiteboard.
At least one student took to Facebook to seemingly "apologize" after the video initially posted to Snapchat Tuesday prompted alleged death threats to the students involved, the Altoona Mirror first reported. But school administrators said they are more concerned with the "abhorrent" racist behavior shown in the video in which students yelled out the letters ultimately spelling the n-word underneath a burning "hangman" on a cross. Local police said they are investigating the video and alleged death threats.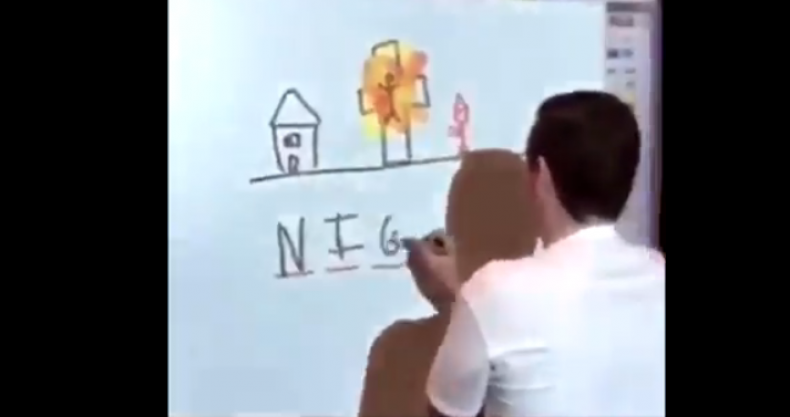 The Hollidaysburg Area School District's Facebook page posted a prompt apology Tuesday, saying they are in contact with local law enforcement over the video.
"The Hollidaysburg Area School District is deeply disturbed by the offensive actions and related social media posting which appears to have originated from one of our students. We have been in contact with local law enforcement and swift and appropriate action will be imposed on those responsible. This behavior is an embarrasment [sic] to our students, staff and community and we sincerely apologize for all who are offended by the abhorrent behavior of those involved."
A student who was allegedly responsible for the racist video post and identified by several commenters on the school district's page quickly posted a now-deleted apology that claimed he and the other student seen in the video were receiving "death threats" for playing the game inside Hollidaysburg Area Senior High School. The post, first uncovered by the Altoona Mirror, shows the student claiming he's "not a racist" because he was unknowingly recorded and has several African-American friends.
"I am genuinely sorry for my actions at school today. I'm not a racist," reads the apology posted to Facebook Tuesday. "I have many black friends and I shouldn't have used that word. I'm a stupid kid and I was just trying to be funny. I know now that it is not funny and I'm very sorry to anyone offended by the post. It was a dumb mistake and was only to be pointed at one person. Which he is a very good friend of mine. I have no problem with any races. I am a lover of all people."
"It is a genuine apology," the student continued. "I'm sorry you think that way. The police are involved. I'm getting what was coming my way. Can't take all these death threats. "I have black friends and half family that's black. Still, snitching someone out so he can get his ass beat isn't gonna fix anything. It's shared everywhere and a ton of people know. I still have a bad name for myself and there's nothing that's gonna fix that."
Hollidaysburg Superintendent Bob Gildea labeled the video "abhorrent" and issued a statement of apology to students, staff and community members. And high school principal Maureen Letcher told WJAC-TV the school is investigating whether a teacher was present in the classroom during the final days of school. Gildea noted that most seniors were attending their graduation rehearsal and attendance this week was sparse overall in preparation for commencement. Hollidaysburg school board member Jim Gregory also issued a statement to the Altoona Mirror denouncing the actions of the students in the video.
"This is truly appalling. It has been passed to administration as they were not yet aware and is being investigated. There is no place for this in our society. I apologize personally as a representative of this district to all who are rightfully offended."
Several current and former students posted their own disgust at the video and expressed their doubts the district would effectively punish the students. "How does the school even let something like that fly or happen? smh. Truly disgusted. Anyone who knows who's in the video or had anything to do with it, report it to the school," one local student responded.