Holly Madison Says Hugh Hefner Had 'Ghislaine Maxwell-Type' Girlfriends
Holly Madison recently revealed that Hugh Hefner had "recruiter" girlfriends who would invite new girls to join parties at the Playboy Mansion.
The former Playboy Playmate opened up about her experience working with the late Hefner in a candid interview on Heather McDonald's Juicy Scoop podcast this week.
The model, now 41, lived in the mansion from the early 2000s until she and Hefner parted ways in 2008.
The conversation turned to the use of Quaaludes in the Playboy mansion—the prescription sedative drugs that were a popular recreational drug in the 70s and 80s.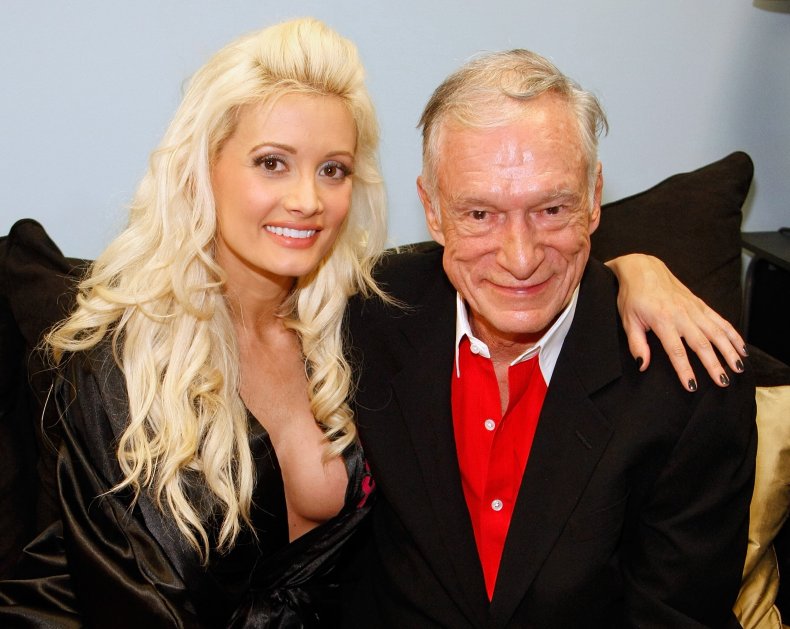 Madison revealed that although the use of the drugs was common in the mansion, drugs were no longer given to the Playmates around 2003 or 2004 and she said she thinks it is because there were no longer "recruiter" girls around at that time.
"I feel like it was around like 2003 2004 and I feel like it's because we didn't have a girl in a group who was like a recruiter anymore," Madison said on the podcast.
Madison confirmed that a "recruiter" would get "new girls to come in" and described them: "Like a Ghislaine Maxwell-type person."
In late 2021, Maxwell stood trial for several sex trafficking offenses she allegedly committed between 1994 and 2004 with Jeffrey Epstein at his homes in Florida, New York and New Mexico. She was accused of helping him procure girls, including a 14-year-old, who were subject to sexual abuse.
"She has more value in the group because he [Hefner] knows she recruits girls," Madison added regarding Hefner's "recruiter" girlfriend.
Madison's fellow playmate Bridget Marquardt also appeared on the podcast and she spoke of the "pressure" she felt from other housemates to sleep with Hefner when she joined the Playboy mansion.
Marquardt said there were reportedly three other playmates who "put pressure on [her]."
She said she was told that she would "never be invited back," if she didn't join the others in Hefner's bedroom.
"I was still just gonna watch and then [one of the women] was like, 'Aren't you gonna go?' It's like, 'You need to go.' And I was like, 'I would rather not.' And she's like, 'Well, then you probably won't be invited back,'" she said.
Madison revealed in A&E's 10-episode docuseries Secrets of Playboy earlier this year that Hefner offered her Quaaludes during their first night out and that he referred to them as "thigh openers."
"We went out to a nightclub, I was sitting next to Hef, and he leaned over and he asked if I wanted to take a Quaalude," she said in the documentary. "I said something like no, I don't do drugs."
Madison previously opened up about life in the Playboy Mansion in her 2015 memoir Down the Rabbit Hole: Curious Adventures and Cautionary Tales of a Former Playboy Bunny.
"I thought I was an adult and thought I was making my free choice. And I was," she wrote about her decision to move into the residence. "But I wasn't sophisticated or really prepared. And kind of got in over my head. [...] I could understand how people thought it was strange. But I guess I wasn't comfortable enough to explain why I thought it would be fun or why I thought it would be a good idea."
Newsweek has reached out to Hefner's estate for comment.