Holly Madison Reveals Secrets of Playboy Mansion—Hugh Hefner 'Was Screaming at Me'
Holly Madison has opened up about life in the Playboy Mansion, sharing details about sex and drugs in the infamous residence of the late Hugh Hefner.
The model, now aged 41, lived in the mansion from the early 2000s until she and Hefner parted ways in 2008.
As a former Playboy Bunny, Madison is set to reveal what life was like for her during that time for A&E's upcoming docuseries Secrets of Playboy.
"I felt like I was in the cycle of gross things and I didn't know what to do," Madison said in an explosive new clip for the forthcoming series.
Due to premiere in January, the 10-hour exploration into the Playboy empire will recount Madison's time as a pinup and the main girlfriend of Hefner who died of sepsis in 2017 at age 91.
"I got to a point where I kind of broke under that pressure and being made to feel like I needed to look exactly like everybody else," she said in the preview.
Madison also recounted getting in serious trouble for cutting her hair while living with Hefner.
"My hair was really long, naturally, and I was just like, 'I'm going to go chop my hair off so I can at least look a little different,'" she said.
"I came back with short hair and he flipped out on me," she recalled. "He was screaming at me and said it made me look old, hard and cheap."
Bridget Marquardt, who also dated the Playboy founder from 2001-2008 said that he could often be "abrasive" to Madison.
"She came down with red lipstick one time and he flipped out, said he hated red lipstick on girls [and that she] needed to take it off right away even though other people could wear red lipstick and it didn't seem to bother him," Marquardt said. "It was very frustrating to live with every day—all the drama that was going on and the tensions."
Madison previously opened up about life in the Playboy Mansion in her 2015 memoir Down the Rabbit Hole: Curious Adventures and Cautionary Tales of a Former Playboy Bunny.
"I thought I was an adult and thought I was making my free choice. And I was," she wrote about her decision to move into the residence. "But I wasn't sophisticated or really prepared. And kind of got in over my head. [...] I could understand how people thought it was strange.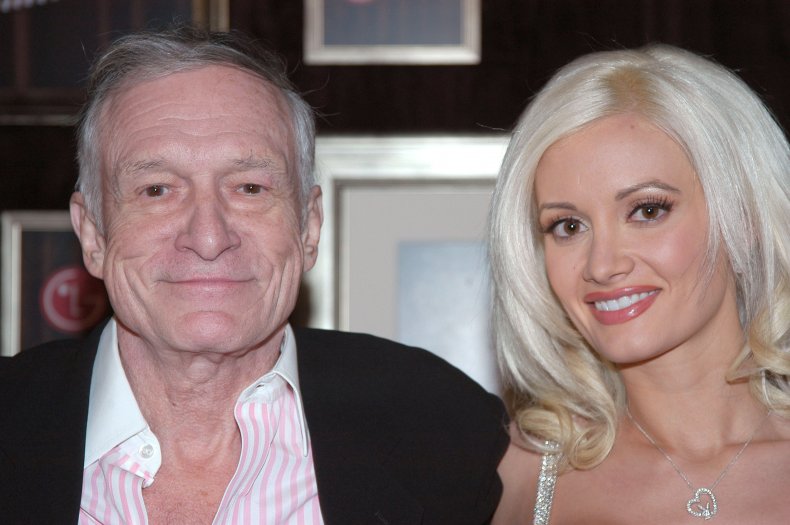 "But I guess I wasn't comfortable enough to explain why I thought it would be fun or why I thought it would be a good idea."
Meanwhile, in April this year, Madison further spoke about her relationship with Hefner during an appearance on the Call Her Daddy podcast.
"I started to feel like I was in love with him," Madison revealed. "Looking back at it, it was a very Stockholm syndrome kind of thing where I felt like I identified with him, he was complimenting me so much, I started, in my mind, started blaming all the other problems on the other women."