Spoilers: 'My 600-Lb. Life' Subject Holly Hager Failed At Weight Loss Surgery Before Seeing Dr. Nowzaradan
My 600-Lb. Life subject Holly Hager wants to seek help after her first weight loss surgery failed. After ending her first marriage, Holly got her stomach stapled. It worked in the beginning but the procedure didn't last. She wound up gaining most of the weight back and was in the 500s at the age of 33, which is the age viewers will be meeting her on Wednesday night.
While speaking to the TLC cameras in a confessional, Holly revealed that her husband, a man she trusted, did not treat her well. Before his alleged abuse, he had been the only person she felt safe with. "I felt like he had betrayed that trust with how he had treated me for ten years…so I left him and got weight loss surgery," she said. "I wanted to take my life back and finally lose all the weight so I had my stomach stapled. And for the year after that, I really started to lose weight for the first time in my life."
In the beginning, she was able to get down to 319 pounds. It was a weight she hadn't seen in 20 years.
But the weight loss didn't last for long. When Holly began to struggle financially she started to put weight on again.
She went back to food to soothe her, something she had done as a child. "Being in another situation where I didn't feel safe, food was yet again another comfort to me. And my weight got up to around 600 [pounds] by the time I was thirty," Holly told the TLC cameras.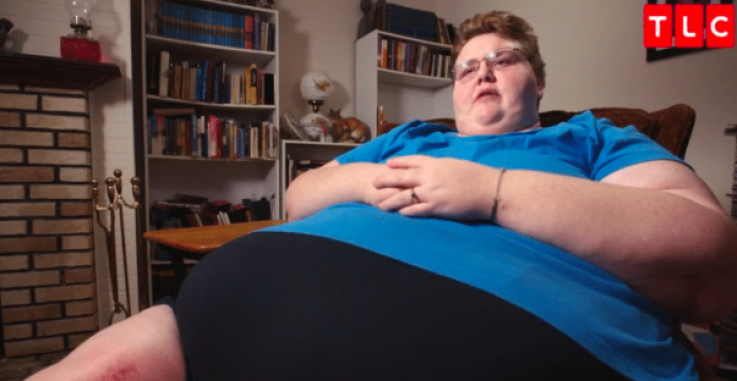 In an episode description given to Monsters and Critics from TLC, Holly learned at an early age that she could rely on food for support. "Holly Hager grew up with well-intentioned parents who worked all the time to make ends meet, but the tension of just barely staying afloat has a way of wearing tempers thin, and Holly as a young girl never felt the security of a safe, stable home," the logline says. "On top of that, Holly's parents were Christian and believed in 'turning the other cheek,' and as a result, Holly never felt she could go to them with her problems."
When Holly was sexually assaulted at 16 years old, she turned to food; and did so again when her first husband became abusive. He reportedly suffered from post-traumatic stress disorder. "This propensity to use food as an emotional coping strategy led to the failure of Holly's first weight loss surgery, which at first helped her to lose weight, but ultimately didn't take," the description says.
Now, it's up to Holly to see if she can once again lose weight. To help her with the process, she's seeking the help of renowned bariatric surgeon Dr. Younan Nowzaradan. It would require Holly to make a move to Houston where the famous surgeon, who also produces the hit TLC series, is based.
To find out what happens to Holly, don't miss My 600-Lb. Life when it airs Wednesday at 8 p.m. ET on TLC.
Spoilers: 'My 600-Lb. Life' Subject Holly Hager Failed At Weight Loss Surgery Before Seeing Dr. Nowzaradan | Culture