Hollywood Council Votes To Remove Donald Trump's Star but Alleged Sex Abusers Are Keeping their Spots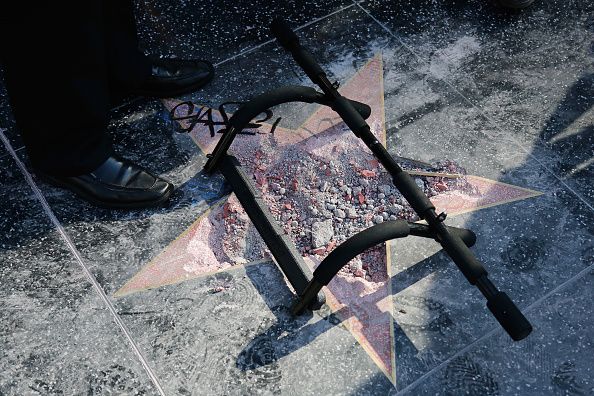 The West Hollywood City Council unanimously voted to remove President Donald Trump's star from the Hollywood Walk of Fame while the stars of other controversial celebrities accused of sexual assault and abuse remain.
"The West Hollywood City Council did not pass the resolution because Donald Trump is a conservative or a Republican. Earning a star on the Hollywood Walk of Fame is an honor. When one belittles and attacks minorities, immigrants, Muslims, people with disabilities or women—the honor no longer exists," Mayor John Buran told CNN Tuesday. The vote is entirely symbolic as West Hollywood has no jurisdiction over the Hollywood Walk of Fame.
In order to secure a space for your own star on the Hollywood Walk of Fame, you must be nominated by a member of the public (usually the star's studio or management) accompanied by a $40,000 fee for the ceremony and future upkeep. When a plaque is laid, they stay in place forever, according to the Hollywood Chamber of Commerce.
"Once a star has been added to the Walk, it is considered a part of the historic fabric of the Hollywood Walk of Fame. Because of this, we have never removed a star from the Walk," said HCC president Leron Gubler.
The President's star has been vandalized twice, once in 2016 and again in 2018. Both times, the vandal used a pickaxe to completely demolish it. However, he is not the only celebrity on the Walk of Fame who has faced allegations of abuse and sexual assault. As Trump's star is fought over, the stars of other disgraced and controversial celebrities remain intact and unbothered:
Bill Cosby
Bill Cosby has been accused of drugging and raping numerous women over the course of his decades-long career. In 2015, vandals had graffitied his star with the word "rapist." Cosby was found guilty on three counts of aggravated assault in April.
Spade Cooley
Considered one of country music's most influential figures in the 40s and 50s, Cooley was convicted of beating his wife, Ella Mae Evans, to death in front of their daughter in 1961. His star remains intact.
James Franco
Franco has been accused of sexually exploiting underage women. The first of the accusations came in 2014 when Gawker published private messages between Franco, then 35, and a 17-year-old girl. One of his accusers, Violet Paley, tweeted in January, "Cute #TIMESUP pin James Franco. Remember the time you pushed my head down in a car towards your exposed penis & that other time you told my friend to come to your hotel when she was 17? After you had already been caught doing that to a different 17-year-old?"
Kevin Spacey
The actor currently has six allegations of sexual assault against him in London that are being investigated by Child Abuse and Sexual Offences command. The first claim came from Star Trek: Discovery actor Anthony Rapp, who said Spacey assaulted him when he was 14 years old. After Rapp came forward, 12 more men spoke out against Spacey, who was then fired from his starring role on Netflix's House of Cards.
Alfred Hitchcock
The Birds and Marnie actress Tippi Hedren spoke about her experiences with the influential horror director in 2017. When she refused Hitchcock's sexual advances, he threatened to destroy her career, Hedren told Variety in 2017.
Donald Trump
The president has multiple sexual assault and harassment allegations against him, and is currently facing a defamation lawsuit from former Apprentice contestant Summer Zervos, who claims that Trump assaulted her and then defamed her by calling her and other accusers liars during his campaign.