Hollywood on Netflix ends at the 1948 Academy Awards, by which time Hollywood is a very different place compared with the real Los Angeles city in the late 1940s. By the end of Episode 7, titled "A Hollywood Ending," Rock Hudson (played by Jake Picking) has come out as gay, Camille Washington (Laura Harrier) has won an Oscar for "Meg," and Ace Studios is about to make the first major studio movie about a gay romance.
Most of the cast are at the Oscars for "Meg," the movie written by Archie Coleman (Jeremy Pope), directed by Raymond Ainsley (Darren Criss) and starring Rock, Camille, Jack Costello (David Corenswet) and Anna May Wong (Michelle Krusiec).
The film gets a Gone With the Wind-style sweep of the Oscars, winning Best Picture, Best Director, Best Screenplay, Best Actress and Best Supporting Actress.
"Meg," of course, is a fictional film, and the real 1948 Oscars were very different. The real Best Picture winner that year was Gentleman's Agreement, which itself was a fairly controversial movie as one of the first films to tackle the subject of anti-Semitism.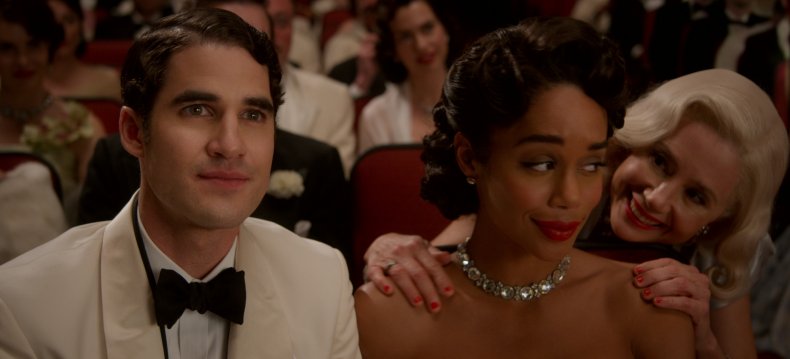 The Ryan Murphy series changes a lot of Oscar winners for that night, but keeps Edmund Gwenn as the Best Supporting Actor for Miracle on 34th Street—though in real life he was not up against the fictional actor Jack Costello.
In the ending of Hollywood, Murphy also tries to right some historical injustices from real Hollywood lore. For example, Hattie McDaniel (Queen Latifah) gets a place in the main Oscars audience.
In real life, the actor was not allowed to sit on the Gone With the Wind table in the year that she won an Oscar for Supporting Actress, and was only allowed in the audience at all after a campaign, with the hotel having to break its "no blacks" policy to let her in.
Murphy also allows Wong to win an Oscar, something that many film fans believe she could have done had she been cast in The Good Earth (an injustice seen in Hollywood Episode 1). Also, in having Camille win Best Actress in 1948, Murphy pre-empts Hollywood history by over five decades–in reality, the first black Best Actress winner was Halle Berry in 2001.
Raymond, meanwhile, became the first person of Asian heritage to win Best Director, a feat which in reality would not be achieved until Ang Lee won in 2005 for Brokeback Mountain.
Speaking to Collider, Murphy said of this: "I always knew that the 1948 Oscars was the end. ...I always knew that Rock Hudson would be able to be free of Henry Wilson [Jim Parsons] and be out and proud and himself. And I always knew that I wanted Anna May Wong to finally win an Academy Award that I think she deserved. And I always knew that I wanted Hattie McDaniel to be able to be in that room and not have to wait in the lobby. I was writing towards that idea."
Though the show was originally billed as a limited series, when Hollywood was released on Netflix the episodes were called "Season 1," suggesting there is a possibility for a season 2.
If this does go ahead, it seems that it will mostly focus on the role of homosexuality in Hollywood. At the end of the show, Rock Hudson is out, meaning the show could explore what someone coming out so early would mean for how showbiz history developed.
The Meg team is also planning to make a gay romance based on Archie's experiences at the gas station brothel, suggesting a season 2 that sees the cast film that movie in a metafictional turn for the Netflix show.
Hollywood is streaming now on Netflix.