Hollywood Fears Financial Losses as Donald Trump's Trade War With China Escalates
As President Donald Trump's trade war with China escalates, Hollywood industry experts are predicting potential financial losses and job cuts.
Under a five-year agreement, which is currently under renegotiation, Beijing allowed 34 Hollywood films into China per year. While this may be a small number compared to the American movie industry's overall output, the Chinese movie ticket sales grew by 22.3 percent last year totaling $8.6 billion. In the first quarter of 2018, China's box office also passed North America's to become the world's biggest.
Even films that perform poorly in the U.S. have a chance of making up the difference in China. For example, half of the $433 million overall global box office earnings of the 2016 fantasy film Warcraft were made in China. In the U.S., the film flopped, only raking in $47 million.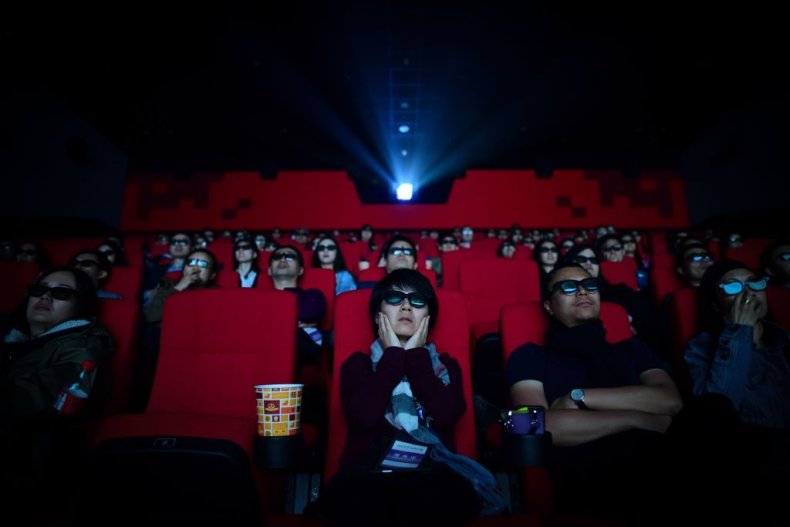 "Before Trump came along, trade negotiations between China and Hollywood were already fraught with tension," Robert Cain, president of co-production company Pacific Bridge Pictures, which works with Chinese and U.S. entertainment producers to build cross-Pacific business ventures, told Newsweek. "Trump has exhibited no knowledge of or interest in what Hollywood needs, and an astonishing level of incompetence at dealmaking that has undermined what little leverage the U.S. negotiators had."
Cain explained that the trade dispute between Washington and Beijing has undermined Hollywood's negotiating position, as it seeks to expand the number of films entering the Chinese market and address numerous other concerns.
"China is the largest foreign market available to Hollywood, and due to its size and growth, it is vitally important for sustaining U.S. film and television industry profitability and jobs," Cain said. Although he hasn't seen any specific figures on losses or job cuts, he said it's "not hard to imagine that Trump has destroyed jobs in Hollywood just as he has in so many other sectors."
Trump plans to officially introduce new tariffs impacting $34 billion in Chinese goods on Friday, Bloomberg reported. China has threatened a tit-for-tat response, raising concerns of a protracted trade war. The U.S. is also at odds with traditional North American and European allies over trade, with Trump slapping down new tariffs and foreign nations responding with their own taxes on American imports in response. As a result, European Union and Chinese leaders have found new common ground, agreeing to "resolutely oppose unilateralism and trade protectionism" last month.
Derek Scissors, a resident scholar at the American Enterprise Institute who focuses on U.S. economic relations with Asia, told Variety earlier this year that "film quotas" are an easy target for China to threaten in response to Trump's tariffs.
"The tariffs will not especially harm China, but they will want to deter further action. While attention focuses on soybeans and the like, China prefers smaller but high-profile targets," Scissors said.
Although China's current agreement with Hollywood was slated for renegotiation last year, a new deal has yet to materialize. Industry leaders were hoping to increase the number of American films allowed into the Chinese market, as well as the cut Hollywood studios would take home from ticket sales.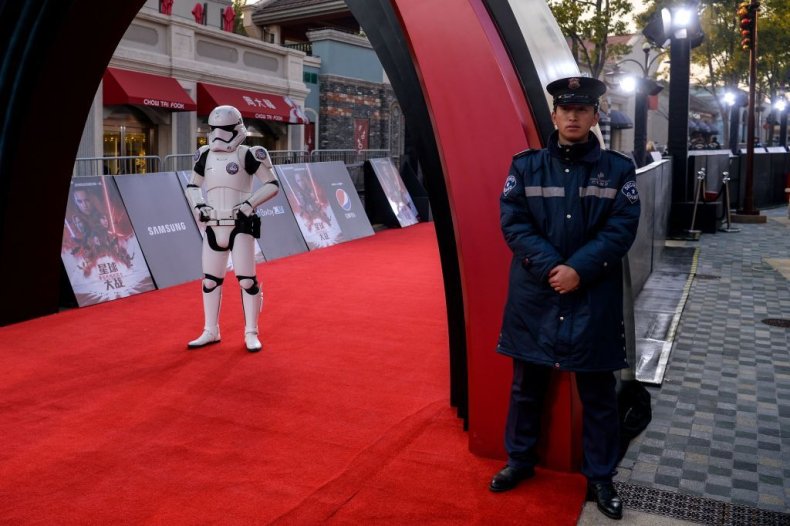 Despite tensions with Washington, China also has a vested interest in improving ties with Hollywood. The country's most successful film of 2017, Wolf Warrior II, was heavily influenced and supported by Hollywood industry professionals. More and more, the U.S. and Chinese film industries are collaborating on blockbuster film projects.
Xin Zhang—a senior film and cinema analyst at IHS Markit, a global information provider based in London—​told South China Morning Post that this is "a big issue for China and Hollywood."
"China is willing to talk on this, and to [have] a negotiation, but nothing is decided yet. We're unsure how it will go, but it's already delayed. So everyone is waiting," Zhang said.
But with Trump as the U.S. president, Cain isn't optimistic about Hollywood getting a better deal. "It's hard to imagine a worse person than Trump...to have involved in this discussion," he said.