As expected, Ricky Gervais blasted Hollywood A-listers throughout the night during the Golden Globe Awards on Sunday.
However, his opening monologue was particularly scathing after he pointed out the many hypocrisies of the television and film industry.
Gervais opened the show ripping on some of the most damning Hollywood moments of the year, from Felicity Huffman's college admission scandal conviction to pedophilia in Hollywood, Jeffery Epstein's death—"Shut up, I know he's your friend but I don't care," Gervais joke. He also commented on the hypocrisy of the industry due to the business practices of some of Hollywood's largest companies, including Disney and Amazon.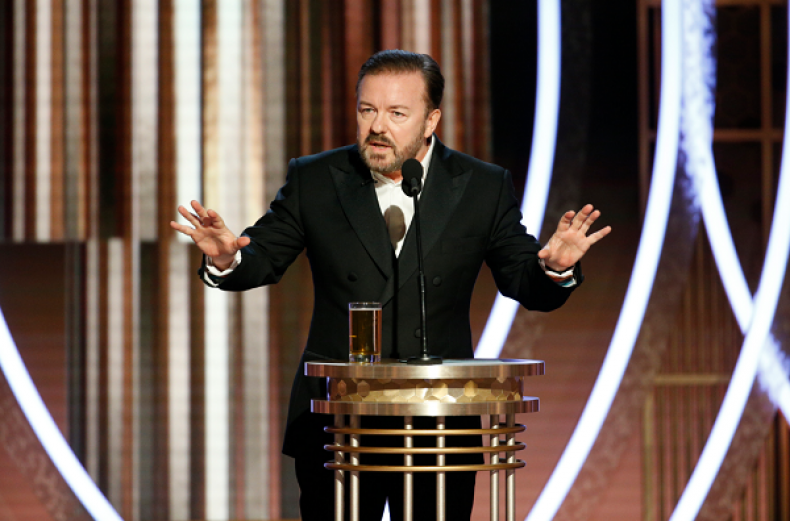 "Apple roared into the TV game with The Morning Show, a superb drama about the importance of dignity and doing the right thing, made by a company that runs sweatshops in China," Gervais said. "Well, you say you're woke but the companies you work for—unbelievable. Apple, Amazon, Disney. If ISIS started a streaming service you'd call your agent, wouldn't you."
His statements riled viewers on social media, and many of them thanked him for using his opening monologue to note Hollywood's biggest contradictions. "Thank you, @rickygervais for putting their hypocrisy to their face. I'll buy you a drink, mate, Brilliant. #HollywoodHypocrites," one user wrote on Twitter.
Following Gervais' speech, dozens of people took to Twitter using the viral hashtag #HollywoodHypocrites to blast celebrities.
"#HollywoodHypocrites could you even imagine how beautiful Los Angeles could become if the billions of dollars made by the entertainment industry were not hoarded by spoiled, narcissistic actors but instead invested into their community?" another Twitter user wrote.
Along with highlighting Hollywood's hypocritical tendencies, Gervais begged celebrities not to use their acceptance speeches as a political soapbox.
"If you do win an award tonight, don't use it as a platform to make a political speech. You're in no position to lecture the public about anything. You know nothing about the real world. Most of you spent less time in school than Greta Thunberg," he said.
"So if you win," he continued, "come up, accept your little award, thank your agent and your God and f**k off, OK. It's already three hours long."
Although celebs didn't use their acceptance speech to blast Trump as in previous years at the Golden Globes, they weren't quiet about the upcoming election and the current issues within the nation's capital. Patricia Arquette, who won the supporting actress award for her role in The Act, used her acceptance speech to remind people of what the history books will say about the night of the Golden Globes, noting it won't be a fancy awards show.
"We will see the country on the brink of war, the United States of America. A president tweeting out a threat of 52 bombs, including cultural sites. Young people risking their lives, traveling across the world. People not knowing if bombs are going to drop on their kids' heads," she said before adding, "And the continent of Australia is on fire."
A number of celebrities noted the ongoing fires in Australia, including Ellen DeGeneres, who was honored with the Carol Burnett Award For Achievement In Television, Pierce Brosnan and Cate Blanchett. Jennifer Aniston also read a message written by Russell Crowe, in lieu of an acceptance speech for his Best Actor In A Miniseries win for The Loudest Voice, about the dangers of climate change and the bush fires in his native country.
Naturally, people on Twitter dragged celebrities for ignoring Gervais' request to keep politics out of the awards show, too. See a few reactions to Gervais' opening monologue below.