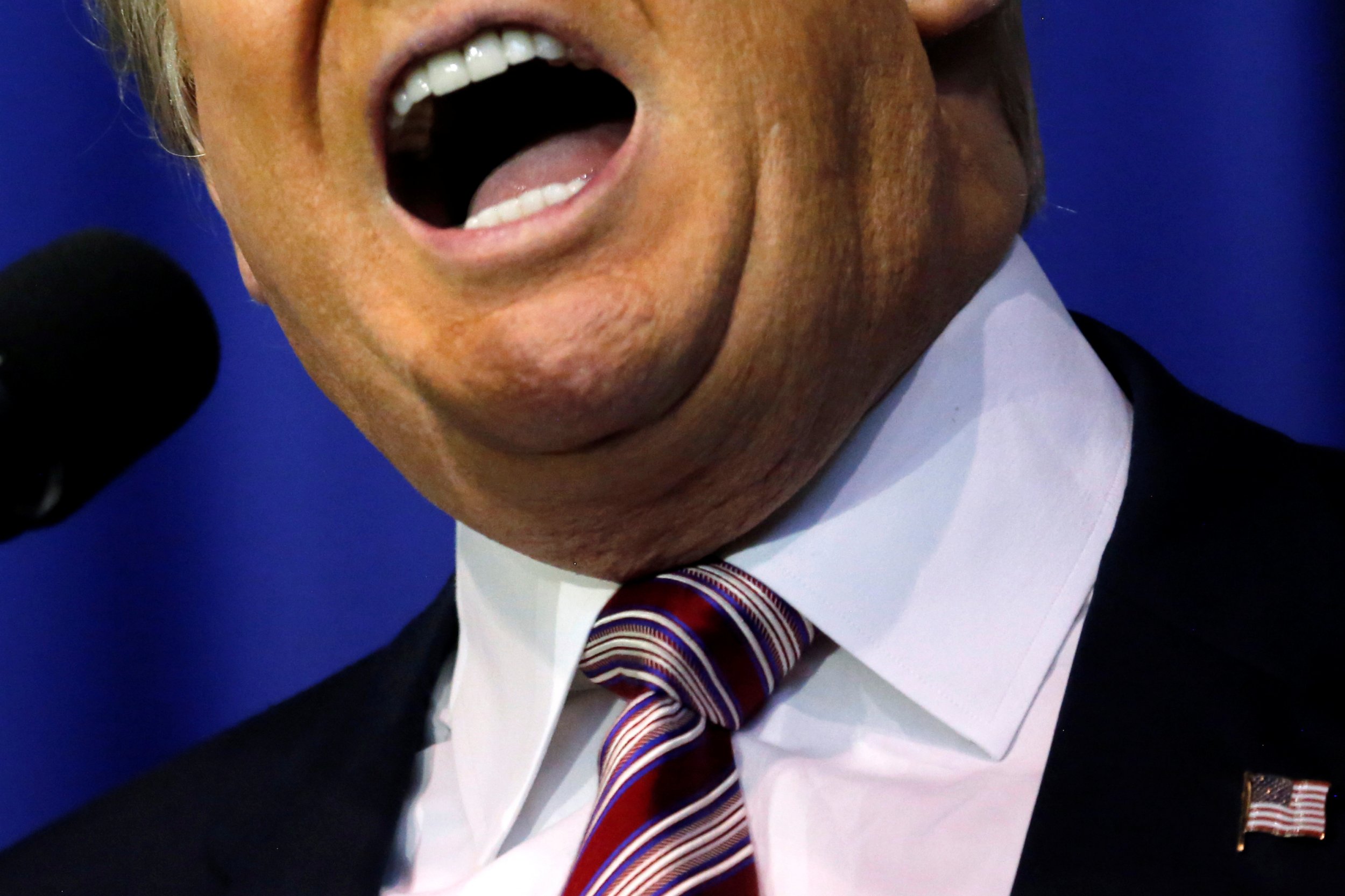 When Donald Trump offends, his supporters often mock "lefties" and hysterical women out of touch with "how guys talk." And sometimes even I, a leftie and a woman, have to agree that political correctness is in danger of hijacking rational discourse. When every word is parsed for ill-intention, regardless of who is speaking or why—we become so afraid we'll offend that we stop trying to communicate with people we don't understand. The thing is, I understand Donald Trump all too well. "Grab them by the pussy" isn't "guy talk." Trump speaks loud and clear in the parlance of a misogynist.
At the final presidential debate, Trump not only claimed that the women who made allegations against him they were lying, he said: "I didn't see these women." I believe he didn't see them. They were right in front of him, but he saw objects, as void of sentience as anything else he owned. He saw things to be rated from 1 to 10.
The problem with generalizations and judgments, the words we hurl as insults, is that they deny our humanity and our stories.
I know a lot about words. I get paid to write stories, so I get to talk with people about the meaning behind words all day. Lately, those stories involve fairly wrenching tales of damaged women trying to achieve the nearly impossible. In the upcoming television show Sharp Objects , lead character Camille—addicted to carving words into her arms—tries to resist her urge to self-harm while confronting awful secrets from her childhood. Dietland , based on Sarai Walker's novel of the same name, features an obese heroine, trying to resist the influence of a feminist mentor while raising money for weight-loss surgery.
What drew me to this cast of girly misfits? These women, whose inner struggles outsiders don't see, who strangers might call "ugly" or "fat"? It's that, in some ways, I have been all of them.
Around 10, I got chubby. I knew I'd crossed a line when the only pants that fit were from the "Junior Plenty" line at JC Penny. My parents had split up, my mom was going through a dark time and my brother and I were getting bullied in our new neighborhood. Life was big and unsafe. At least I had the two glazed donuts I bought on the way to school, and the Pepsi and bag of Cheetos I got on the way home. Eating was uncomplicated, undeniable pleasure. But the combination of preteen hormones and those extra calories made me round and solid, a little rain barrel on legs.
At school I got knocked around by the "alphas." A boy told me I wasn't kissable because I had a "fat ass." It felt like every day brought another comment that let me know the way I looked wasn't pleasing enough—that who I was deserved ridicule.
I lost weight. Not just because of the words people said. But because the promise was all around me—if I was just pretty enough, my problems would disappear. To my delight, I found a new source of comfort in self-denial and self-punishment. It was as if controlling what hurt me was better than waiting for an unexpected blow. I was in pain, but it was my pain. I made it. I knew what caused it and why.
Years of my life were dominated by my obsession with eating or not eating, then binging and purging. I was hospitalized. I nearly died. But finally, with a lot of help, I got better.
Then one night a coworker and I hung out. We were partying, so when the evening ended with him locking the door and sexually assaulting me—I felt had nobody but myself to blame. "No means no" as long as you're a good girl. He'd done this to other women at work. None of us came forward. We had no proof except our own experiences. We knew nobody would believe us. It wasn't the first time I'd experienced something like that. It wasn't the last.
The second time, it was a different man but a similar story. After a night of partying with a gang of pals, I was asleep in bed and woke up as the boyfriend of another girl raped me. After this incident, someone told me that it was just what they called "a bad date" when she was young. I didn't know enough to tell her she deserved better. I didn't know enough to believe I did either.
"Fat ass." "Crazy." "Slut." I was a chubby girl, eating to ground myself in a terrifying world. I was a wraith, starving to make order out of chaos. I was a wide-eyed princess, not wanting to hurt a man's feelings by saying no when he asked me to get in his car.
I should say, these experiences forced me to get tougher, more empathetic and more thoughtful. And the current men in my life would never knowingly belittle or harm anyone.
But when Trump uses the words he does to describe women—words like fat, ugly, disgusting—he opens the scars that cover the words beneath my skin. Time has given me new ones. Hag. Bitch. Barren. Like Camille, they are carved there. Not literally like hers, but like hers—they burn.
Marti Noxon is a screenwriter best known for serving as executive producer on Buffy the Vampire Slayer . Her other TV credits include Girlfriends' Guide to Divorce, UnREAL and HBO's upcoming Sharp Objects starring Amy Adams. Follow her on Twitter: @martinoxon .