Best Dressed Men in Black at 2018 Golden Globes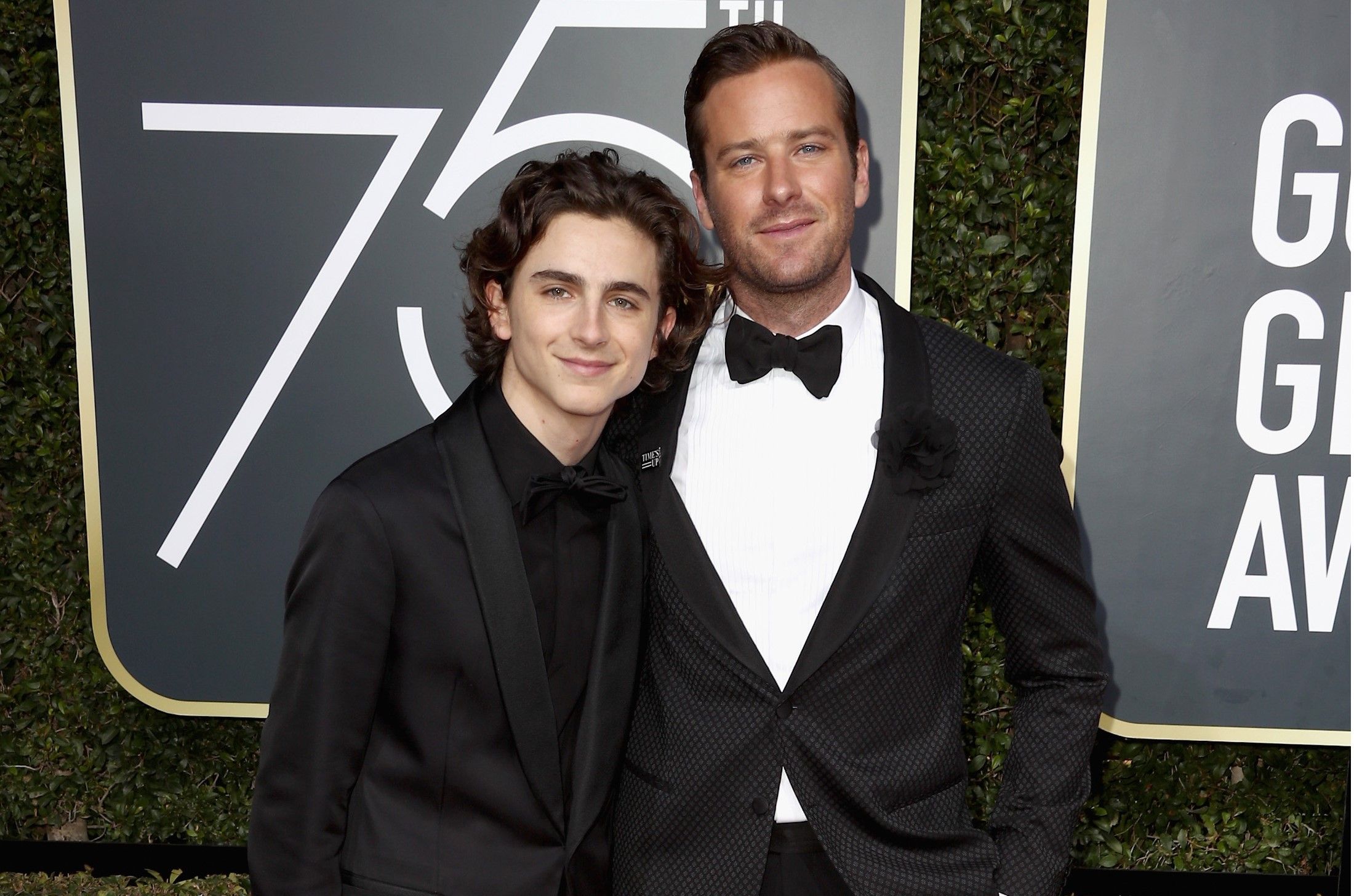 We all know the real reason to tune into awards shows is the red-carpet coverage. And at this year's Golden Globes, the women of Hollywood harnessed that attention to send a powerful, unified message that "Time's Up" for the industry's (and, indeed, the world's) culture of sexual misconduct and abuse. In almost total solidarity, they walked into the awards ceremony wearing black dresses and gowns to create a red-carpet black out.
Tinsletown's men were behind the cause, too, which isn't too surprising, sartorially-speaking. It's uncommon to see a guy not in a black tux for a major awards presentation. But there were plenty of dudes who showed up for the Globes with creative takes on the formal look.
The clear trend was going black-on-black—black suit, black shirt, black tie—as modeled by Ansel Elgort (Baby Driver), Sam Rockwell (Three Billboards Outside Ebbing, Missouri), and Justin Timberlake (Justin Timberlake).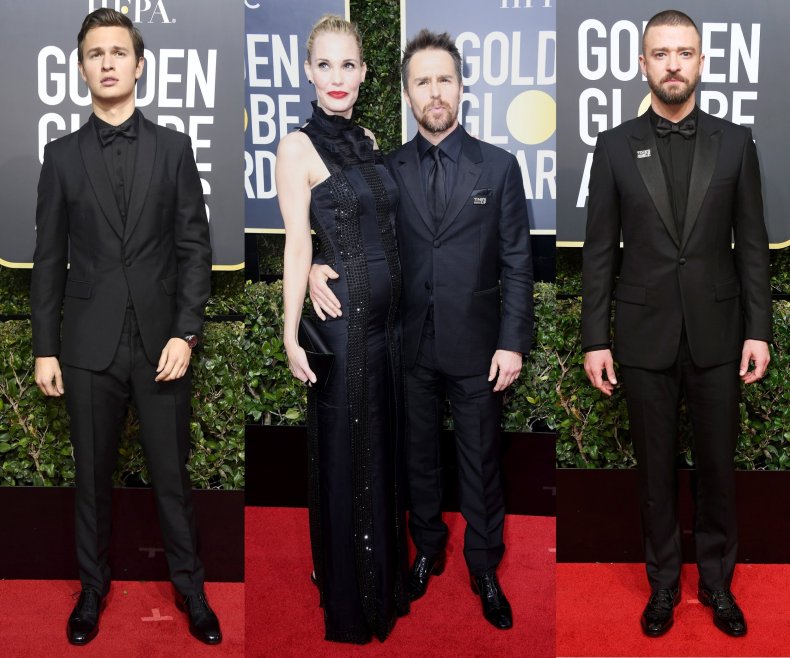 But some celebs, like Norman Reedus (The Walking Dead), Bob Odenkirk (Better Call Saul) and Ricky Martin (American Crime Story: The Assassination of Gianni Versace) found ways to subtly introduce color, from Odenkirk's tie clip to Martin's deep green ring.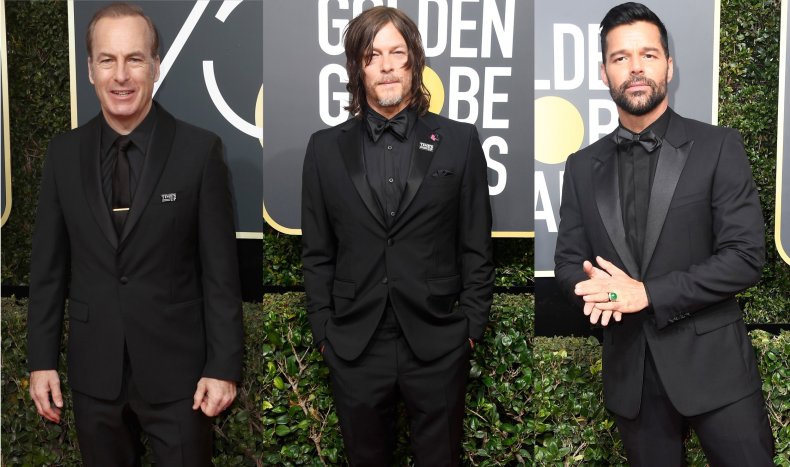 And then there's Chris Hemsworth. The once and future Thor hammered the all-black look, going sans tie in a black Etro paisley suit—an unexpected choice that few men can pull off. But Hemsworth nails it, and he knows it, too. That confident smolder is earned.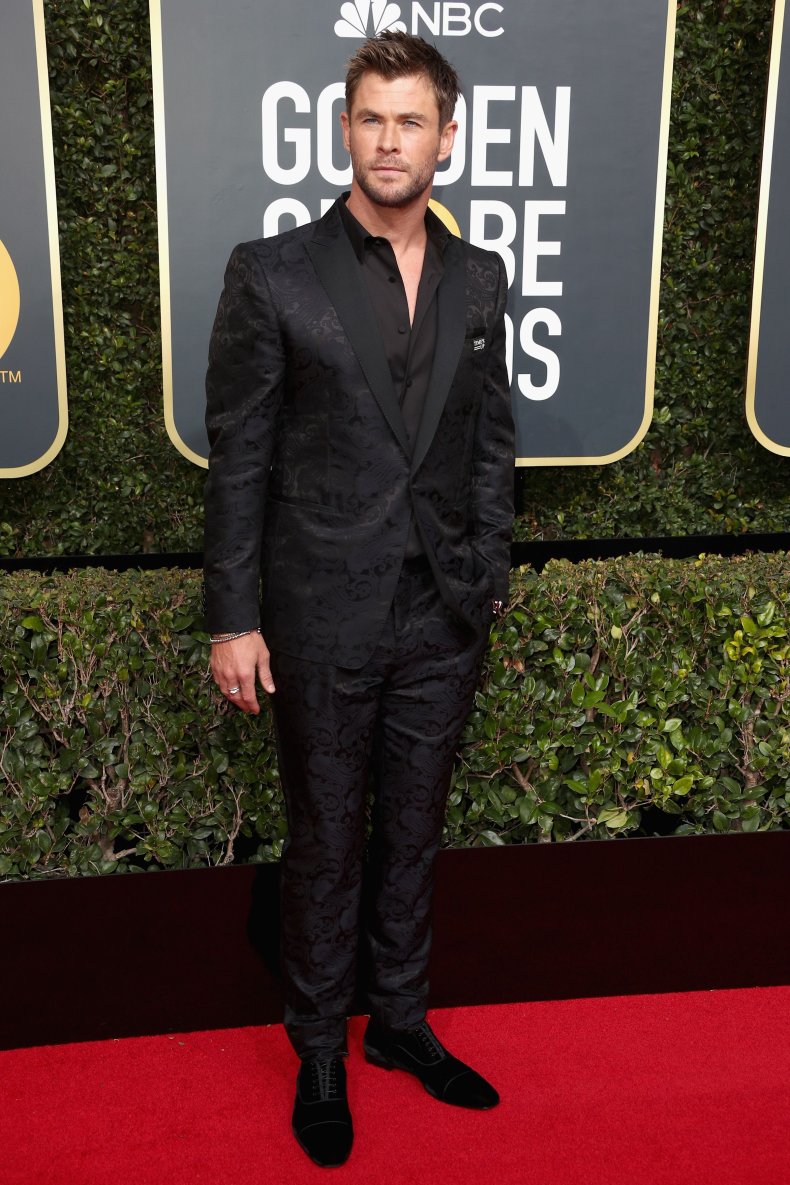 There were also excellent, flamboyant takes on the traditional tux, from director Ridley Scott (All the Money in the World) ditching a tie in favor of a black scarf—really accentuating the this-octogenarian-don't-give-a-fuck attitude he's leaning into hard these days—to Jude Law (The Young Pope) lounge-lizarding it up with a wide bowtie and velvet lapels.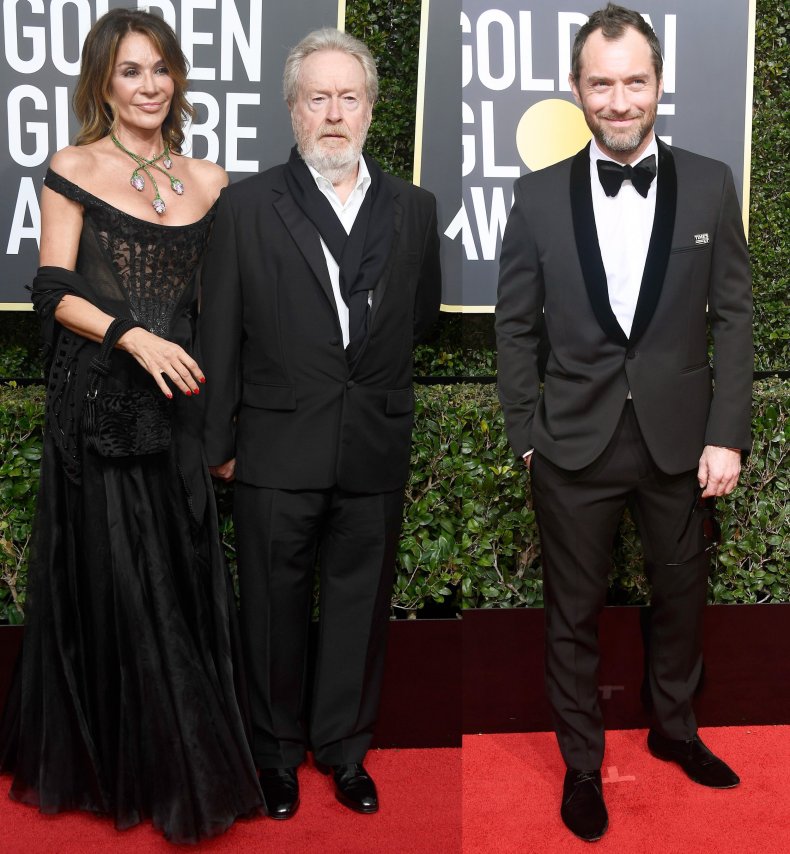 Neither, though, could match the dazzle of Dave Franco (The Disaster Artist). His black Saint Laurent tux, adorned with sequined lapels, not only set him apart from brother James in pre-Globes co-interviews, it caught the light in ways that made him literally sparkle in a sea of staid menswear.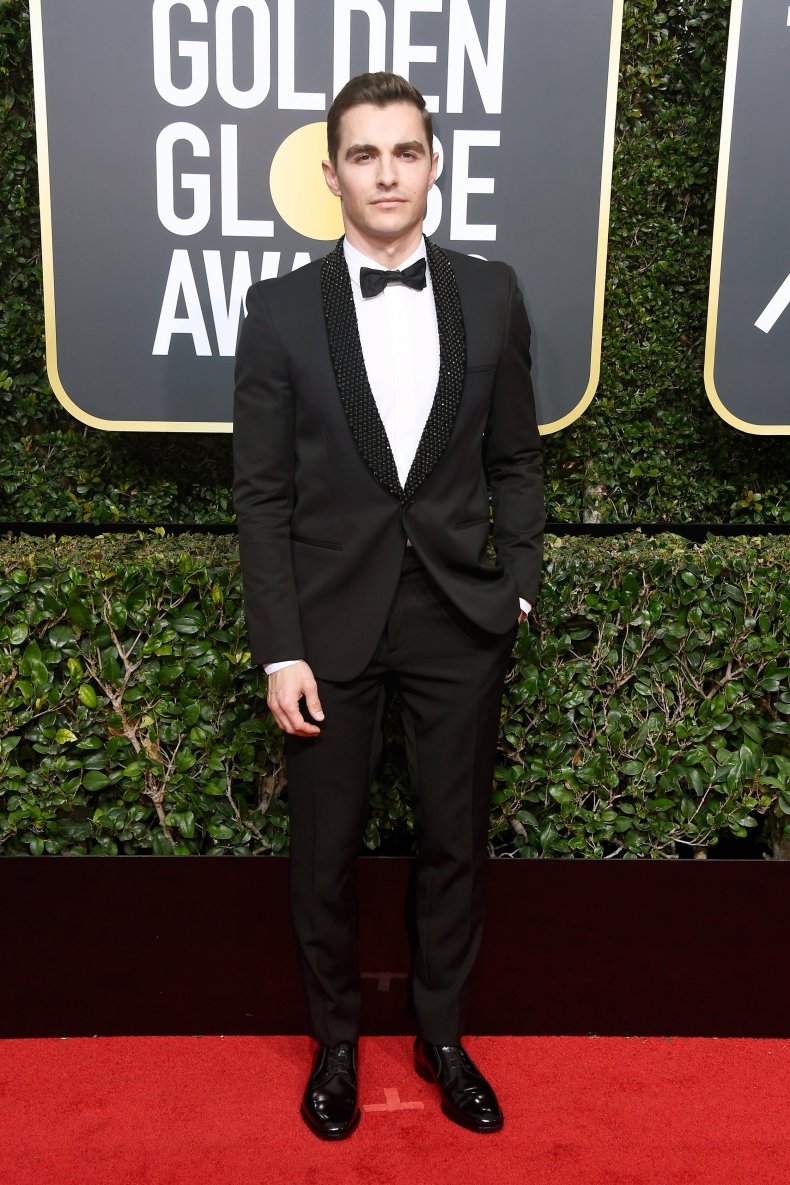 Leave it to real-life comic book character Armie Hammer (Call Me By Your Name) to upstage them all. His Armani suit—textured jacket with a "Time's Up" pin on one lapel, a black silk flower in the other, paired with a bow tie, tuxedo shirt and black pants—was eye-popping and incredibly elegant. Like Hemsworth's look, this is a don't-try-this-at-home for most guys because, frankly, you need to be preternaturally handsome to pull it off.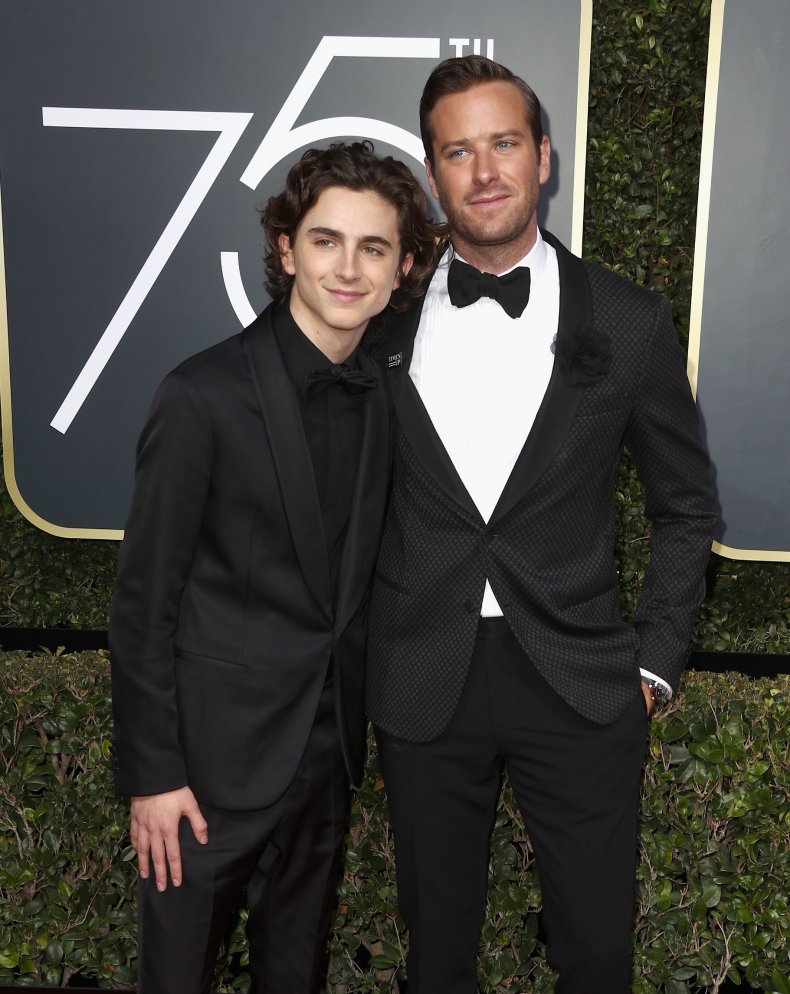 As suits and ties go, it's difficult to top what Hemsworth and Hammer brought. But this is the Golden Globes, so naturally there's a fashion rebel in the mix—oh hey, Laurence Fishburne! The black-ish and Matrix star sidestepped the tux thing completely, going for a mix of Morpheus-meets-Ghost-Dog-meets-bathtime.
Kidding. Fishburne's outfit is fantastic: a black kimono with its bottom hitched up to the waist to reveal deep red lining and a pair of red shoes that would make Pope Benedict XVI jealous. Plus, of course, the sunglasses.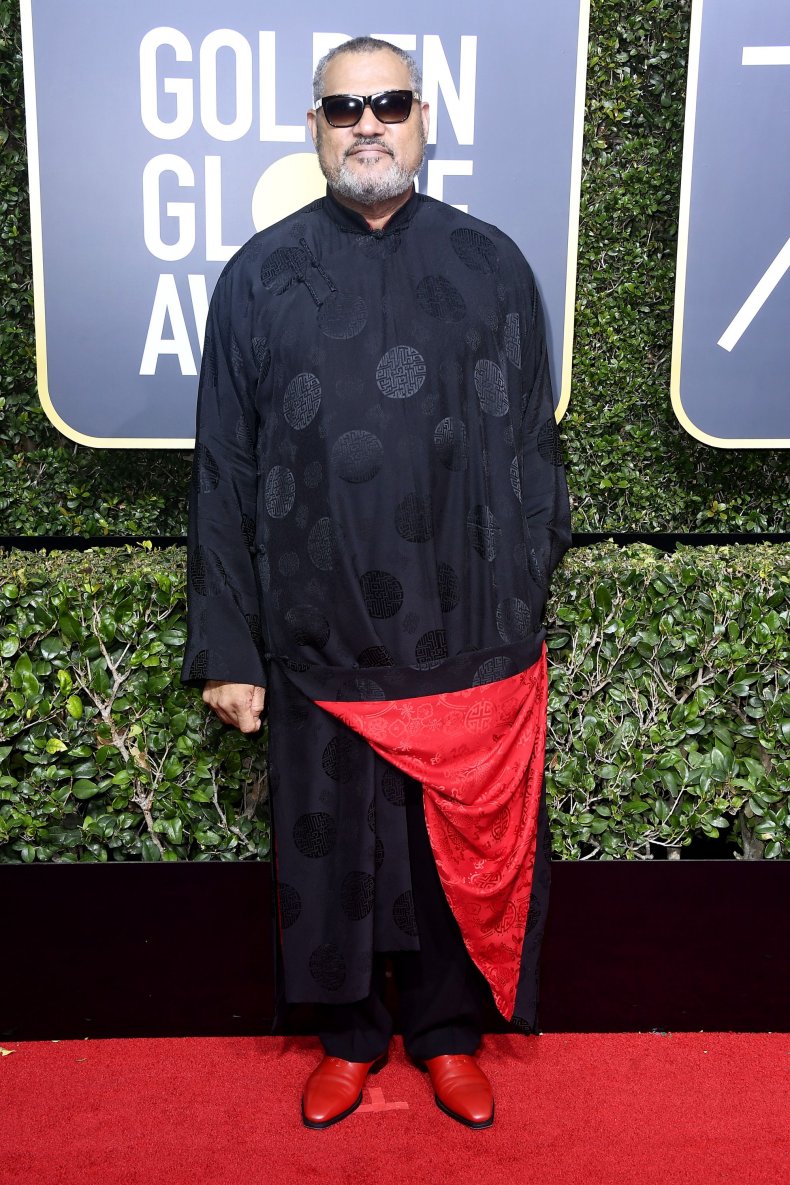 It's good to see men uping the ante and pushing some fashion boundaries. You don't have to be Matt Parker and Trey Stone at the 2000 Academy Awards, or even Fishburne. A little more Dave Franco or Armie Hammer did us very nicely.