At the end of Hollywood on Netflix, a major milestone for representation is reached with the success of "Meg," a movie led by black actor Camille Washington (played by Laura Harrier), written by black gay man Archie Coleman (Jeremy Pope) and directed by half-Asian filmmaker Raymond Ainsley (Darren Criss). When all of these people win Academy Awards at the 1948 Oscars in the season finale, they become the first people of color and out gay people to win in their respective fields.
Of course, Meg is not a real film, and the real 1948 Oscars went very differently. However, the Netflix series does keep a number of the real winners from that night. For example, Jack Castello (David Corenswet) loses the Best Supporting Actor category to Edmund Gwenn, who played Santa Claus in Miracle on 34th Street, and who also won that night in reality.
In the real 1948 Oscars, another controversial and trailblazing movie won Best Picture. Oscar voters may not have been able to choose Meg for the top prize, but they did give it to Gentleman's Agreement, a Gregory Peck movie that was one of the first films to tackle anti-semitism in the United States.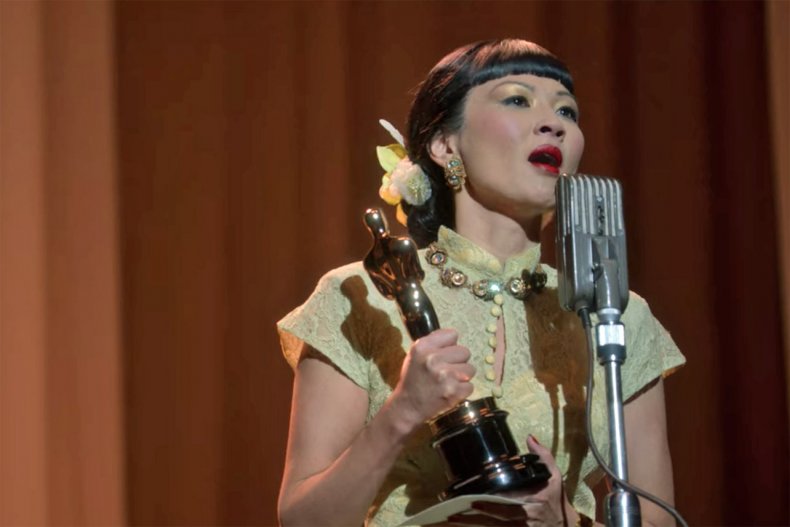 That movie also won a number of the awards that Hollywood viewers saw Meg win. Elia Kazan (who would later become a controversial figure for naming communists during the McCarthy hearings) won best director for the movie, while best supporting actress went to Celeste Holm—the award that in Meg goes to trailblazing Asian-American actor Anna May Wong (Michelle Krusiec).
In Hollywood, Washington becomes the first black woman to win Best Actress, following Hattie McDaniels' Supporting Actress win for Gone With the Wind in the previous decade. In reality, this milestone would not be reached until 2001 when Halle Berry won the prize for Monster's Ball.
The first black winner of a Best Screenplay award, meanwhile, would have to wait even later. In reality, Geoffrey Fletcher would be the first black screenwriting winner in 2009 in the Adapted Screenplay category for Precious, while the first Original Screenplay winner would be Jordan Peele in 2017 for Get Out.
The Oscars won by Meg in Hollywood were in reality won by:
Best Motion Picture: Gentleman's Agreement
Best Director: Elia Kazan, Gentleman's Agreement
Best Actress: Loretta Young, The Farmer's Daughter
Best Supporting Actress: Celeste Holm, Gentleman's Agreement
Best Original Screenplay: Sidney Sheldon, The Bachelor and the Bobby-Soxer
These are not the only changes that Hollywood made to Oscars history. In an episode of the Netflix show, Hattie McDaniel (Queen Latifah) tells a story about how she had to wait in the lobby when she won her Oscar due to the venue's "no black" policy. In reality, she was allowed into the ceremony but had to sit at a table at the back of the venue, away from her fellow Gone With the Wind stars.
Hollywood is streaming now on Netflix.