'Hollywood' on Netflix: Is 'Meg' a Real Movie?
Netflix series Hollywood blends fact and fiction, with real stars like Rock Hudson (played by Jake Picking) and Hattie McDaniel (Queen Latifah) mixed with fictional characters working at the made-up Ace Studios. Truth and fabrication are mixed even further with the in-series movie Meg. In the Netflix series, Meg is a film that stars the real actor Anna May Wong (Michelle Krusiec) and started life as Peg, a script about Peg Entwistle, a real person who took their own life by jumping off the Hollywood sign.
Those these are real elements, the movie Meg is entirely fictional. This may not be a surprise to people with some knowledge of real Hollywood history. Though the opening of Meg is met with protests in the Netflix show, it seems totally inconceivable that a movie starring a black lead and featuring an interracial relationship at its heart could ever had been made in the real 1948–a time when many states in the U.S. still had anti-miscegenation laws.
Meg also reaches a number of movie milestones that actually happened decades later in real Hollywood. For example, Anna May Wong became the first Asian actor to win Best Supporting Actress, a feat actually managed by Miyoshi Umeki in 1957. The real Wong, in fact, was never nominated for an Academy Award.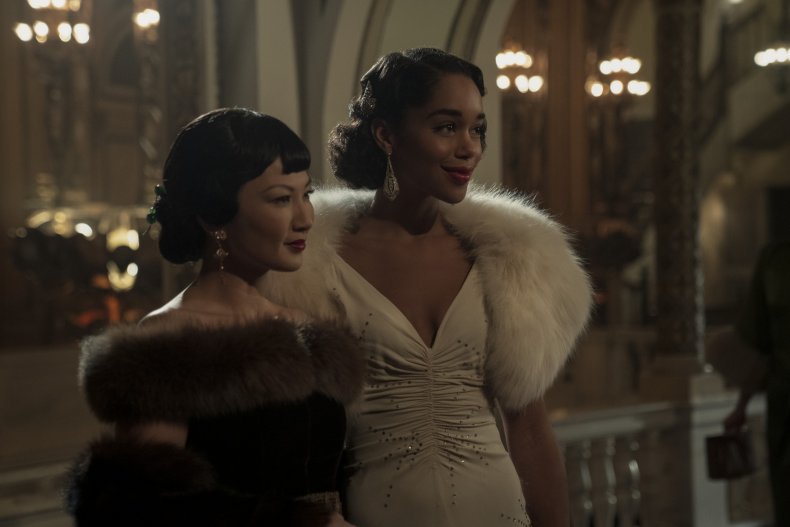 Similarly, the Netflix show sees Camille Washington (Laura Harrier) become the first black woman to win best actress. In reality, Halle Berry would be the first black Best Actress, and not until the early 2000's. And while Archie Coleman (Jeremy Pope) won a Best Screenplay Oscar in 1948 in Hollywood, the real first black person to win that award was Geoffrey Fletcher in 2009 for Precious.
Speaking of why he decided to focus his series on the fictional Meg movie, producer Ryan Murphy told Collider: "We got to the idea, well, what if somebody had been brave enough to make this movie in the late '40s and it won all these Oscars, and all of these people who before were marginalized were suddenly the heroes and heroines of their story. Would that have changed, not just my life in what I had seen growing up but everybody else's?
"And I came to the conclusion, it probably would have because we would have been 50 years ahead of the curve in terms of women's rights and gay rights and a black woman winning an Oscar. I think it would have had a profound effect."
In Hollywood, Meg begins life as a biopic about Peg Entwistle, whose story in reality has never been told in a major motion picture. The actor died aged 24 in 1932, after appearing in just one film, the early psychological thriller Thirteen Women.
Hollywood is streaming now on Netflix.